Strange Things About Megan Fox And Machine Gun Kelly's Relationship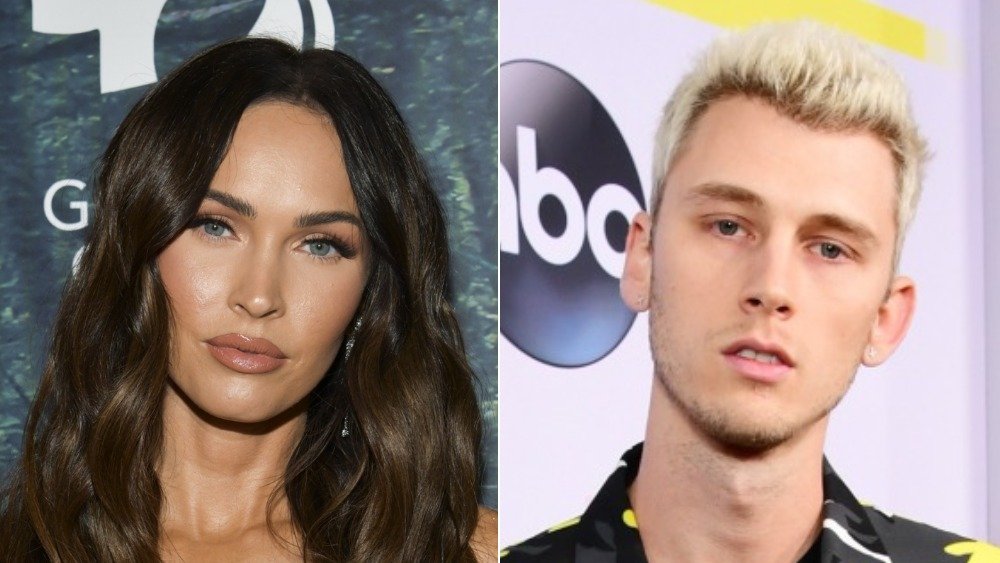 Rodin Eckenroth, Emma Mcintyre/ama2017/Getty Images
Transformers star Megan Fox is the kind of celebrity that can easily create a buzz just by being her attention-grabbing self. The same is true for rapper Machine Gun Kelly. And together, they're undeniably intriguing.
Fox and Kelly first met in March 2020, on the set of the film Midnight In The Switchgrass — a thriller that also stars Bruce Willis — which got temporarily shut down due to the coronavirus pandemic, according to Deadline. A source told E! News that the pair spent their unexpected free time "hanging out a lot" on location in Puerto Rico, which was when they realized that they were "intrigued by each other." The fateful meeting went down a few months before she split from her husband of almost 10 years, Brian Austin Green.
Although the two are undoubtedly attracted to each other — which Fox is apparently keen to show off, although it tends to annoy Green — the pair aren't exactly involved in what many people would consider a traditional relationship. In fact, the source who spoke to E! News added that the situation is not only "new and exciting for Megan," it's also "very different," and Fox is "into it."
So what makes this duo's dynamic so different? Let's take a look.
Megan Fox and Machine Gun Kelly's relationship is next level
The great thing about relationships is that every single one is different. Some couples prefer a life filled with travel and fine dining, while others prefer to stay at home and indulge in Netflix marathons. And some romances only last for a short time, while others last for decades. Then there are those pairings that involve higher states of being. Or, at least, Megan Fox and Machine Gun Kelly's relationship apparently includes the latter.
During an appearance on the Give Them Lala ... With Randall podcast in July 2020, Fox discussed her belief that she and Kelly are "twin flame[s]" which means that "a soul has ascended into a high enough level that it can be split into two different bodies." The actor thinks that this describes herself and the rapper, who she says are "two halves of the same soul." Is that romantic? Too woo-woo? *Shrug*
Oh yeah, and then there's the fact that Fox is still married. Although she and Brian Austin Green were separated when she first connected with Kelly, the husband and wife hadn't officially ended their marriage. In fact, a source told E! News in June 2020 that Green had no intention of "filing for divorce yet" as he "want[ed] to give Megan space and is hopeful they will find their way back to one another." 
Only time will tell how this pairing ends up, but we have a feeling it won't be boring.