JWoww And Snooki Look Nothing Like They Used To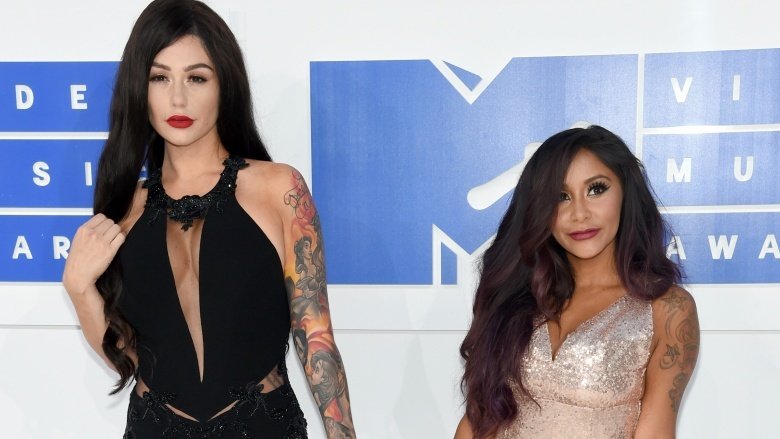 Getty Images
In 2009, MTV threw eight strangers into a beach house and let the cameras roll. The resulting Jersey Shore reality series quickly gained a cult following and offered up a new perspective on what it means to be a "Guido" and a "Guidette." Of the entire cast, Jennifer "JWoww" Farley and Nicole "Snooki" LaValle (Polizzi) left perhaps the largest impression on fans. Their party girl antics implanted fist pumping and leopard print skirts into all of the bars and clubs along the boardwalk, but in the years since the show, these besties have transformed their look from flashy to classy, and now they're hardly recognizable.
Season 1 of Jersey Shore (2009)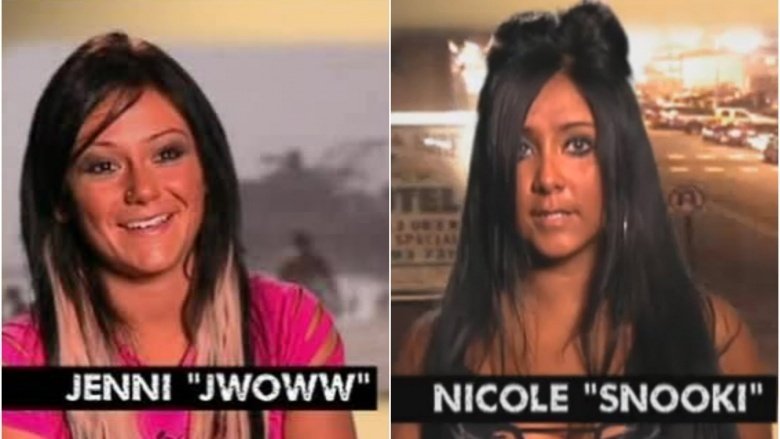 When Snooki and JWoww first walked into the Jersey Shore house, their styles got viewers' attention. Snooki made her entrance in hilarious "meatball" fashion. With her trademark hair poof and spray tan, she announced to the rest of the cast that the party had arrived. The party being her, of course. She held true to that promise and became known as a party animal, which was appropriate for a girl owning the largest collection of animal print accessories known to mankind.
When JWoww arrived, the first thing everyone noticed was her cleavage. Her style was bold, bright, and left little to the imagination. She typically accessorized with large hoop earrings and an even larger attitude. Both ladies' styles quickly became trademark looks for 20-something fashionistas looking for a good time.
Season 4 of Jersey Shore (2011)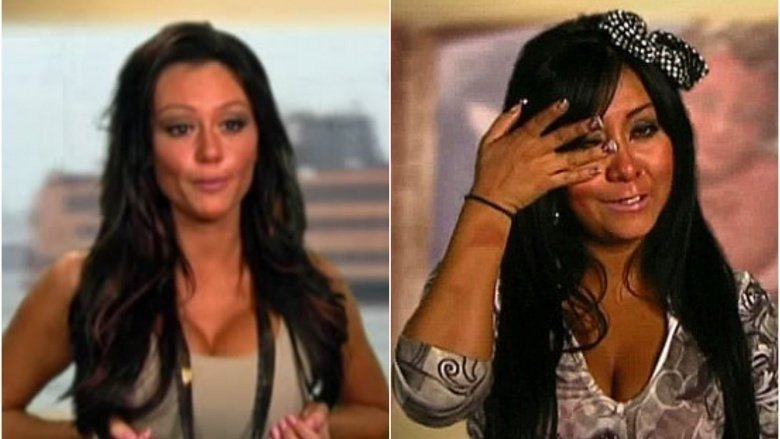 When Snooki and JWoww showed up in Florence, Italy to film Season 4 of this epic reality show, it was clear the popularity of the program had inspired the ladies to change up their looks. Both stars had significantly slimmed down, especially Snooki, who was filmed keeping up with her new workout routine throughout the season. Her style, however, had not been tamed. Snooki was often filmed abroad wearing shorts with large furry boots and oversized sunglasses. Of course, she still rocked the big hair and animal prints, too.
JWoww seemed to fork over some serious cash to have work done before the season began. It was rumored she had lip and cheek fillers, her chin shaved, Botox, and even a nose job. She denied the stories, claiming diet and exercise had altered her appearance. "If I got work done, I would be open to talking about it," she told InTouch Weekly (via MTV News). "I didn't." Her fashion sense also shifted that season. She was often seen dressed casually in jeans and a t-shirt, unless, of course, the cast was heading out to the club for a fist-pumping good time.
After Jersey Shore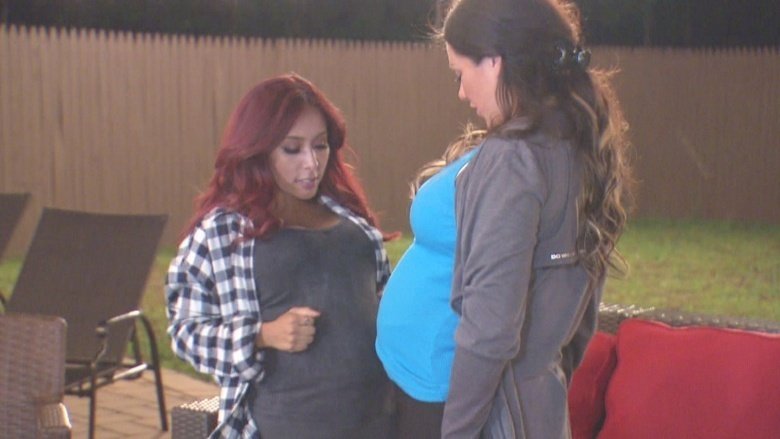 When Jersey Shore came to an end in 2012, the ladies scored their own spin-off show on MTV, Snooki & JWoww. During its debut season in 2012, Snooki announced she was pregnant with her first child and engaged to baby daddy (now husband) Jionni LaValle. The notorious party girl toned down her gaudy style, shedding the animal print accessories and furry boots for a more neutral, yet trendy, wardrobe and trading her signature bouffant for natural-looking curls. Fear not, the new mom to son Lorenzo Dominic LaValle didn't completely ditch her funky sense of style. She continued to express her creativity with several pieces of body art that she loved to flaunt on the red carpet.
JWoww was also busy starting a family during their spin-off show. She had her first child in 2014 with husband Roger Matthews and admitted to having another breast augmentation after breastfeeding her daughter. The reality star was blunt about her boobs. "Ten years later and with the birth of my angel baby Meilani, they had changed a bit," she told Us Weekly. "I've had them over ten years, so it was time."
VMAs in 2016
Now that both of these ladies are married with two kids a piece, it's understandable that they've hung up their party hats and steered clear of the spotlight, so imagine the shock and awe when the dynamic duo hit the red carpet at the 2016 MTV Video Music Awards. They were barely recognizable.
Snooki has been open on social media about work she's had done, including lip injections, Botox, and her desire for a boob job. At the VMAs, she wore a sparkling gown that showed off her slim figure. Her locks appeared thick and natural, and that signature spray tan of yesteryear seems to have finally faded away.
Then there was JWoww, who looked like she just stepped off the set of True Blood. She went full Goth in a black lace gown with a sheer bottom that put her curves in the spotlight. Like Snooki, she seems to have quit the tanning habit and embraced her natural skin tone, though that may be all that remains of her natural body. JWoww looks great, but her new style is worlds away from the Jersey Shore Guidette. Her plump pout, pale cheeks, and serious stare channeled Angelina Jolie more than the Jersey Shore. However, in true JWoww fashion, she was sure to opt for a plunging neckline that showed off her signature bosom.