How Howard Stern Really Feels About Ellen DeGeneres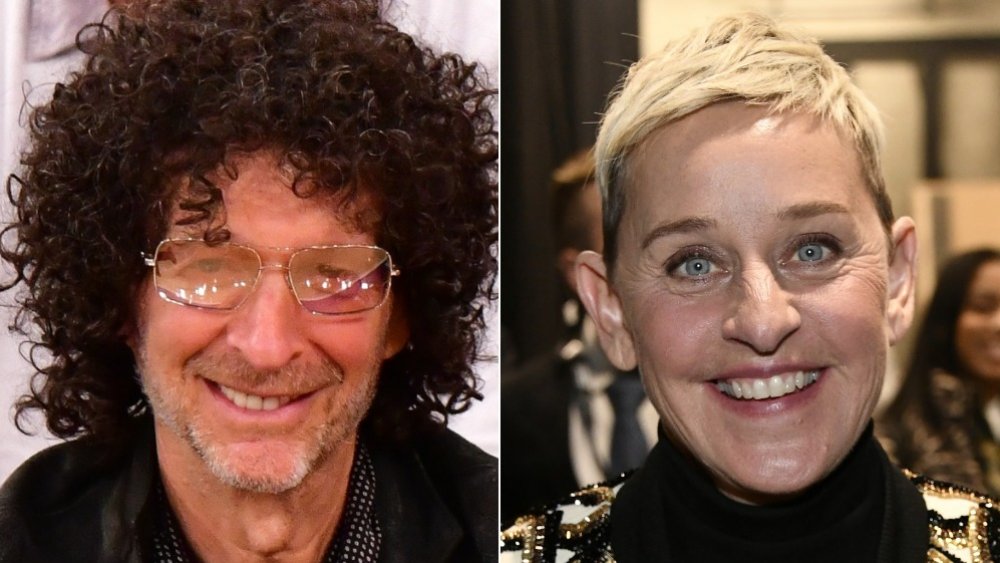 Longtime shock-jock Howard Stern made headlines on Aug. 10, 2020, when he gave comedian Ellen DeGeneres, some... shall we say... interesting advice. Stern's message came on the heels of the scandal involving The Ellen DeGeneres Show and the alleged misconduct and workplace harassment at the hands of the show's top executives, as well as claims that DeGeneres isn't very nice to her employees, as reported by BuzzFeed News.
So what words of wisdom did the self-proclaimed "King of All Media" have for the "be kind" television personality? "I'd go on the air and be a son of a b***h," he quipped during an episode of Sirius XM's The Howard Stern Show, per Page Six. "People would come on and [I would] go, 'F**k you.' Just be a p***k. 'So you think I'm a p***k? I'm going to show you exactly.' ... I'm known on the air as a p***k, but off the air, I'm known as a great guy, you know, for the most part."
He added, "Just be a p***k."
Of course, Stern wasn't being so serious about DeGeneres embracing the p***k persona — he is a master of sarcasm, after all. But his comments go us thinking — how does the radio personality really feel about Ellen? Keep reading to find out.
Howard Stern renewed his wedding vows on 'Ellen'
It's fair to argue Howard Stern and Ellen DeGeneres are at least pals, because if they weren't, why would the radio star renew his wedding vows on The Ellen Degeneres Show? Yep, that's right — in October 2019, Stern remarried his wife, Beth Ostrosky Stern, on the show in front of a crowded audience. 
As the story goes, Stern had re-proposed to Beth in on The Jimmy Kimmel Show, and apparently decided to make good on the proposal at Ellen's show, per USA Today. "We've been married now 11 years but like within the last two or three years, I said, you know I really do love this woman so much," the radio personality gushed to DeGeneres at the vow renewal. "She really has my back, it's a great marriage. I'm happy, like you and Portia (de Rossi, DeGeneres' wife)." He then threw in a wisecrack adding, "Maybe even happier than you and Portia. I hear you guys fight."
As a surprise, Ellen promptly informed the couple that just as luck would have it, The Bachelor alum, Colton Underwood, was there and had been ordained for the romantic occasion. Voila!
Were Howard Stern and Ellen DeGeneres once at odds?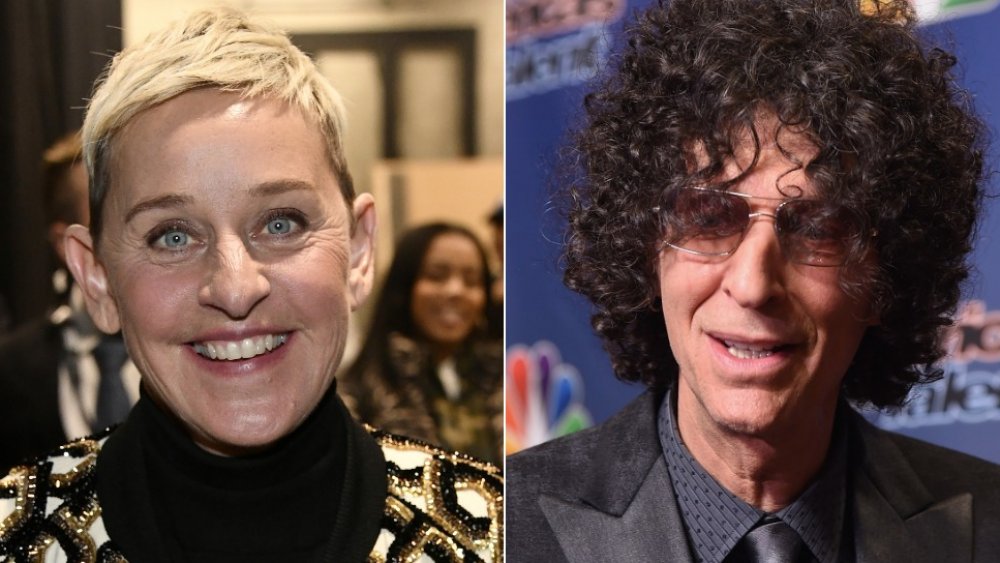 Frazer Harrison, Gary Gershoff/Getty Images
Back in 2010, Howard Stern was supposedly in talks with American Idol producers to become one of the show's judges. Ellen DeGeneres happened to be a judge at the time (she lasted for one season), and Stern seemingly wasn't a fan, joking on Sirius XM, (via Billboard), "I'm gonna buy one of those taser guns; I'm gonna tase Ellen DeGeneres. Go ahead Ellen, why don't you do that dumb dance you do on your show? Here's my taser.'"
He also told New York Post reporter Cindy Adams that he wouldn't work with DeGeneres as she wasn't opinionated enough on the show. "You gotta be with it, you gotta make the show happen," he explained (via MTV News).
However, the two seemed fine when in September 2015, DeGeneres appeared on Stern's show for the first time. And things seem to have improved from there, as during Stern and Beth Ostrosky Stern's vow renewal, the radio host also managed to convince DeGeneres to give him a peck too, per USA Today. Stern got the idea due to the backlash Ellen faced for hanging out with former President George W. Bush at a football game. "People have this picture in their mind of you and George Bush. What you need to do – in my opinion – is take a picture with me, making out with me," he joked.
After adamantly enforcing a strict "no tongue" policy, the duo sealed the deal with a quick kiss. See? These two are tight.