Andrew Yang's Net Worth: How Much Is The Entrepreneur Really Worth?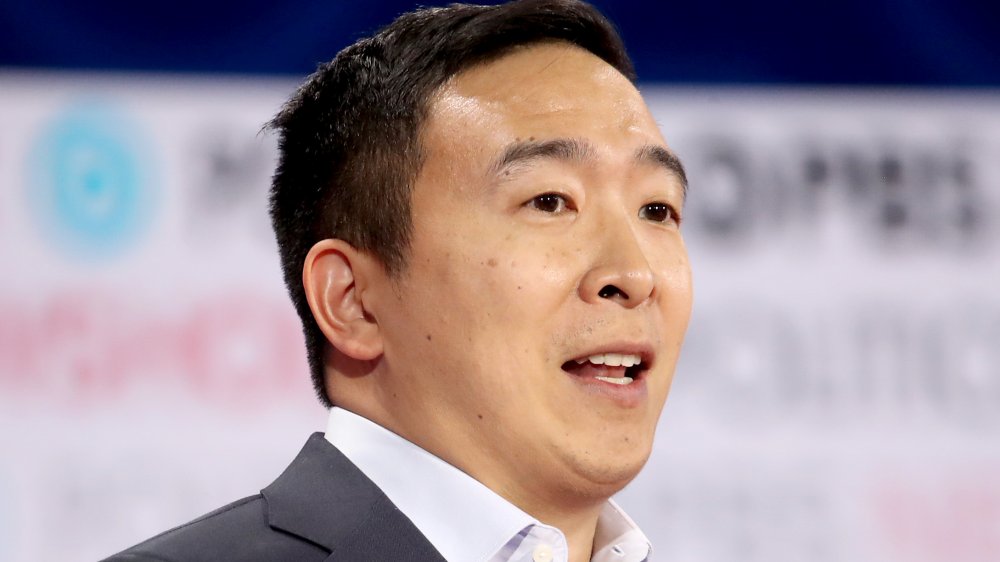 Justin Sullivan/Getty Images
In 2019, entrepreneur Andrew Yang was among the presidential hopefuls to watch in the Democratic party. He came into the crowded field with a platform that differed from the rest of the candidates. Over the course of his run, Yang emphasized the fact that he is a parent and a nonprofit leader — not a politician. At the center of Yang's campaign was universal basic income, using the term the Freedom Dividend.
While stumping across the country, Yang proclaimed his run as "the nerdiest campaign in history." During a stop in Seattle in May 2019, Yang told the crowd that he was "going to be the first president to use PowerPoint in the State of the Union." Yang's supporters, called the Yang Gang, sported "MATH" hats — in contrast to Donald Trump's "Make America Great Again" hats — as the entrepreneur promoted using numbers to illustrate his campaign points with the slogan, "Make America Think Harder."
Unfortunately for the entrepreneur, Yang's campaign fell short of the finish line with the president dropping out of the race in February 2020, per The New York Times. Yang announced he was called it quits before the results of the New Hampshire primary were revealed, explaining, "... [Y]ou know I am the math guy, and it is clear tonight from the numbers that we are not going to win this race," Yang told supporters as he wrapped up his campaign (via CNN).
Yang might not have been able to put "president" on his résumé (at least, not in 2020), but he's still a pretty impressive guy who's worth a pretty penny.
Andrew Yang's test prep company made him very wealthy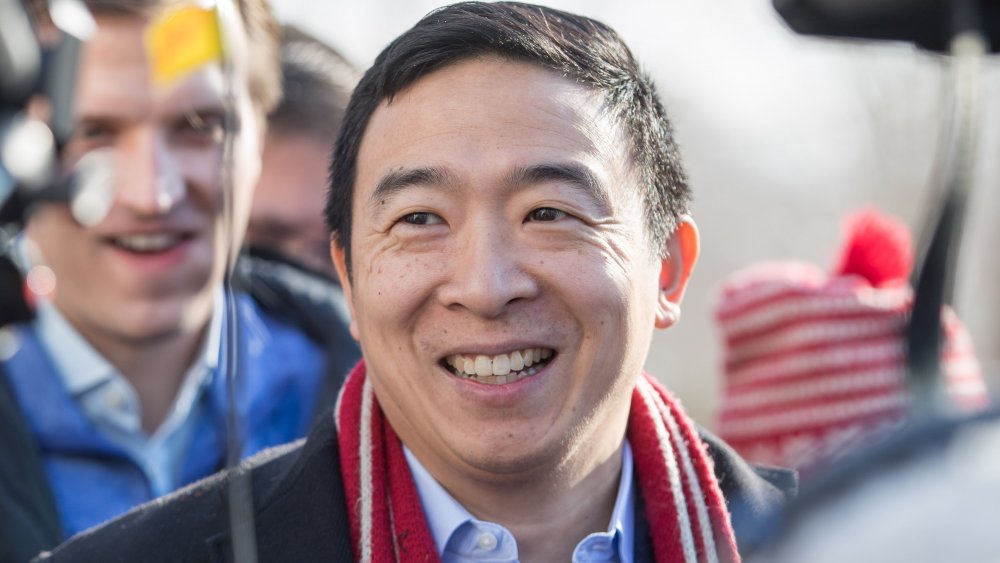 Scott Eisen/Getty Images
Andrew Yang started off as a corporate lawyer before becoming an entrepreneur in the early to mid '00s, according to Business Insider. The New York native became involved with a few startups, and in 2006, Yang became CEO of Manhattan Prep, a standardized test preparation company. According to Slate, Kaplan bought the company in 2009, and Yang made millions.
Two years after Manhattan Prep was acquired by Kaplan, Yang created Venture for America, a nonprofit with the mission of "creating economic opportunity in American cities by mobilizing the next generation of entrepreneurs and equipping them with the skills and resources they need to create jobs." It was his work with Venture for America that influenced Yang to take on a more political role.
"Seeing what's going on in the rest of the country woke me up to the reality of what's happening in our economy where we're going through the biggest economic transformation in our history," Yang said while on the campaign trail in 2019, per Fox News. 
Yang also leads another nonprofit called Humanity Forward. As of this writing, the organization is financially assisting families affected by the coronavirus pandemic by executing one of Yang's campaign ideas, providing $1,000 a month to those in need. "The coronavirus crisis has been devastating on so many levels. But right now, the first level is that people are running out of money to be able to feed themselves and their family," Yang said in a video on Twitter, adding, "And we can't wait for others to act. We have to act ourselves."
Andrew Yang isn't worth as much as you might think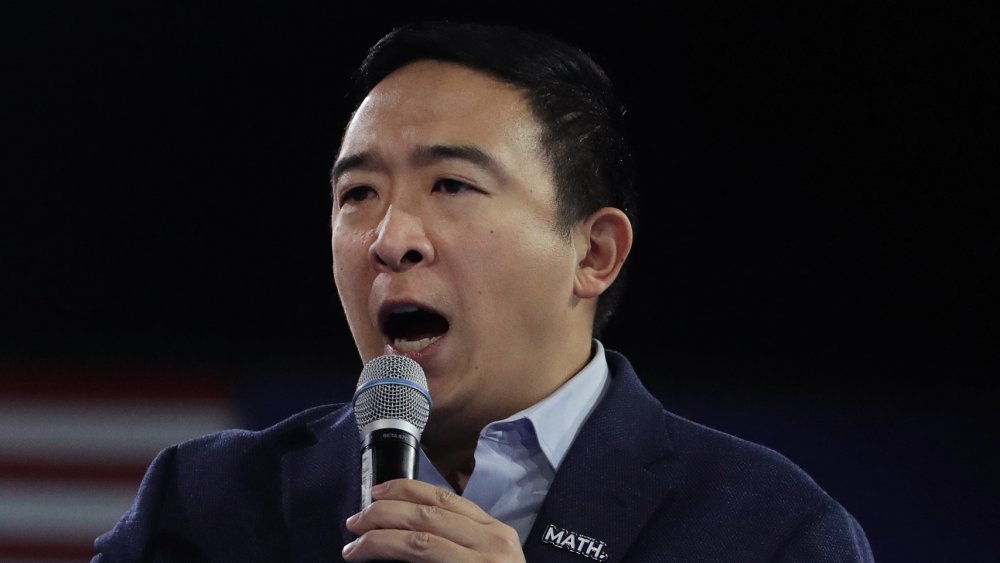 Scott Olson/Getty Images
For someone who has had numerous high-profile gigs, it would be easy to assume that entrepreneur Andrew Yang has a lot in the bank. However, according to Forbes and Celebrity Net Worth, Yang is not as wealthy as some of the Democratic presidential hopefuls he campaigned against. 
In November 2019, Forbes reported that Yang's net worth was somewhere around $1 million. Forbes pointed out how Yang walked away from a high-paying corporate lawyer job to create startups that failed. The publication also wondered what happened to the millions Yang earned from the Manhattan Prep sale. As of this writing, Celebrity Net Worth puts his net worth at $600,000. Among the 2020 Democratic presidential candidates, nominee Joe Biden is worth $9 million and his vice presidential pick, Kamala Harris, is worth $4 million.
Despite the fact that he's not rolling in as much dough as his rivals, Yang picked up many high-profile endorsements during his presidential run. Actor/singer Donald Glover joined the Yang Gang as a creative consultant, per The Hill, and created a pop-up store with Yang 2020 memorabilia. Comedian Dave Chapelle also backed the entrepreneur, and the two posed for a photo on Yang's Twitter account. "Dave is one of the most important voices in our country today and I'm thrilled he has thrown his support behind this campaign," Yang stated in a statement, per CNN.
While these days, Yang is seemingly concentrating on his nonprofits, he surely knows what it takes to start something new — and how to make money doing it.