The Real Meaning Behind BTS' Dynamite
On Aug. 21, 2020, superstar K-pop group BTS released their first-ever all-English single, "Dynamite." Along with the song, the band dropped a high-energy, ultra-fun music video full of bright colors and slick dance moves. While BTS fans — affectionately known as the ARMY — are already obsessed with the song, they almost didn't even get it, because it was a late addition to BTS' upcoming album. Let's take a closer look at what this song means for BTS and how it came to be.
In a showcase for their new music, band member RM told the media, per the Korea Herald, "While recording for our upcoming album, we thought ['Dynamite']'s energy was so fun and fitting, and considering the ongoing situation around the world, we wanted to enjoy it as quickly as possible with as many people as possible."
When the band — which consists of members Jin, Jimin, J-Hope, V, Suga, and Jungkook in addition to RM — was asked what the actual meaning of "Dynamite" is, Korea Herald reported that Suga said, "'Dynamite' is a bright, cheerful disco-pop and a message of confidence and happiness. It's like after you fell on the ground, you're trying to get back up again. That's what this song is like." To which Jin added that it's a song BTS wanted to share with the world at this moment.
BTS wants their ARMY to find 'comfort and strength' while listening to 'Dynamite'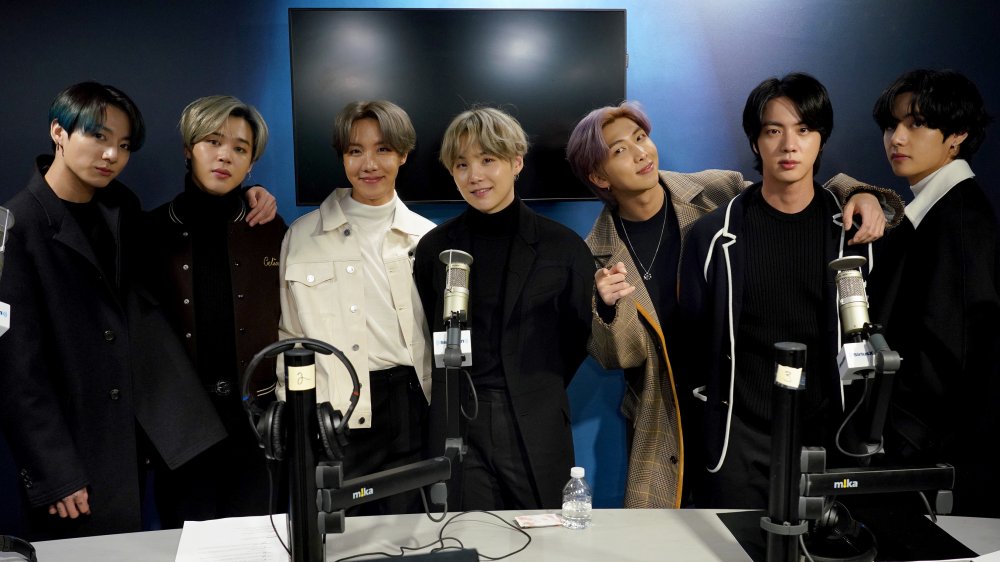 Cindy Ord/Getty Images
"Dynamite" by BTS was released at 1 p.m. local time in Seoul, which was an unusual choice for a K-pop group. Typically songs are released at 6 p.m. in Seoul, but the earlier release time allowed BTS to capitalize on worldwide sales and streams, something they're focused on now that they've become such worldwide superstars.
The video racked up nearly 100 million views in the first day, breaking the record for most YouTube views on a music video in 24 hours, according to Variety. The previous record holder was fellow K-pop group Blackpink, whose "How You Like That" debuted to just over 86 million people in the first 24 hours in June 2020.
The members of BTS aren't focused on the numbers "Dynamite" is raking in, though. They just want their fans to be happy. "We have a new goal for 'Dynamite' that's not about numbers or rankings, and it's that we hope a lot of people find comfort and strength while listening to it. I hope it gives strength to us and the fans," Suga said in the showcase via the Korea Herald.
"It's about all the little things that make life truly valuable and special," RM said to SiriusXM, according to ET Canada. "It's just about the positive energy and the stars, the nights, the beautiful things."