Strange Things About Kellyanne Conway's Marriage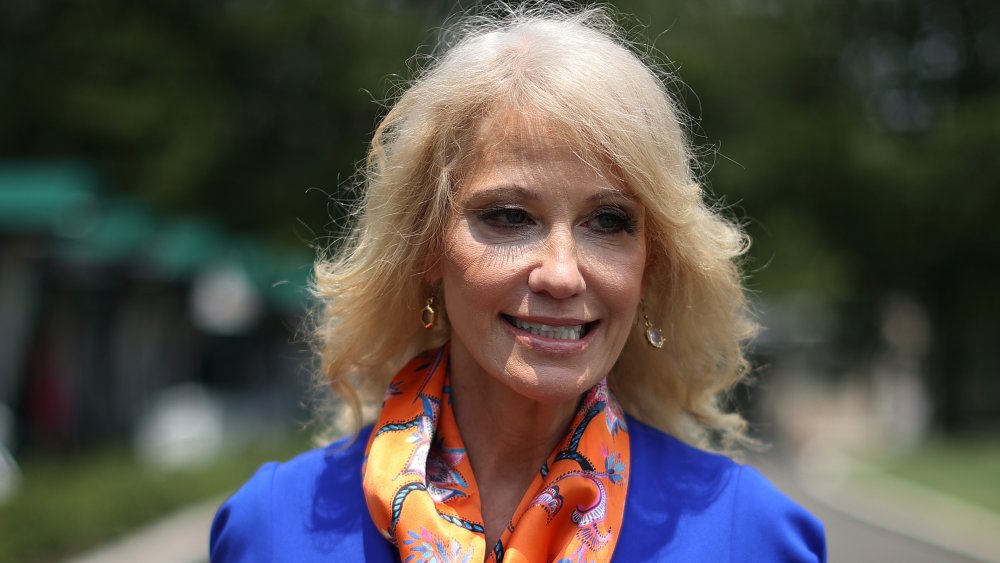 Chip Somodevilla/Getty Images
If there was ever a "Republican it girl" to crown, Kellyanne Elizabeth Conway would most likely earn that title. The American pundit and political consultant has stood by President Donald Trump's side since August 2016 when she was appointed as his campaign manager. On Aug. 23, 2020, Kellyanne announced she would be resigning from her position with the Trump administration by the end of the month, according to BBC. 
The announcement came soon after Kellyanne's daughter Claudia Conway — who is seeking emancipation from her parents, per Today — blasted her mom on Twitter. The tweet read, "my mother's job ruined my life to begin with. heartbreaking that she continues to go down that path after years of watching her children suffer. selfish. it's all about money and fame, ladies and gentlemen." Yikes. 
Kellyanne's seemingly complicated relationship with one of her daughters isn't the only controversial pair in the Conway household. Kellyanne and her husband George Conway are notoriously known for having opposing views on the re-election of President Trump. In the pundit's statement, she said, "[George and I] disagree about plenty but we are united on what matters most: the kids."
But how many points do they actually disagree on? Let's take a look into the Conways' peculiar marriage. 
Kellyanne Conway has defended President Trump against her husband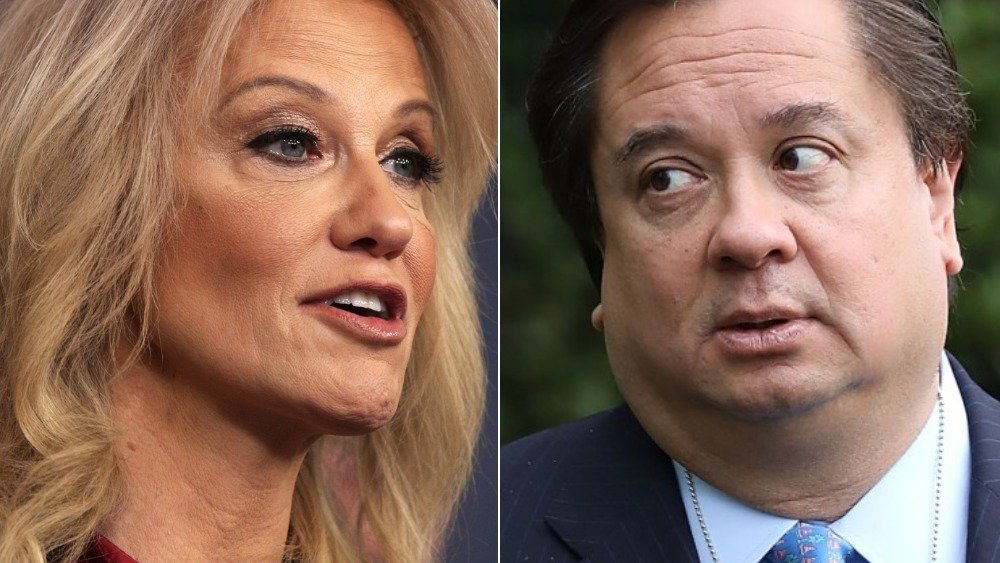 Alex Wong, Chip Somodevilla/Getty Images
Kellyanne Conway and conservative lawyer George Conway married in 2001. They have four children together: twins Claudia and George IV, Charlotte, and Vanessa Conway. At one time, Kellyanne and George were both fighting the same fight, but throughout President Donald Trump's presidency, George grew to have a strong disapproval toward the president's actions and statements. In fact, George co-founded the Lincoln Project in December 2019, a campaign organized by conservatives who are against the re-election of Trump. 
George also made his dislike of Trump very public and he's been on the receiving end of Trump's slander many times. In March 2019, the president tweeted, "George Conway, often referred to as Mr. Kellyanne Conway by those who know him, is VERY jealous of his wife's success & angry that I, with her help, didn't give him the job he so desperately wanted." He added, "I barely know him but just take a look, a stone cold LOSER & husband from hell!"
George replied by tweeting (via The Washington Post), "#NarcissisticPersonalityDisorder." But how did Kellyanne respond? She seemingly sided with the president. During an interview with Politico shortly after the public dispute, the mother of four called President Trump "a counterpuncher." She said, "You think he shouldn't respond when somebody, a non-medical professional accuses him of having a mental disorder? You think he should just take that sitting down?"
Kellyanne Conway met President Trump because of her husband's self-proclaimed 'laziness'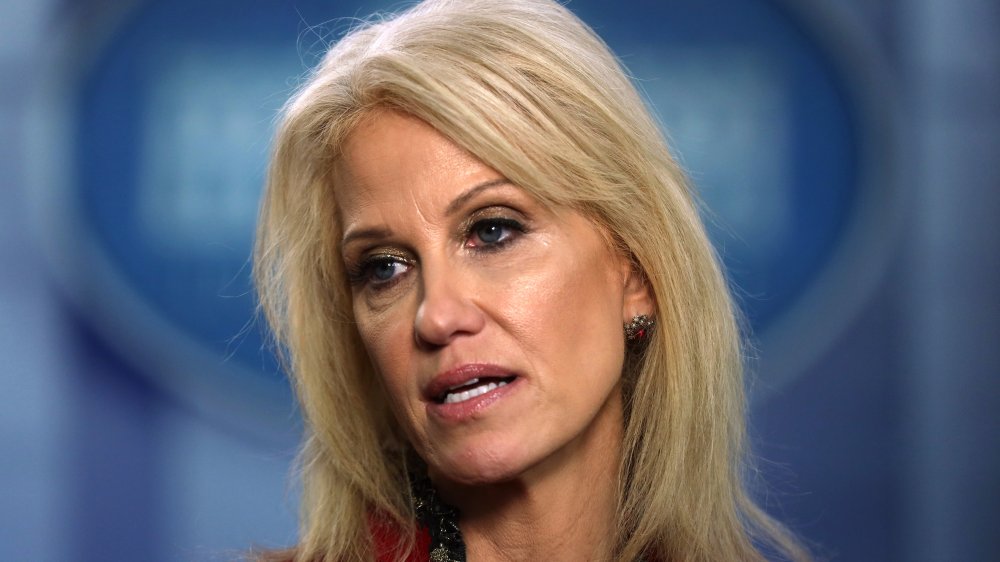 Alex Wong/Getty Images
No one is certain if Kellyanne and George Conway's marriage is simply a "church and state" separation or a political performative art piece. However, they seem to be fine with their arrangement. According to Washington Post, Kellyanne once said, "I find that [George's] near-constant presence doesn't annoy me." In the same cut-throat tone, George said in an interview, "My laziness led her to meet Donald Trump" after he declined a position on the apartment board in Manhattan's Trump World Tower and gave it to his wife. 
In her 2020 resignation statement, Kellyanne noted, per BBC, that George will also be "stepping away from political activism," so both parents can focus on the kids' education. "Our four children are teens and tweens starting a new academic year, in middle school and high school, remotely from home for at least a few months," she said. "As millions of parents nationwide know, kids 'doing school from home' requires a level of attention and vigilance that is as unusual as these times."
As of this writing, Kellyanne is still scheduled to speak at the Republican National Convention in August 2020, so it's possible Americans will hear more about her and George's next political plans.