The Truth About Steve Bannon And Donald Trump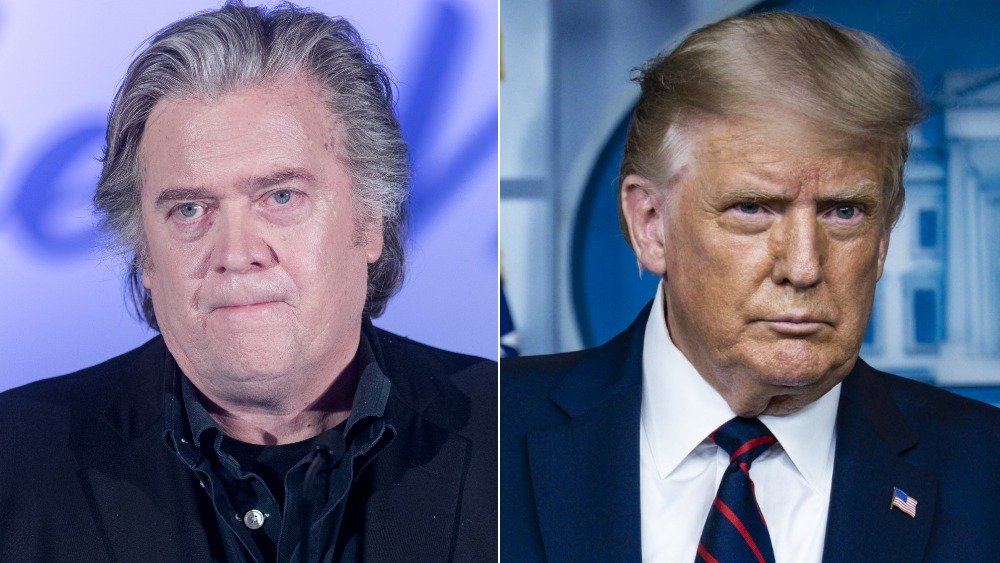 Stephanie Keith/Getty Images
We may receive a commission on purchases made from links.
In August 2020, Donald Trump's former chief strategist was arrested and charged with "defrauding donors of hundreds of thousands of dollars as part of a fundraising campaign purportedly aimed at supporting Trump's border wall," per CNN. According to the outlet, Bannon was taken into custody by federal officials with the help of the United States Postal Inspection Service and the United States Coast Guard. 
Following his arrest, Bannon claimed it was a "political hit job" and deemed it "nonsense," per ABC News. He also "vow[ed] to fight the charges against him," while maintaining that his actions were in service of Trump. That being said, Trump, on the other hand, has reportedly tried to distance himself from Bannon. "I feel very badly," Trump said about his former adviser's arrest, according to CNN. "I haven't been dealing with him for a very long period of time." 
While, at one point, Trump and Bannon seemingly had a close relationship, it's one that has been marred by "ups and downs and in-betweens," as CNN put it. The outlet noted: "Like most of Trump's professional associates, Bannon has both been welcomed to the inner circle and banished to the coldest reaches of the orbit — sometimes in the same stretch of months."
Steve Bannon and Donald Trump's relationship has been a bit of a rollercoaster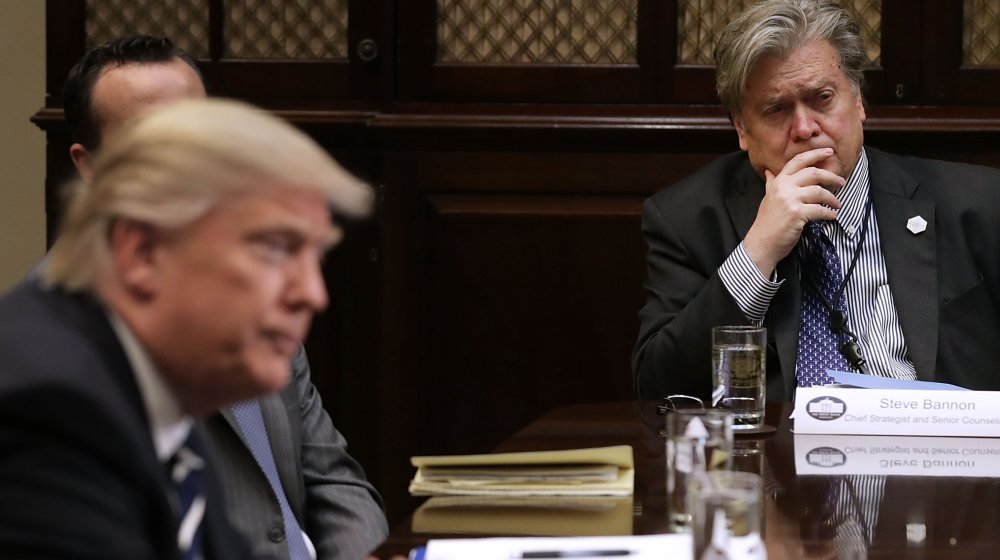 Chip Somodevilla/Getty Images
According to ABC News, Steve Bannon and Donald Trump's relationship dates back to way before Trump's presidency. The two reportedly met in 2010 with Bannon ultimately joining Trump's campaign as CEO in August 2016. By November 2016, Bannon was given the title of chief strategist and senior counselor, per the outlet. However, it wasn't all smooth sailing.
According to CNN, "Bannon was accused of leaking negative information about other staffers." Additionally, Trump allegedly "grew disillusioned" when TIME came out with a cover that featured Bannon with the headline: "The Great Manipulator." In August 2017, Bannon was ousted as chief White House strategist, per Politico.
In Michael Wolff's 2018 book Fire and Fury: Inside the Trump White House, Bannon was quoted as "labeling Donald Trump Jr.'s meeting with a Russian lawyer during [the 2016] campaign 'treasonous,'" per CNN. Needless to say, Trump wasn't thrilled. "Steve Bannon has nothing to do with me or my presidency," Trump said in a statement (via CBS News). "When he was fired, he not only lost his job, he lost his mind."
Trump also made his thoughts known on social media, calling Bannon "Sloppy Steve" in a January 2018 tweet. After that, their relationship seemed to continue to deteriorate. According to CNN, in "early 2019" Trump claimed he hadn't spoken to Bannon in years. 
Now that Bannon's been arrested, will their relationship officially come to an end? Only time will tell.