Inside Melania Trump's 2016 Plagiarized RNC Speech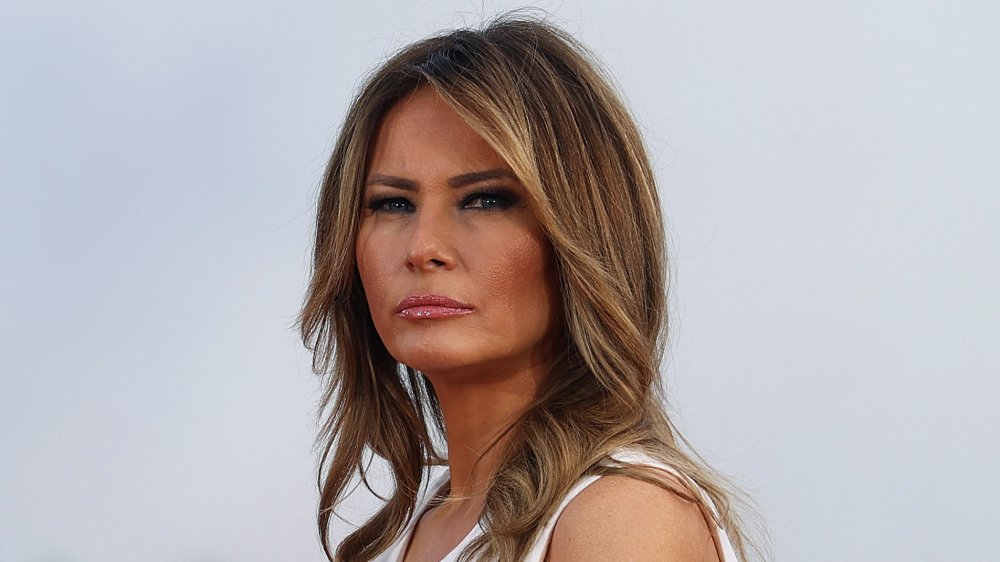 Tasos Katopodis/Getty Images
The 2020 Republican National Convention is dredging up old memories from the RNC in 2016 when President Donald Trump was the Republican nominee. Similarly to the event held in August 2020, the last RNC had many talked about moments, including the faux pas involving first lady Melania Trump. Some might remember how Melania faced widespread scrutiny after she gave a speech that was eerily similar to the Democratic National Convention speech former first lady Michelle Obama gave in 2008.
It quickly came to light that the person behind the speech in question was actually a Trump organization staff writer by the name of Meredith McIver, per NPR. Once the, ahem, stuff hit the proverbial fan, McIver took full responsibility for the controversy. In a statement released by the Trump campaign, McIver was adamant that the "mistake" was all hers. "This was my mistake and I feel terrible for the chaos I have caused Melania and the Trumps, as well as to Mrs. Obama. No harm was meant," McIver expressed, according to ABC News. McIver also explained how the striking similarities came about in the first place, noting that Melania "always liked" Mrs. Obama, and had given McIver passages from the 2008 speech, which she included in Melania's address. RUH-ROH.
Although it's common for convention speeches to touch on the same subjects (faith, family, values, goals, etc.), many argued at the time that Melania's speech was just too close for comfort. But just how similar were the two addresses? Let us count the ways.
Michelle Obama's speechwriter weighed in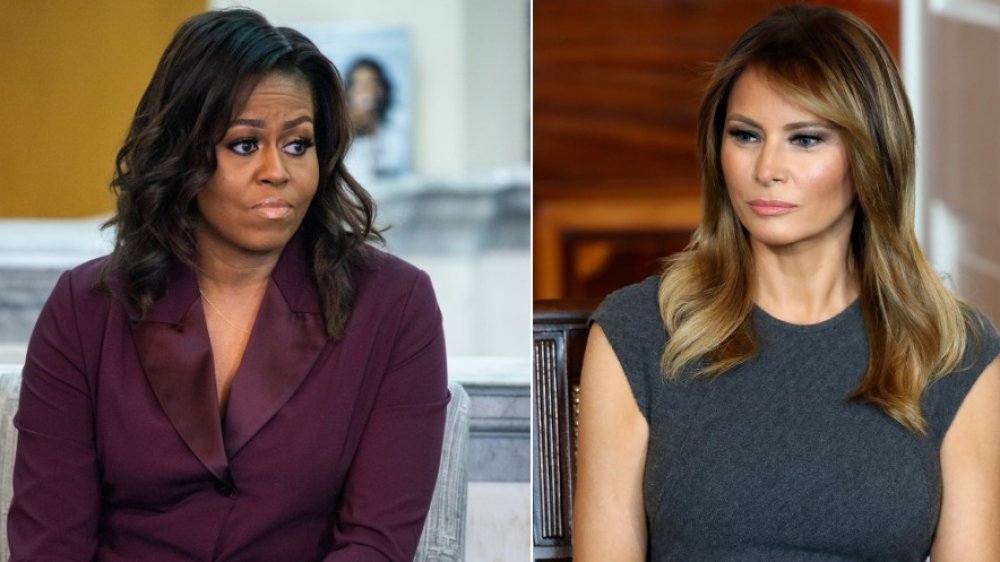 Jim Bennett, Chip Somodevilla/Getty Images
In Melania Trump's 2016 Republican National Convention speech, nearly half of the words spoken were identical to the phrases former first lady Michelle Obama used in her 2008 Democratic National Convention speech, NPR reported.
One part of Melania's speech included the phrase, "you work hard for what you want in life. That your word is your bond and you do what you say." As it turns out, Michelle's speech also utilized that same phrase. In another instance, Melania's speech included the sentence, "That you treat people with respect." Once again, Obama's speech also included that same phrase, the only difference being that it had the word "dignity." 
An additional example? Melania's address stated, "Because we want our children in this nation to know that the only limit to your achievements is the strength of your dreams and your willingness to work for them." As for Obama's message, she said, "because we want our children — and all children in this nation — to know that the only limit to the height of your achievements is the reach of your dreams and your willingness to work hard for them." Even with all of those similarities, Trump's campaign was adamant that Melania's speech drew from her own experiences as an immigrant, according to NBC News. 
Speechwriter Sarah Hurwitz, who helped pen Michelle's 2008 speech, addressed the situation in 2019 when chatting with People, sharing, "Making that kind of mistake is every speechwriter's worst nightmare."