Here's Why Everyone's Talking About Kayleigh McEnany's RNC Speech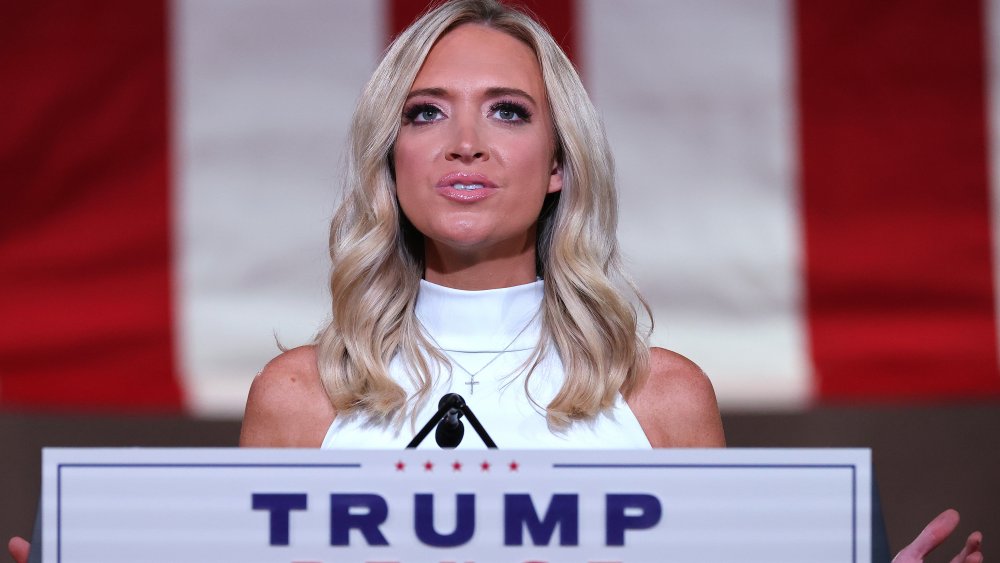 Chip Somodevilla/Getty Images
White House press secretary Kayleigh McEnany has been speaking on President Donald Trump and his administration's behalf since April 2020. And although many Americans are familiar with her professional life, her speech at the 2020 Republican National Convention on Aug. 26 showed off a different side. McEnany opened up about her personal life and gave some insight into her and the president's relationship, which seems rather close. 
The biggest revelation came when McEnany revealed that, at 21, she tested positive for the BRCAII genetic mutation, which, according to Memorial Sloan Kettering Cancer Center, puts her chances of getting breast cancer between 50 to 84%. So in 2018, McEnany decided to have a double mastectomy to eliminate her risk of cancer. McEnany added that one of the first calls she received was from Ivanka Trump, followed by a check-in from her now boss. 
"Days later, as I recovered, my phone rang. It was President Trump, calling to check on me," she continued, according to Axios. "I was blown away. Here was the leader of the free world caring about me. Though I didn't personally know the president at the time, I know him well now and I can tell you that this president loves the American people, stands by Americans with preexisting conditions and supports working moms." (FYI: The Trump administration has repeatedly sought to overturn the Affordable Care Act (ACA), which would end protections for people with pre-existing conditions, according to Mother Jones).
So what else did McEnany have to say? Let's take a look at her most-talked-about moments.
Kayleigh McEnany painted Trump in a different light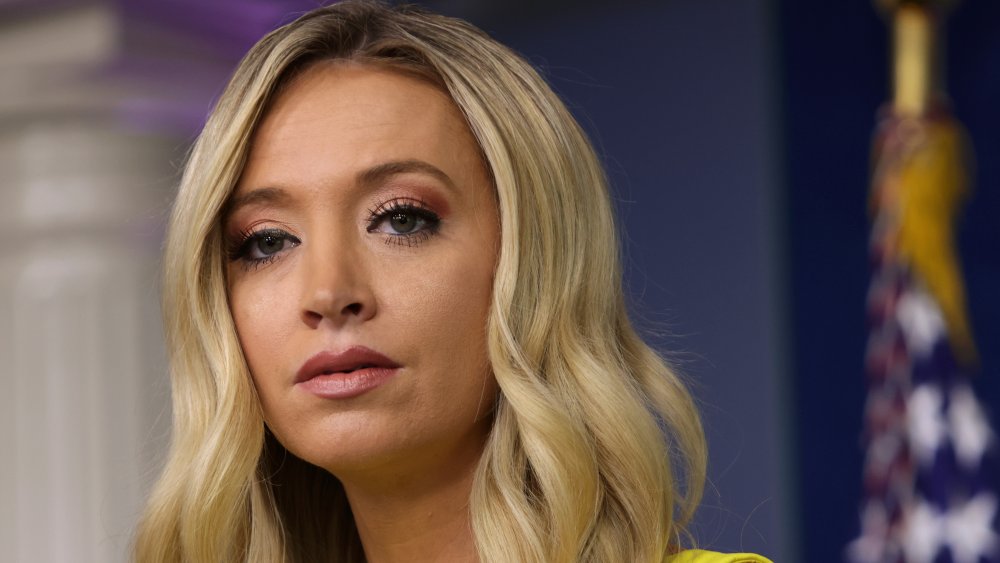 Alex Wong/Getty Images
Kayleigh McEnany, who has degrees from Harvard and Georgetown, was working as a spokesperson for the Republican National Committee and Trump TV contributor at the time of her double mastectomy, making it notable that President Donald Trump reached out despite not working in the White House together. It's also worth mentioning that McEnany wasn't always such a staunch Donald Trump supporter — in 2015, she called him a "sideshow," per CNN. However, she later walked back the comments.
McEnany became closer with Donald before landing the White House press secretary job, an experience she recounted during her RNC speech. Mentioning her husband, Sean Gilmartin, and their daughter, Blake, McEnany said, "When I started working for President Trump, my husband and I became pregnant with our first child, I would see President Trump at rallies. He would routinely ask me how my baby was doing." She added, "The same way President Trump has supported me, he supports you." McEnany noted that she supports Trump's re-election campaign for her daughter's sake and future. 
McEnany's anecdotes about Trump's caring and nurturing side — whether it be calling about her mastectomy or check-up on her pregnancy — got people talking on Twitter. "Kayleigh McEnay [sic] claiming Trump called her after her mastectomy makes her the only RNC speaker thus far to say anything about Trump being kind or compassionate," a commenter said. One critic wrote, "He is not that wonderful and compassionate guy she is trying to make him out to be."
Kayleigh McEnany's family anecdote sparked controversy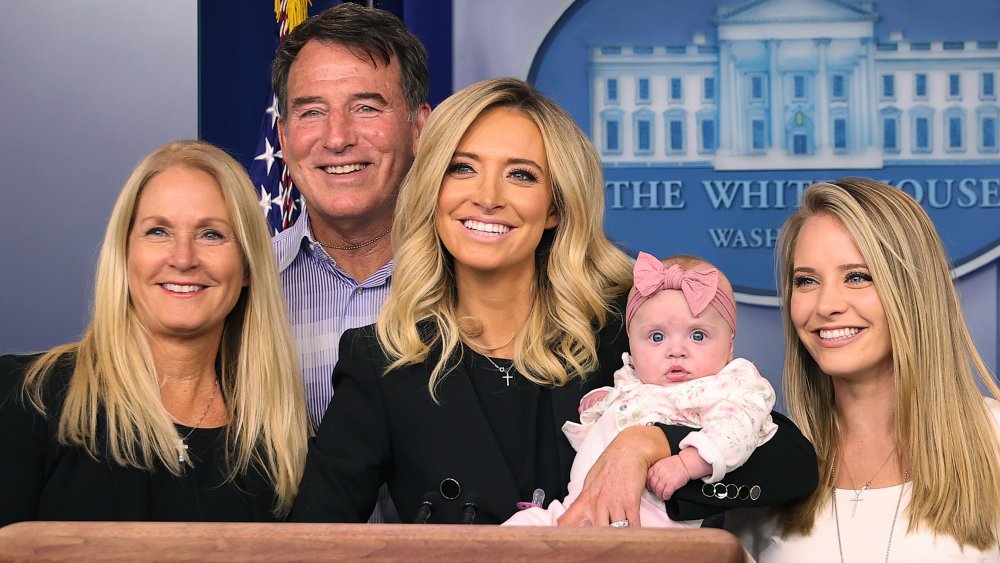 Chip Somodevilla/Getty Images
During Kayleigh McEnany's speech at the Republican National Convention, she reiterated multiple times how she's for President Donald Trump because of her family. "When I look into my baby's eyes, I see a new life, a miracle for which I have a solemn responsibility to protect. That means protecting America's future — a future President Trump will fight for where our neighborhoods are protected," she stated, per CNN. "Where life is sacred. I want my daughter to grow up in President Donald Trump's America." 
The anecdote sparked a wide range of reactions, including comments from people who questioned whether President Donald Trump fosters a supportive environment for women. "What if her daughter wanted reproductive freedom, equal pay, or LGBTQ civil rights?" someone commented, and The Lincoln Project — an anti-Trump group formed by Republicans — shared a video of clips highlighting Trump's controversial treatment of females throughout the years. 
However, others were more supportive of McEnany's speech, like her sister, Ryann McEnany. "I'm SO PROUD," Ryann wrote. White House counselor Kellyanne Conway also supported McEnany's sentiments about Trump, stating in her own RNC speech, per Deadline, "He [Trump] confides in and consults us, respects our opinions, and insists that we are on equal footing with the men." 
It remains to be seen whether McEnany's anecdotes will help Trump in the polls, although it's clear she supports his re-election campaign.