Mitch McConnell Is Worth A Lot More Than You Think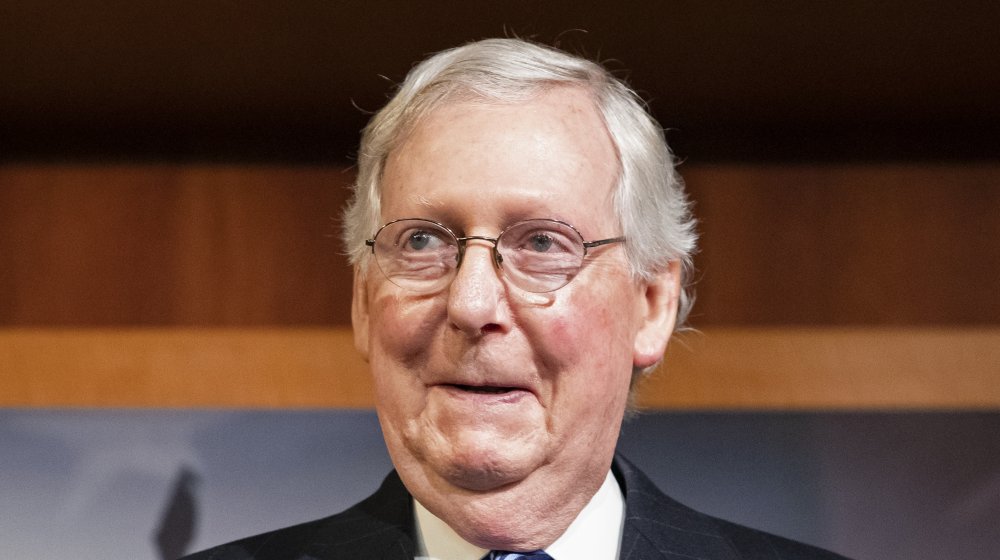 Samuel Corum/Getty Images
Senate Majority Leader Mitch Connell began his career in national politics in 1985 when he became senator of Kentucky. The Republican quickly ascended the ladder once in Washington D.C., becoming chairman of the National Republican Senatorial Committee in 1997, Majority Whip in 2005, and Minority Leader in 2007. But McConnell's crowning achievement came in 2014 when he got elected Senate Majority Leader during Barack Obama's second term as president. Before securing the gig, McConnell promised to "take America in a different direction" if he won, according to The Washington Post.
A lot has happened since then, to put it mildly, and McConnell has grown into a very controversial figure, mostly in part to his relationship with President Donald Trump. The New Yorker called him Trump's "Enabler-in-Chief," while The Los Angeles Times accused McConnell of "covering up" for the president's alleged misdeeds. But through it all, McConnell has continued to defend Trump, and he was selected as one of the speakers to present at the 2020 Republican National Convention.
McConnell's appearance at the RNC has reignited interest in his background, especially where it concerns his finances. So how much is the politician worth? Let's take a look.
Mitch McConnell's wife contributed to his wealth
Aaron P. Bernstein/Getty Images
Some might be surprised to learn that Senate Majority Leader Mitch McConnell has a sizable net worth, coming in at a reported $30 million, according to Celebrity Net Worth. What's especially interesting about this figure is that McConnell supposedly had $3.1 million in the bank as of 2004, as The Washington Post noted, and, the Senate Majority Leader position pays a reported $193,400 salary, according to the National Taxpayers Union Foundation. So how do those numbers add up to a whopping $30 million? And how did McConnell make that leap?
As it turns out, McConnell's wife, United States Secretary of Transportation, Elaine Chao, comes from family money and has also led a lucrative career as an executive. Chao's mom reportedly gifted the couple $9 million from a will worth $59 million when she died in 2007, Forbes estimated. Chao also serves on the board of directors for many companies, earning $232,000 in 2014 for her role at Wells Fargo, according to a financial disclosure form. From 2011 to 2015, she made $1.2 million as a board member at Wells Fargo, per San Francisco Business Times. Mind you, that role is just one of her many director positions. 
Together, it appears McConnell and Chao are quite the money earning team.