Melania Trump's RNC Dress Has People Talking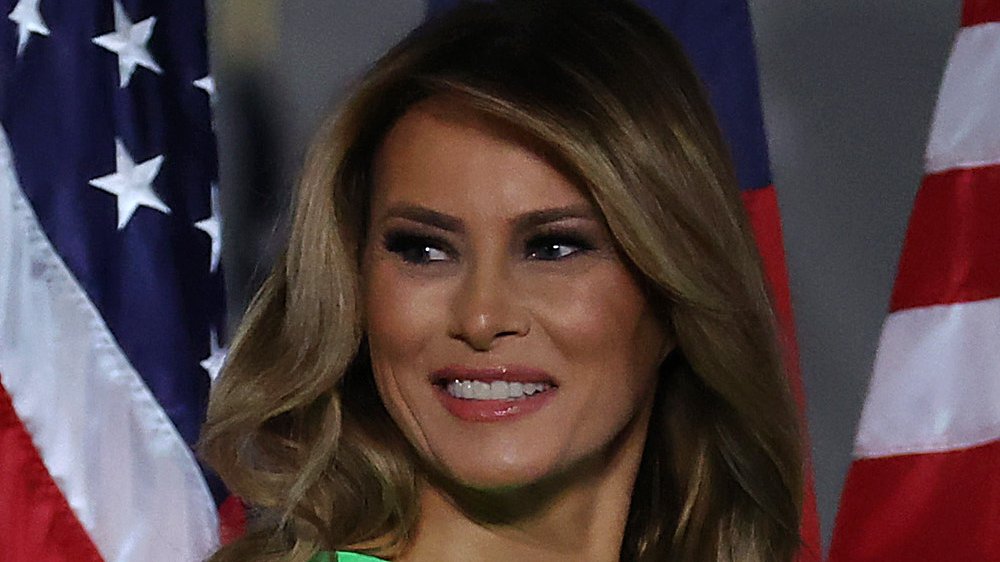 Chip Somodevilla/Getty Images
Ahead of the final night of the Republican National Convention on Aug. 27, 2020, many on social media were speculating about what President Donald Trump would say in his address from the White House's South Lawn. But when Trump finally approached the podium, he wasn't the only one who was receiving attention. In fact, some might argue that first lady Melania Trump stole the show, mostly due to her fashion choice for the evening — a highlighter green dress. Although the Republican party's color is red, Melania opted for the brightest shade of green imaginable, a decision that immediately sparked widespread commentary on Twitter.
Perhaps unbeknownst to Melania, green is not recommended for television appearances, as it acts as a "green screen" ("the monochrome backdrop used to shoot footage with scenery that must be added in post-production," per Mashable), allowing people to photoshop whatever they wish onto the ensemble. In fact, some Twitter users have already photoshopped America's COVID-19 statistics over her dress. Yikes. "Absolutely cannot wait for the photoshop wonders that are going to come out from Melania's green screen dress," one person tweeted about the situation.
But wait — social media had much more to say about this apparent fashion faux pas. Keep reading to see the other reactions.
Twitter has a lot of opinions about Melania Trump's dress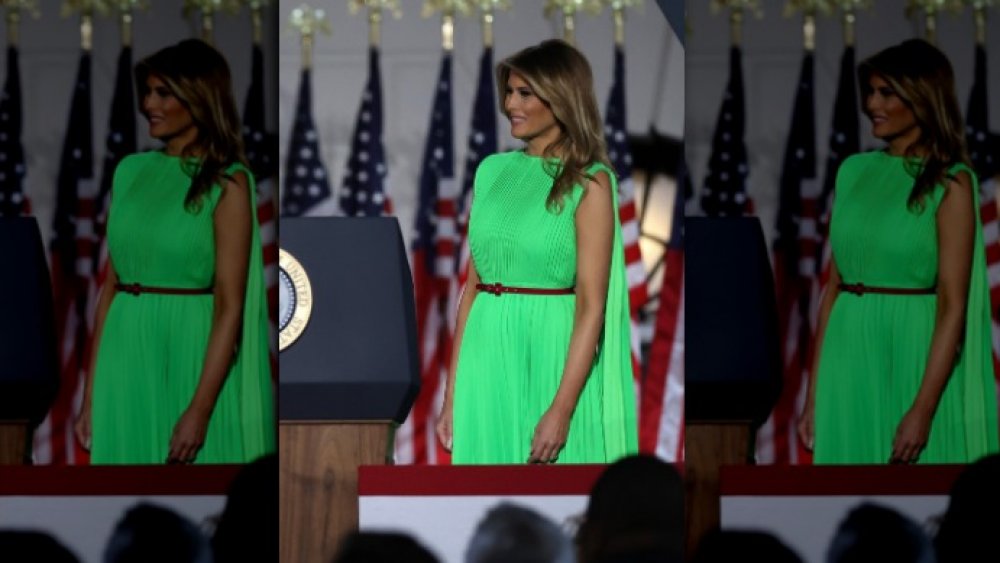 Chip Somodevilla/Getty Images
As Twitter sleuths quickly discovered, first lady Melania Trump wore a Valentino caped-shoulder pleated-crepe dress first priced at $5,500. "Not many people could pull off that color green that #Melania is wearing and she looks fabulous," someone said about the bright, lime green dress.
However, others weren't as complimentary. "Its been 20 minutes and Im gonna say that Melania is going to really, really regret the green screen dress," one person tweeted, while another user wrote, "Melania looks like a green highlighter." And one commenter reasonably wondered, "Why would Melania wear a green dress? Why wouldn't someone warn her? It's like trailing toilet paper on your shoe & no one saying anything."
Although Melania hasn't addressed the style choice as of this writing, some speculated that this was a calculated move on the first lady's part. "Smart move by Melania wearing plain green dress," they captioned a photo of Melania sticking out from the crowd. "This is one of the Queen's tricks. You stand out a mile off."
Melania, whose fashion picks have incited controversy and praise throughout the years, once said about the public interest in her clothing, per TIME, "I wish people would focus on what I do, not what I wear." Yep, we have a feeling Melania's wish won't get granted anytime soon.