Best And Worst Dressed On The 2020 VMA Red Carpet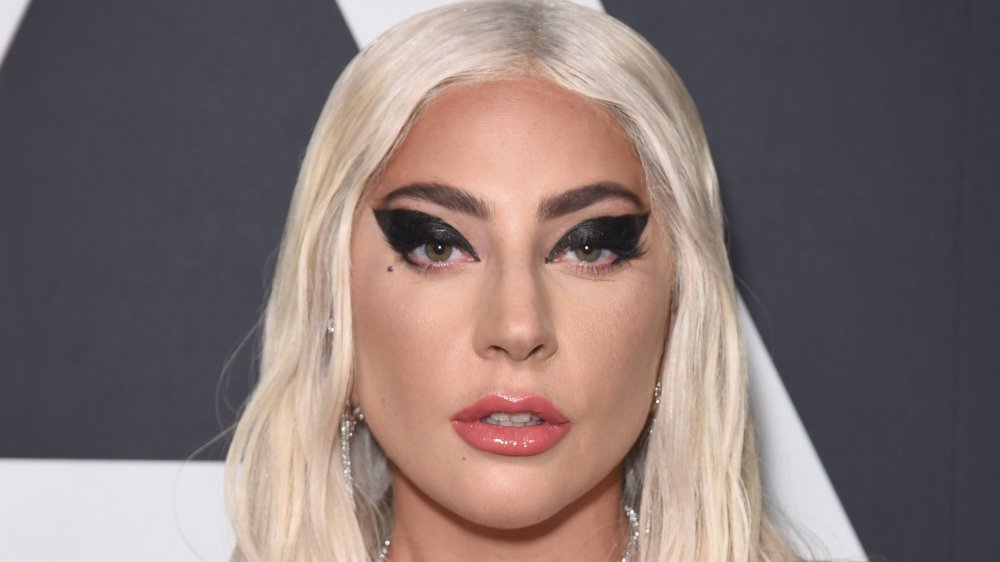 Presley Ann/Getty Images
The MTV Video Music Awards celebrate the best of the best when it comes to, well, music videos. Usually, the night of industry-filled honors includes an invite-only ceremony that features attention-grabbing awards' presentations, buzz-worthy acceptance speeches, super-lit performances, and fabulously fashionable moments. However, the 2020 VMAs were unlike any before.
Due to the coronavirus and resulting need for social distancing, large gatherings weren't exactly advised. That's why the VMAs decided to ditch the original plan of holding an in-person event at the Brooklyn's Barclays Center, and instead featured "several outdoor performances ... with limited or no audience" due to the fact that this set up "would be more feasible and safer than an indoor event," according to a statement from the event's organizers (via Entertainment Tonight). As for the red carpet, celebs like actor and rapper Jaden Smith, "I'm a Mess" singer Bebe Rexha, singer-songwriter Madison Beer, and Blink-182 drummer Travis Barker (with a pandemic-appropriate mask) wore buzz-worthy outfits while posing by themselves or doing one-on-one interviews. And then there was host Keke Palmer, who looked downright unrecognizable.
While the unusual circumstances meant that the 2020 VMAs were an event to remember, the same can be said for these stars, who were the best and worst-dressed celebs on the red carpet. BUT FIRST: Remember that when it comes to fashion, not everyone will agree with what's awesome and what's awful. The following choices were based on the general opinion of fashion-focused social media users. Read on to see what you think of each look!
Worst: Nicole Richie showed up with an 'organic vegetables' vibe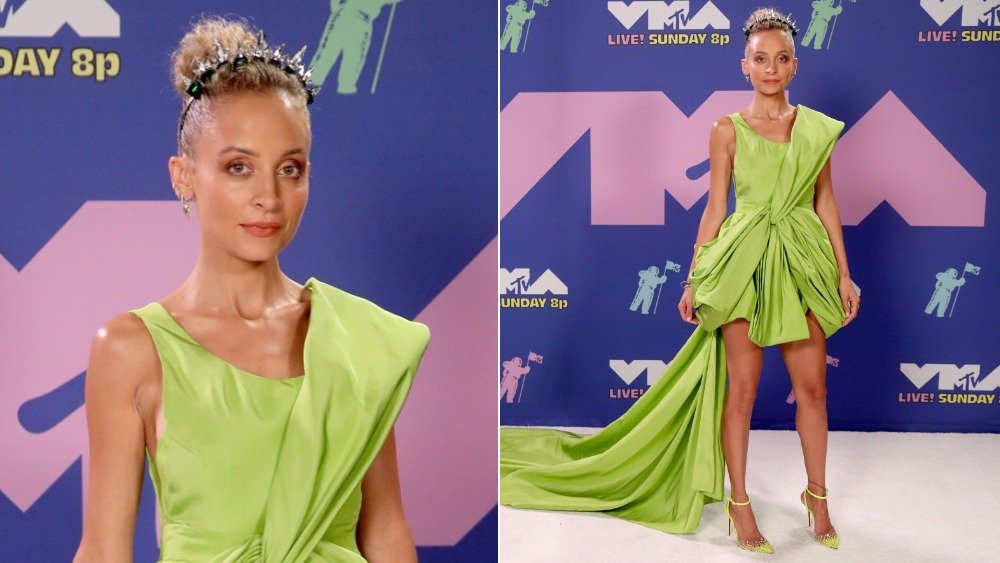 Rich Fury/mtv Vmas 2020/Getty Images
Nicole Richie — who has been on a fashion-related "journey" when it comes to her appearances at the MTV Video Music Awards — assembled a 2020 VMAs red carpet look that included an intense spiked headband and understated makeup. The combination of the two seemed to contradict each other. However, if those two elements had been the only notable aspects of her outfit, then Richie might not have made it on this list. What many viewers took notice of — and weren't sure about — was her dress. Although it appeared to have a slightly olive tinge to it when checking it out from some angles, what you were seeing was actually "a lime green Cong Tri minidress," according to Us Weekly.
Whatever color it truly was, viewers weren't impressed. "Whi tf is this?" one critic tweeted. Another challenged the fact that the VMAs had deemed Richie an icon, writing, "define icon." Ouch!
During a pre-show interview, Richie (aka rapper Nicki Fresh), didn't exactly sell the look when she took a cheeky approach to describing it. "I wanted to wear green because my album is all about organic vegetables," she said.
Best: Machine Gun Kelly was on point in pink and pearls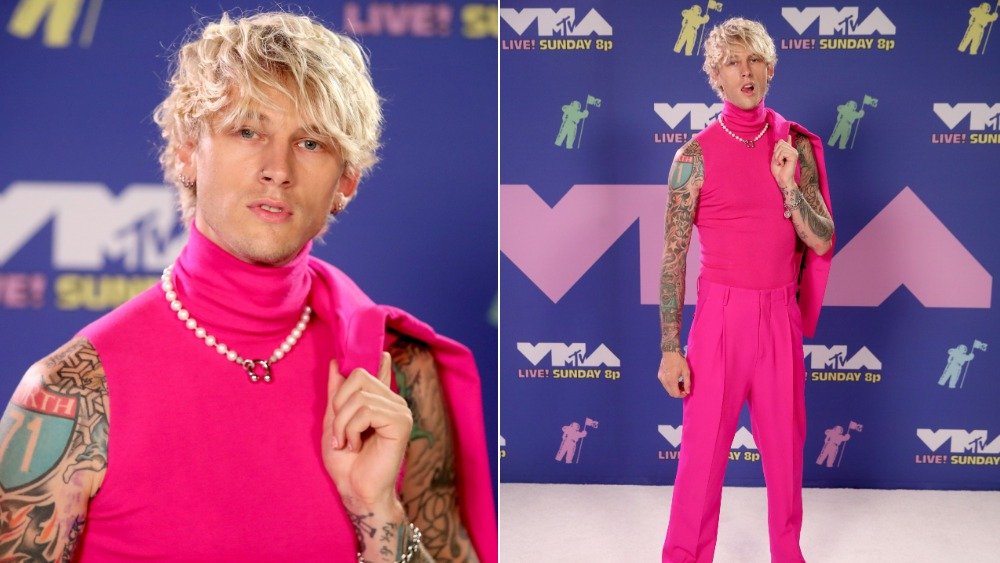 Rich Fury/mtv Vmas 2020/Getty Images
Machine Gun Kelly is definitely not someone who's afraid to stand out, and he definitely made that clear at the 2020 VMAs. You couldn't miss the "I Think I'm OKAY" rapper on the red carpet, thanks to the fact that he opted for a super bright outfit. But it wasn't just any ol' ensemble. What made it so special? Well, the pink! The pearls! His ensemble included a sleeveless turtleneck, slacks, and matching blazer — it was an unexpectedly fun choice for Megan Fox's new beau.
"CAN WE JUST TALK ABOUT THIS 'FIT?" the VMAs tweeted. "I love how @machinegunkelly just invented hot pink." Fans were also ready and willing to praise the performer, who took home the award for best alternative video for "Bloody Valentine." By the way, Kelly said he'd be spray-painting the moon person statue pink, too. "Pink is his color," one admirer tweeted. Another quipped: "PINK IS PUNK." 
However, another social media pundit felt like Kelly may have been inspired by another star in the music scene, tweeting: "What you meant to say was imitation is the highest form of flattery. Harry [Styles has] BEEN in hot pink and pearls for a hot minute. Everyone else is just catching up."
Worst: Maybe DaBaby forgot to get dressed?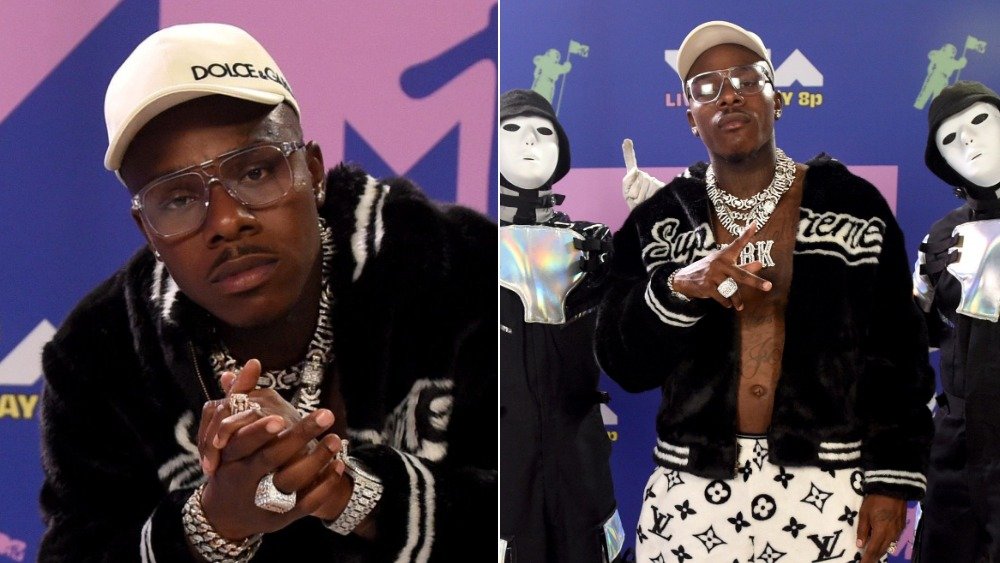 Kevin Winter/mtv Vmas 2020/Getty Images
DaBaby "is one of a kind in every sense of the word," per Complex. That includes the ways in which he's willing to play around with what he wears — or, in some circumstances doesn't wear. That's right, this is one rapper who sometimes makes a style statement by taking the less-is-more vibe almost as far as possible. For instance, in 2017, he made an appearance at SXSW and "became a minor internet sensation just by walking around 6th Street in an adult diaper and nothing else," reported Stereogum.
While he didn't go that far at the 2020 VMAs, he did seem to ditch a few expected items of clothing, such as a shirt and pants. Or maybe he just forgot to finish getting dressed? Who knows? Granted, he was wearing boxers and a (furry?) jacket as well as a hat, glasses, and a lot of diamonds.
While there's no doubt that DaBaby can wear whatever he wants (or doesn't want), this look won't exactly earn him any style awards or be among his most memorably off-beat choices.
Best: Doja Cat was pure fire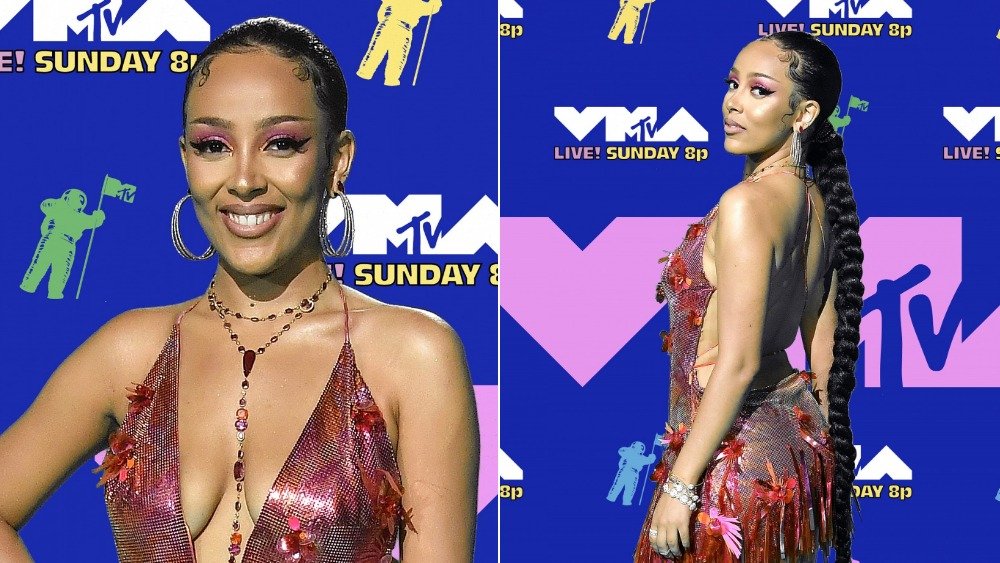 Frazer Harrison/Getty Images
Doja Cat "is one of the most beautiful women ON THE PLANET," according to the VMAs, and it's hard to argue with that when you check out her look at the 2020 event. The star walked the somewhat strange red carpet in a backless dress with a plunging neckline held together by razor-thin straps. The shimmering fabric was fiery perfection and covered in embellishments that added to the enviable ensemble.
Topping off the "Say So" singer's slay-worthy style: Shiny coffin-shaped nails, a lengthy necklace that matched her dress, multi-hooped earrings, a few perfect rings, and multiple bracelets on each wrist. And that's not even mentioning her incredible hair and makeup.
"SHE LOOKS SO GOOD OMGG," one Twitter user gushed. Another VMA viewer who was obviously impressed tweeted: "I'm shaking she looks so FIERCE."
Worst: CNCO lacked a certain something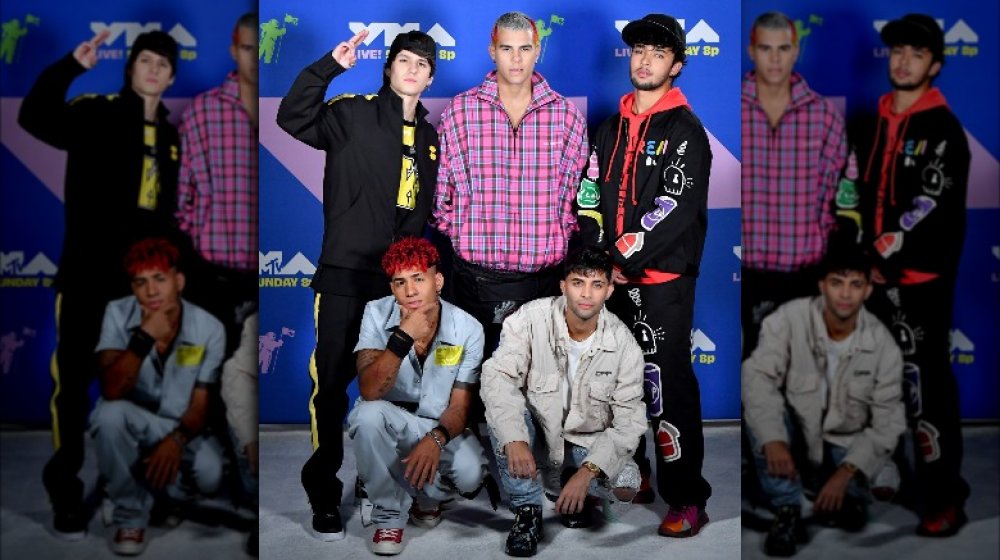 Jeff Kravitz/mtv Vmas 2020
First and foremost: If you're a CNCO fan (or, likely, a CNCO super-fan), then you should be aware of the fact that this isn't criticizing them directly — honestly, no hate because we know they're awesome. But here's the thing: When you're this awesome and on such a career-boosting hot streak, then you deserve to look beyond incredible at every major appearance. You should be standing out to the point where you can't possibly be left off a best-dressed list, but when the group stepped onto the 2020 VMAs red carpet, we wanted... more.
The casual outfits they opted for would have been fine for a video and okay for a meet and greet. But when it comes to an awards show — especially one as cool as the VMAs — we want stars like CNCO to be styled in more than just forgettable hoodies and casual denim duds. While CNCO looked just fine at the VMAs, they could have looked super fine.
Best: Sofia Carson was radiant in red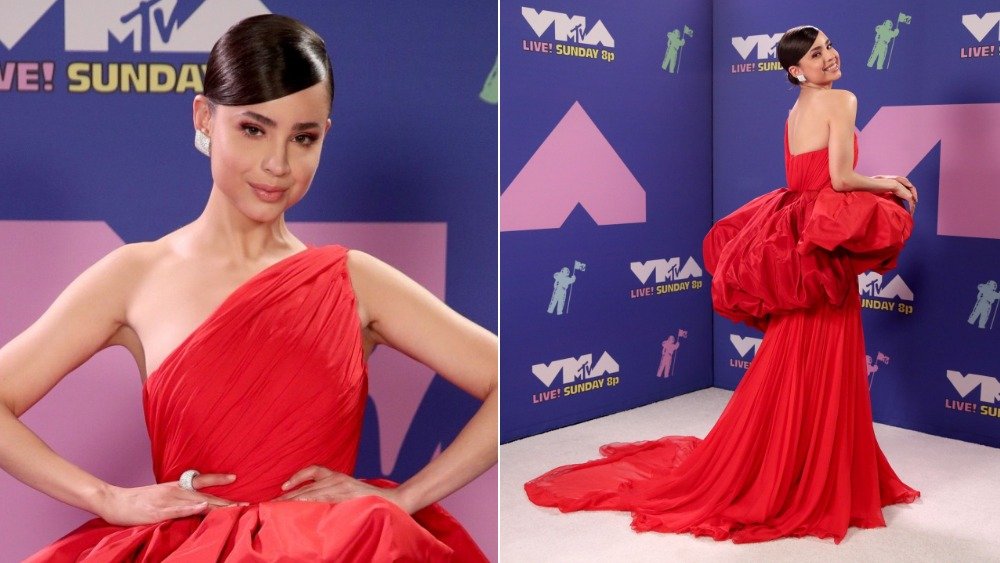 Rich Fury/mtv Vmas 2020/Getty Images
If you swooned over the dress that Descendants star Sofia Carson wore on the red carpet at the 2020 VMAs, then you certainly weren't alone. One admirer tweeted: "She's so pretty... she needs to play Snow White if Disney ever makes a live action." Frankly, if this is in any way Carson's way of showing off her royal-worthy style savvy for future roles, then we wouldn't be surprised if she had successfully snagged a casting director's attention.
Honestly, it's hard to imagine anyone not absolutely loving what Us Weekly described as a "fire-engine-red gown with an asymmetrical neckline." The gown seemingly floated around her waist in a cloud of fabric before flowing down her legs and trailing behind her. Let's not forget her dreamy "Vhernier earrings and a diamond ring." What more could you ask for?
Worst: The Weeknd looked rough (and roughed up)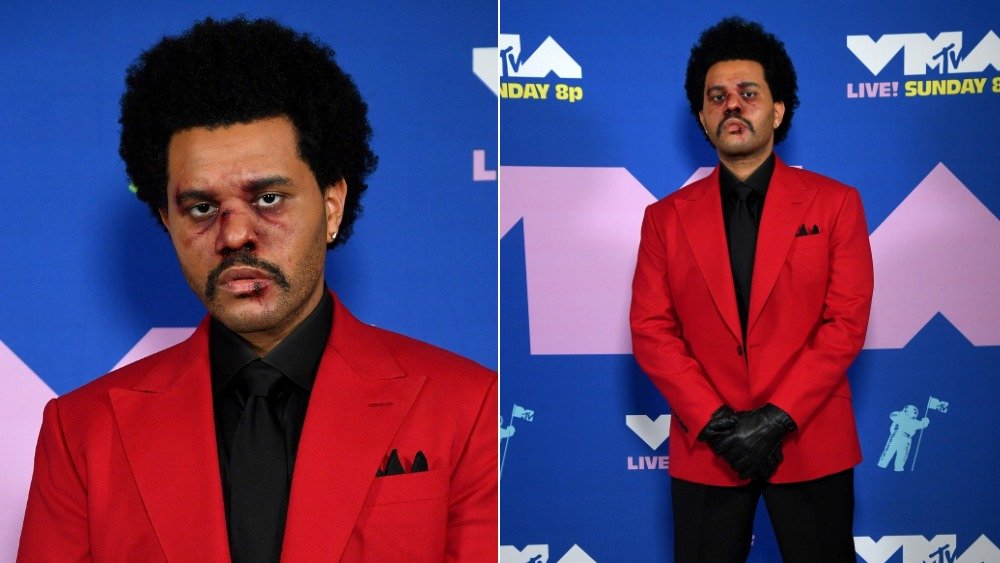 Kevin Mazur/mtv Vmas 2020/Getty Images
The Weeknd wasn't looking his best at the MTV VMAs in 2020, and we're going to assume that was the point. He stepped onto the red carpet with a face that appeared to be both bruised and cut up — likely a faux injured look created through makeup. The Weeknd has been rocking this, um, style for a while, but those who didn't know that were worried or less than impressed. "What happened? Are those real wounds? I hope he's fine," tweeted one watcher.
If that wasn't bad enough, there was also the issue of his red suit. Not all fans were thrilled with the '80s-ish outfit (the jacket, the shoes, the gloves) that is apparently already played out. "Not the red suit," one Twitter user wrote, along with a crying emoji. Another person simply found the Weeknd's look "boring," which is never a good look for a star.
Best: Miley Cyrus mixed glam with OMG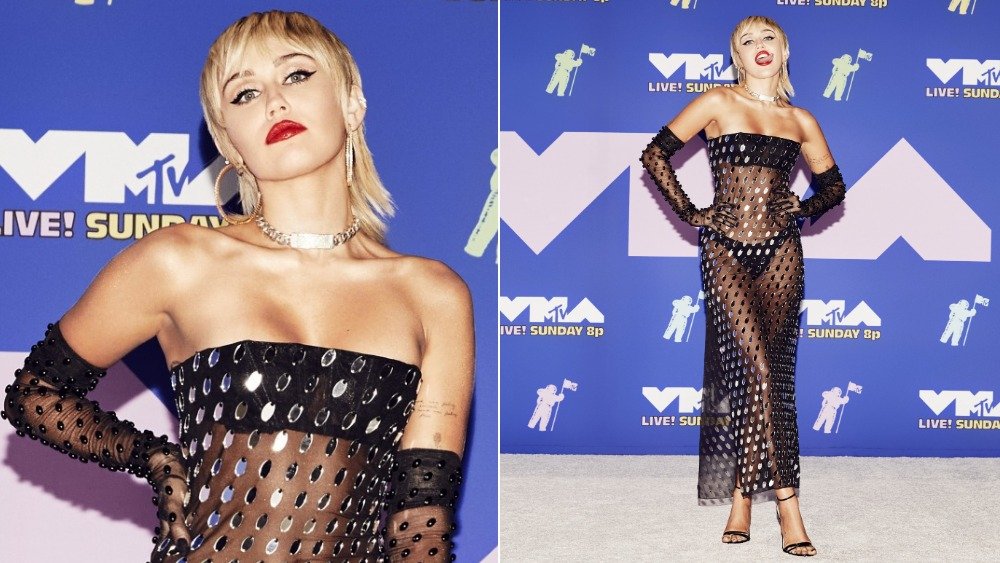 Vijat Mohindra/mtv Vmas 2020/Getty Images
You surely had to know that Miley Cyrus would be on this list in one way or another, and while not everyone could (or would even want to attempt to) pull off the singer's sense of style and "wild outfits," she always grabs the spotlight. Even Cosmopolitan tweeted that Cyrus "never disappoints," and her 2020 VMAs outfit was arguably one of the best.
At first glance, it appeared as if Cyrus had opted for an elegant gown for the event's red carpet, a shimmering dress constructed of tiny reflective tiles. However, if you look closer, you'll see that the singer indulged her wild side by wearing a dress (and matching gloves) that was somewhat sheer. Any NSFW bits of her body were covered by dark undergarments. "In a black off-the-shoulder Mugler dress and strappy heels," per Us Weekly, there's no doubt that Cyrus came ready to shine, and shine she did.
Worst: Joey King's floral dress simply wilted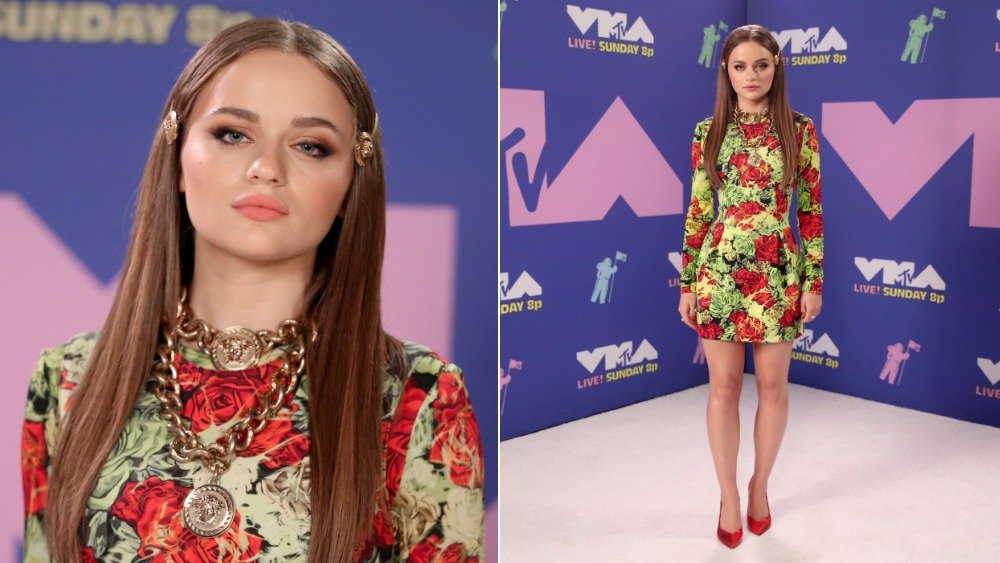 Rich Fury/mtv Vmas 2020/Getty Images
Joey King may have worn a floral Versace dress to the 2020 MTV VMAs, but according to some viewers, she simply failed to pull it off. During a red carpet interview before the show, King revealed that she was sporting Spanx, hair extensions, and makeup on her legs "so they look honest," but honestly, that combination didn't bloom on the red carpet. "I remember those times when Red Carpet used to be cool because celebrities dressed with iconic, amazing and original looks," one critic tweeted. "Sad to see it doesn't happen anymore, they're all so simple now..."
While the lighting during the pre-show didn't help the star of The Kissing Booth, this fashion bouquet did appear fresher as King presented on the stage later in the night, but if the actress really wants to dress to impress, she'd do well to ask the following star for a bit of advice.
Best: Lady Gaga's outfit was out of this world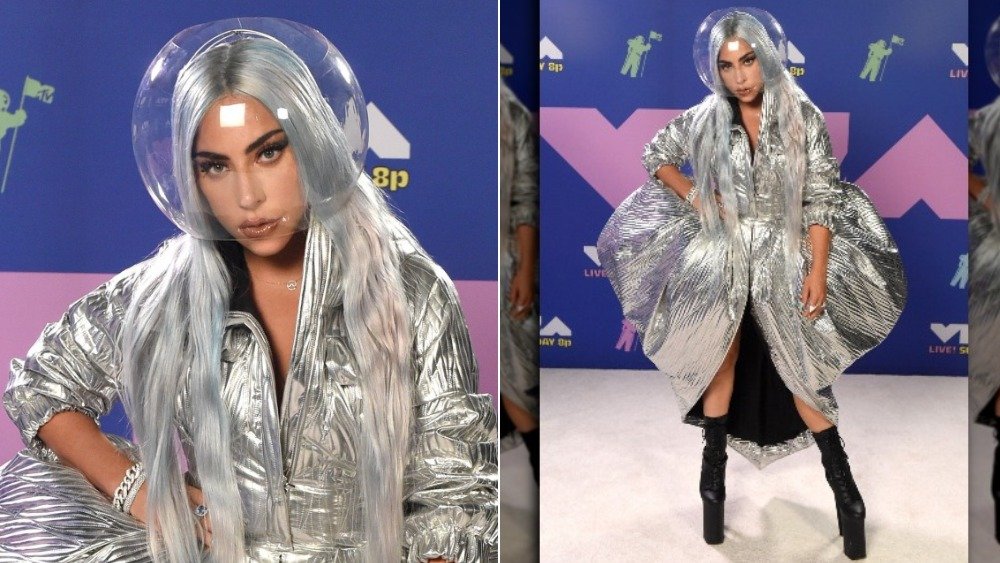 Kevin Winter/mtv Vmas 2020/Getty Images
If you tune into the VMAs expecting pristine and refined fashion, then you're missing the point. This awards show gives celebs the opportunity to experiment with their style. One star who truly knows how to embrace this fabulously fun fashion vibe is Lady Gaga. She did not disappoint at the 2020 MTV VMAs.
The "Rain On Me" singer's outfit captured the perfect combination of cool celebrity chic and an event-appropriate astro vibe that also seemed to nod to the pandemic safety precautions. Yes, we're referring to the bubble on her head, which made just enough of a style statement (we'd be disappointed if she didn't throw in a little something beyond extra). Gaga acknowledged her attention-grabbing accessory, tweeting: "I was wearing face shields before it was a thing."
Her silvery spacey dress was spot on. Her glowing hair was stunning. Her makeup was on point, and her boots put her on another level (literally because they had some sky-high platforms). To put it simply: This is the kind of outfit that's worthy of a star and worthy of the top spot when it comes to the best-dressed celebs at the 2020 VMAs.