The Truth About Donald Trump And Andrew Cuomo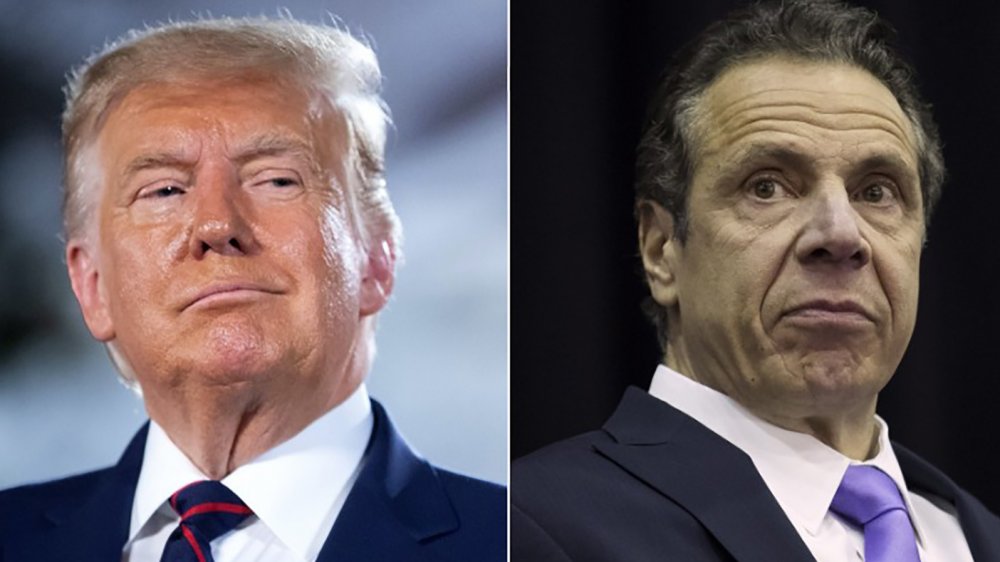 Chip Somodevilla, David Dee Delgado/Getty Images
At first glance, President Donald Trump and New York Gov. Andrew Cuomo appear to have quite a bit in common. They are both native New Yorkers, both politicians, and both come from two of the most influential families in New York, if not the country at large. However, that does not stop them from sparring in the press and on social media.
Tensions between the two political figures have escalated throughout the Trump's first term and now, as New York grapples with both the ongoing COVID-19 pandemic and increased calls for an end to police brutality and systemic racism on both the local and national stage, Trump and Cuomo's war of words has hit a fever pitch.
For instance, on Sept. 3, 2020, Trump threatened to cut funding from supposed "anarchist jurisdictions" like New York and other "cities that allow themselves to deteriorate into lawless zones," per The New York Times. Cuomo shot back with threats of his own, declaring that, if Trump ever wants to step foot in New York again, he "better have an army" of bodyguards because "he is persona non grata in New York City," according to Politico. "Everything that he could possibly do in his power to hurt New York City he has done," Cuomo added. "The best thing he did for New York City was leave. Good riddance." But that's only the latest development in their ongoing feud — let's take a deeper dive into this mess.
Trump and Cuomo have been at odds for years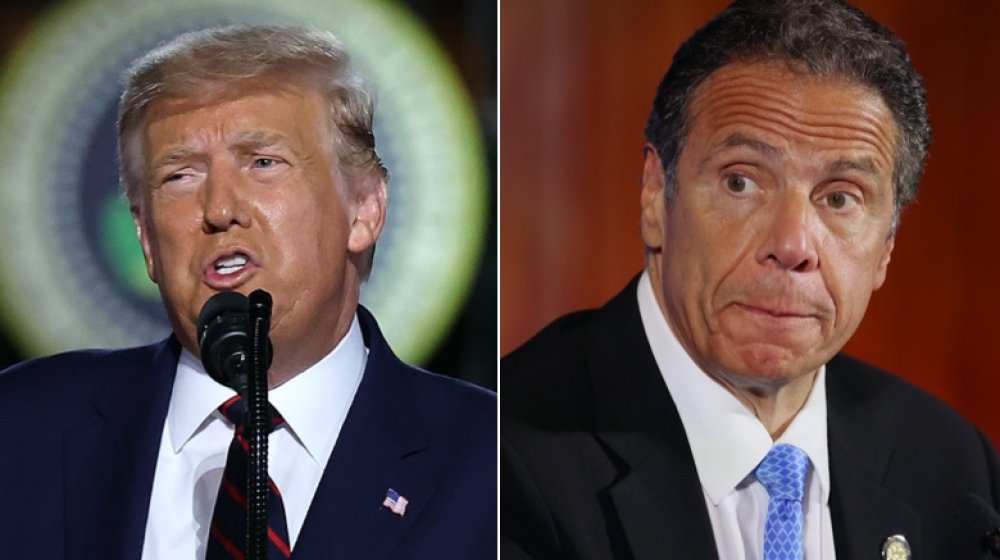 Chip Somodevilla, Chip Somodevilla/Getty Images
It's worth noting that this is hardly the first time these two have publicly fought with each other. President Donald Trump and New York Gov. Andrew Cuomo butted heads repeatedly in spring 2020 as New York became the hotspot for COVID-19 in the United States. After Trump falsely claimed that he had total control to reopen states following stay-at-home orders, Cuomo said he would refuse the order. Weeks later, President Trump pushed states to reopen, even though experts warned it would cost lives. Cuomo flatly refused, saying the concept of sacrificing lives for the economy was "absurd." 
But wait — that's not all. In 2019, when Donald Trump officially changed his permanent residence from New York state to Florida, Cuomo did not mince words. "Good riddance," the governor tweeted. "It's not like Mr. Trump paid taxes here anyway." That jab refers to a New York law signed by Cuomo in July 2019 that would allow Congress to obtain Donald Trump's tax returns, documents he has been reticent to disclose since he first ran for office. Trump has referred to attempts to release his tax returns as "presidential harassment," a phrase he has tweeted many times. The residence came a year after Trump lashed out at Cuomo for saying America "was never that great," claiming on Twitter that Cuomo was having "a total meltdown." Jeez. 
As long as these two are in office, it seems inevitable that they will continue to clash.