The Real Reason Dustin Johnson And Paulina Gretzky Aren't Married Yet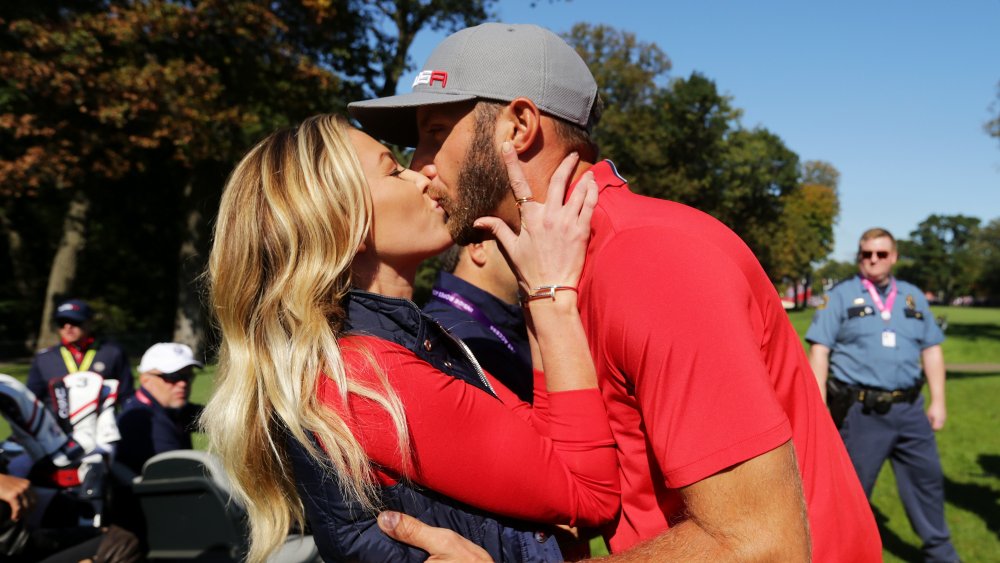 Streeter Lecka/Getty Images
Pro golfer Dustin Johnson seems to be having a very good 2020, unlike the rest of the world. Not only did he win the FedEx Cup and $15 million dollars, but his fiancée, Paulina Gretzky, was there to celebrate the win at his side. The couple has been engaged since 2013 and they share two kids together. They also each have successful careers. So, what's the hold up on tying the knot and making things official? They seem to be as happy as ever. Although who wouldn't be happy after winning millions of dollars on a golf course?  
It's unclear as to why they haven't gotten married yet, as neither of them have spoken very publicly about their relationship or where it's going. But rest assured: This family is a tight-knit crew. For example, after his FedEx Cup win in September 2020, Johnson and Gretzky FaceTimed their two sons, Tatum, 5, and River, 3, and one of the kids can be heard asking their dad, "Did you win the trophy?" and Johnson assures him that he did, while his fiancée laughs along. It's really just too cute.
Still, their relationship hasn't always been picture-perfect and there might be some behind-the-scenes issues the couple has to deal with before Gretzky makes an honest man out of golf's most well-known bad boy and walks down the aisle. Let's take a closer look.
Rumors flew that Dustin Johnson cheated on Paulina Gretzky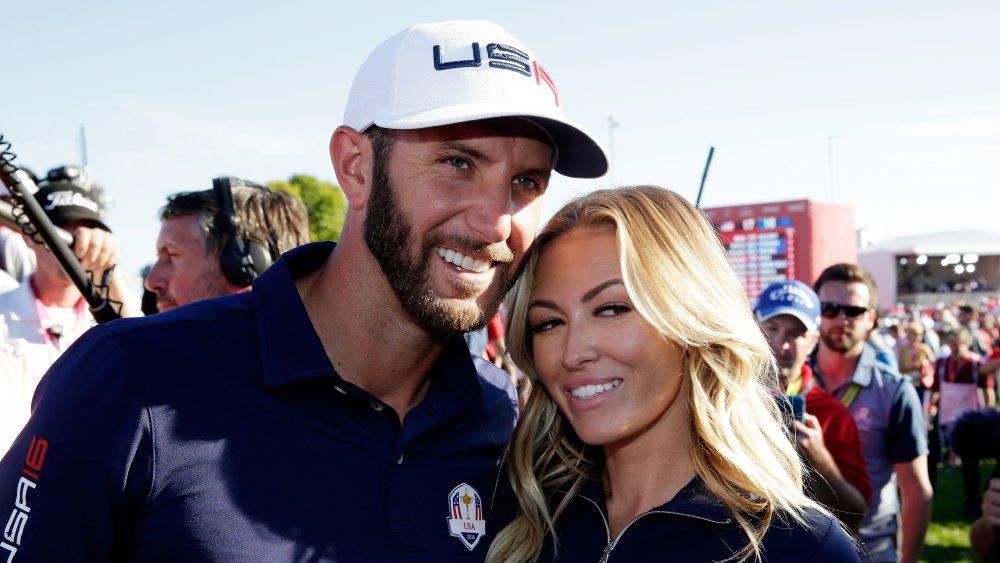 Sam Greenwood/Getty Images
According to Golf, Dustin Johnson initially struck up a friendship with Paulina Gretzky's mom Janet (and Wayne Gretzky's wife). In 2009, Janet invited Johnson to the house, where he met his now-fiancée. At the time, they were both in relationships, so nothing happened right away. Gretzky told the outlet, "We became good friends. Actually, my whole family became friends with Dustin — my brothers and parents saw him a lot more than I did."
It wasn't until 2012 that they went on their first date, and by 2014, they were pregnant with their first son. That was also a hard year for Dustin. He took a break from playing for what he called "personal challenges" and he was suspended by the PGA Tour for testing positive for cocaine use, per Sportscasting. There was also the rumor in 2018 that Johnson slept with a woman named Yassie Safai, though Safai denied the allegations, per TMZ. She said, "I am sure he is a great person but we do not have a close friendship. I have never met Paulina Gretzky and do not know the Gretzky family, but again, I am sure they are great people." 
Between Johnson's "personal challenges," rumors of an affair, and raising two boys together, it makes sense that the couple hasn't found time in the past seven years to get married. Maybe one day, right?