Will President Trump Pardon Joe Exotic? Lawyers Weigh In
Viewers of Netflix's viral docu-series Tiger King will know that its controversial central figure, Joe Exotic, ended up behind bars after trying to have his nemesis, Carole Baskin, killed in a murder-for-hire plot as well as for selling cubs and killing five tigers. Although Exotic was given a 22-year sentence, in September 2020, the former animal park owner's legal team attempted to persuade President Donald Trump to grant Exotic a pardon. 
In fact, TMZ reported that the "Tiger Team leader, Eric Love, flew into D.C. ... with Joe's lawyers, packing a 257-page document." Love told the outlet that the document "fully proves Joe's innocent." While we're sure plenty of people would be interested to find out what that supposed proof might be, they'll also likely want to know if Exotic really could receive a pardon from the president.
But ... what exactly is a pardon? Basically, it's "us[ing] the executive power of a governor or president to forgive a person charged with a crime or convicted of a crime, thus preventing any prosecution and removing any remaining penalties or punishments," according to Cornell Law School. If you take a peek at the information provided by the United States Department of Justice, you'll see that it tends to be a strictly regulated — and complicated — process.
So does Joe Exotic really have a chance when it comes to being pardoned by Trump? Fortunately, two legal experts gave Nicki Swift some exclusive insight into the somewhat surreal situation and you'll definitely be interested in what they had to say.
The election and reality TV may affect Joe Exotic's request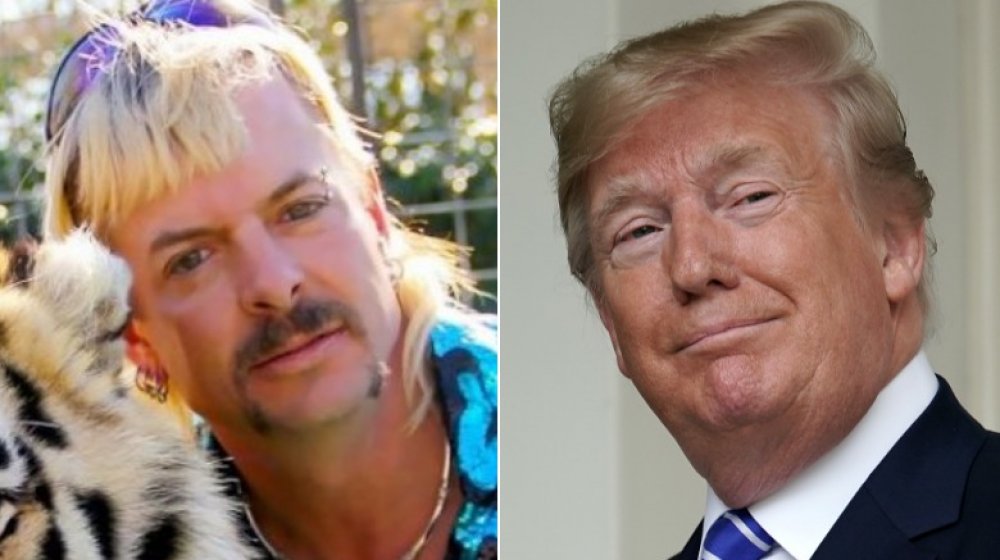 "The timing of Joe Exotic's pardon request, just before the election, is no accident," according to criminal defense attorney Lara Yeretsian, who is the principal of Yeretsian Law in Los Angeles. The legal expert, who has represented numerous celebrity defendants including Scott Peterson and Michael Jackson, explained that Exotic is "betting that Trump will see a political benefit to himself in granting a pardon."
Yeretsian also told Nicki Swift that it "sounds like [Exotic's] team has really prepared their case to highlight the weaknesses of the government's position." Beyond that, the attorney added: "From a defense perspective, I've always believed there was reasonable doubt and that Joe Exotic may have been set up." However, whether or not Exotic is innocent or guilty, Yeretsian says that his team is "taking a chance" regarding a pardon because "there's a strong likelihood that Trump won't grant it." While "there were almost 2,500 requests for pardons and more than 11,500 requests for commutation" at the beginning of 2020, "[a]s of August [2020], Trump had pardoned, commuted, or rescinded only 39 convictions."
On the flip side, despite the fact that it's "typically a lengthy process to get a pardon," Yeretsian points out that "Trump has been anything but typical when it comes to granting pardons, even giving them to people who haven't asked for them." And considering "Trump's love of reality TV and his unpredictability, there's always a chance that he'll see a political benefit for himself and give Joe Exotic his pardon."
But wait! Does our other legal expert agree?
This is why President Trump may pardon Joe Exotic
Joe Exotic may have his request for a pardon granted if it suits President Donald Trump, however, "his chances of success are slim," former U.S. Assistant Attorney Neama Rahmani, co-founder of West Coast Trial Lawyers, told Nicki Swift. Rahmani explained that a "federal appeals court is unlikely to second guess and overturn a unanimous jury verdict based on Joe's argument that he was actually innocent." That's because "[t]here was plenty of evidence, including recordings and witness testimony, to support the murder-for-hire conviction." 
On top of that, even if he's able to have his murder conviction "overturned on appeal, Joe publicly admitted to selling cubs and killing tigers, both federal crimes which support a multiyear prison sentence," which is why "Joe's only real chance of success is a presidential pardon."
But then again, Rahmani also took into consideration the fact that it's "no secret that the President loves publicity, and Joe Exotic is one of the most famous inmates in federal prison." That's why, according to Rahmani, "[i]f the President gets involved in Joe's case and either commutes his sentence or pardons him outright, it will be for political reasons shortly before the election, and not because Joe is actually innocent on the merits."
So it seems like our legal experts agree: Exotic probably won't get his pardon, but if he does, it might be an attempt by Trump to boost his profile ahead of the 2020 election. Will that happen and will it work? We'll just have to wait and see!