Why The ACM's Controversial Entertainer Of The Year Decision Has Fans Fuming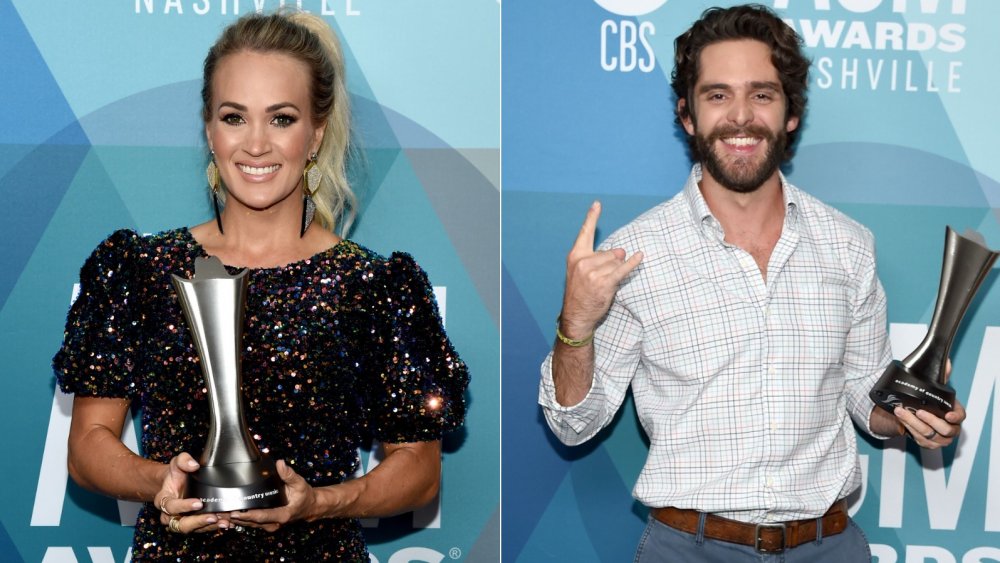 John Shearer/acma2020, John Shearer/acma2020/Getty Images
Carrie Underwood and Thomas Rhett made history at the 2020 Academy of Country Music Awards by tying for Entertainer of the Year. Each performer accepted the award graciously, but some fans were rather upset by how it turned out — and the reason might be surprising. According to ACM guidelines, "success at radio, sales of pre-recorded music, success of music videos, vocal performances, live concert ticket sales, artistic merit, appearances on television, appearances in films, songwriting, success in digital media, and contributions to the country music industry" all factor into consideration when choosing the ACM Entertainer of the Year. So there are numerous elements at play when nominating someone and there were a lot of strong contenders for the 2020 awards. 
This year, Underwood, Rhett, Luke Bryan, Eric Church, and Luke Combs were all up for the honor and they kicked off the ceremony with a socially distanced medley of their greatest hits. Per Billboard, Bryan sang "Rain Is A Good Thing," Church performed "Drink In My Hand," Combs sang "When It Rains It Pours," Rhett performed "It Goes Like This," and Underwood finished things off with "Before He Cheats." So why are people upset that Underwood and Rhett are sharing the award? 
Fans think making Carrie Underwood share is unfair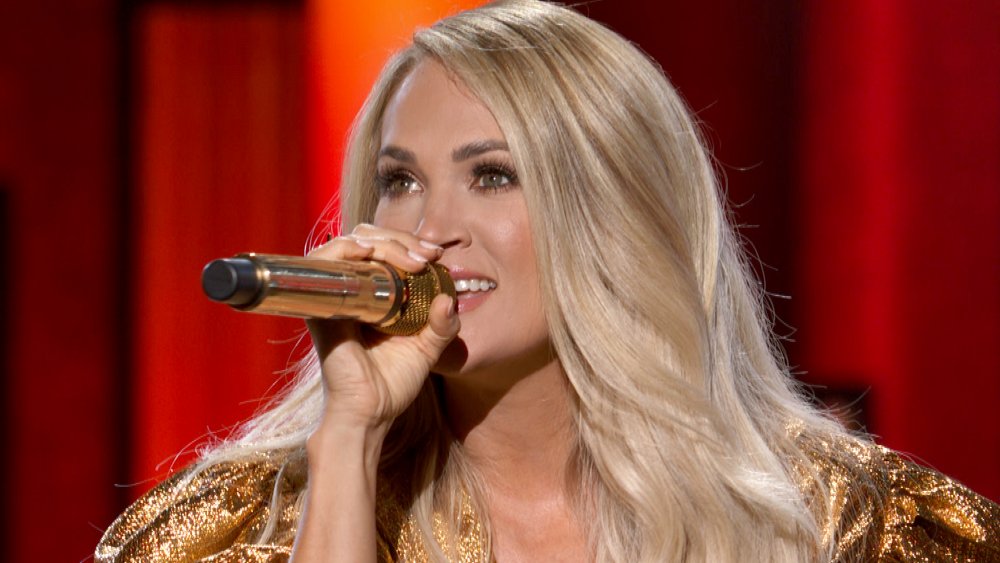 Acma2020/Getty Images
Per People, country superstar Carrie Underwood is the first woman to ever win the Academy of Country Music Entertainer of the Year award three times and is the first woman to win since 2012, when singer-songwriter Taylor Swift took home the grand prize. Underwood was also the only woman to be nominated this year. So the fact that the "Good Girl" singer had to share her honor with a man disappointed countless fans. 
One person tweeted, "Of course they had to make the ACM Awards Entertainer a Tie and make sure a man still won, couldn't let a well deserving, hard working woman have it this year on her own." Another added the morning after the show, "wait did i just wake up to 2 WINNERS of entertainer of the year lmao??? they couldn't just let a woman win huh." Still another viewer added, "It is absolutely fitting for a woman to win Entertainer of the Year and have to share it with a man."
Of course, there were just as many people who felt that sharing it was fitting, noting that Underwood had won solo in years past, and still others who felt that Luke Bryan or another artist should have really taken the award home. In either case, neither Rhett nor Underwood had anything bad to say about the tie. 
Carrie Underwood and Thomas Rhett are both honored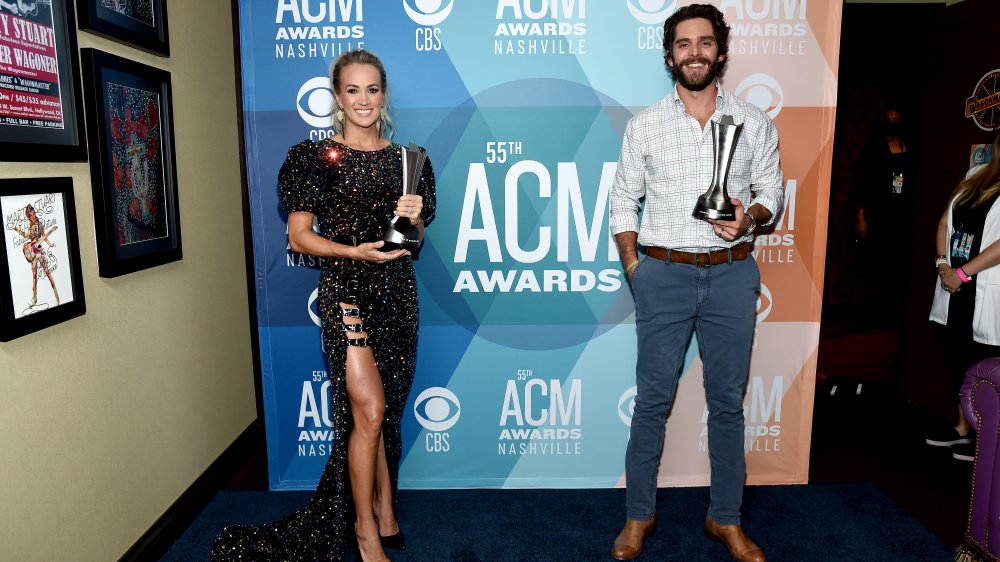 John Shearer/acma2020/Getty Images
Although some fans were bummed that Carrie Underwood had to share the Entertainer of the Year Award with first-time honoree Thomas Rhett at the Academy of Country Music Awards in 2020, both artists were nothing but grateful. Underwood told People, "They made two. In the age of COVID, we can't be sharing — I don't know if I get to keep this one or if they're going to send me a different one. But I am more than happy to share, you know, it's such a great honor and so many of us work hard, and usually you say, 'Well, there can only be one.' Well, this year we get to say there can be two. I think it's all great." 
Rhett was excited about his win, too, telling the outlet, "Just to be in a category is next-level, and to win it alongside somebody like Carrie Underwood is absolutely bucket list for me, especially in such a weird year. This is just absolutely mind-blowing to me." Sure, fans might've wanted a more clear-cut winner, but Underwood and Rhett are more than happy to accept the award of each other's behalf.