'Concerned' Madonna Flies To London After Son Is Allegedly Left Alone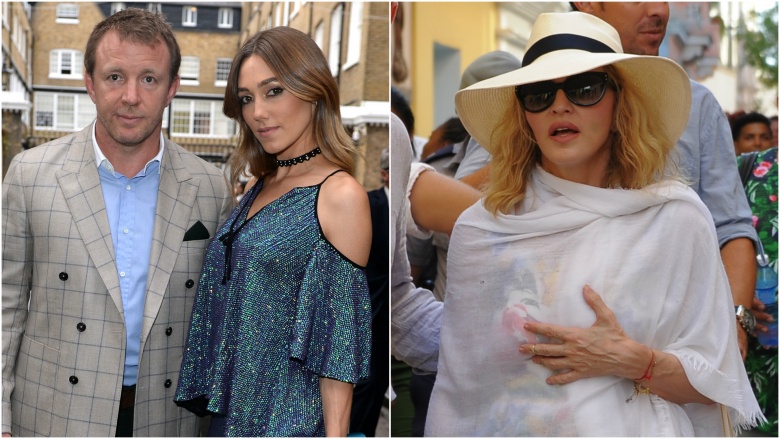 Getty Images
Madonna and Guy Ritchie's ongoing custody drama took another dramatic turn this week after the "Material Girl" flew to London amid allegations that Richie had left their 16-year-old son, Rocco, home alone for the weekend.
A source for People magazine claimed that a "concerned" Madonna arrived in London on Sept. 12, 2016 after Ritchie and his new wife, Jacqui Ainsley, allegedly took a trip to Los Angeles, missing Rocco's first day of school. "Her kids' education is the most important thing to Madonna," the insider said. "She takes their schooling very seriously." So seriously, in fact, that People says Madonna visited Rocco's school the following day, where she had a "very friendly" visit with his teachers and was "very relaxed."
Madonna and Rocco, 16, were spotted at a restaurant in the neighborhood of Notting Hill later that evening. "There was just a really good vibe. Everyone was smiling and laughing the whole evening. It was a very nice evening for them all," a source told People. "[Rocco] was just loving life and spending quality time with his [mom]."
Madonna and Ritchie were previously involved in a months-long custody battle dating back to December 2015, when a New York court ordered Rocco to return to New York from London, where he had been living with Ritchie. According to ABC News, the couple finally reached a settlement on Sept. 7, 2016. As part of the settlement agreement, Rocco will reportedly remain with Ritchie in London.
"Guy Ritchie is delighted to have this case behind him. Everybody in the family is happy that an agreement has been reached and Rocco can continue to live with his father in London," an attorney for Ritchie told ABC News.
Madonna and Ritchie were married in December 2000, just a few months after Rocco's birth. Their split was confirmed in October 2008.