Who Is The Mother Of Machine Gun Kelly's Daughter?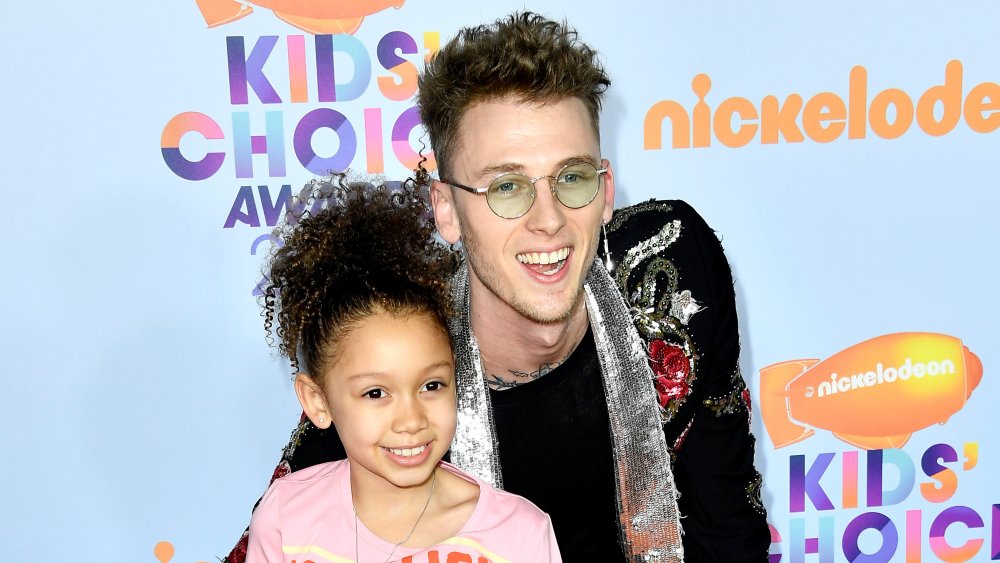 Frazer Harrison/Getty Images
We all know Machine Gun Kelly (born Colson Baker) as a versatile rapper, singer, songwriter, and actor. Sometimes, though, his talent gets lost in the headlines he's frequently named in, from the scandalous picture smoking with Pete Davidson to his sudden romance with Megan Fox directly after her separation from husband Brian Austin Green. Something that often gets overlooked, too, is that he is an extremely dedicated father.
Kelly's daughter, Casie Colson Baker, was born in July 2008. While she's not in the spotlight much, we do know MGK loves creating memories with her, as they have been spotted out and about in Los Angeles jogging together, eating dinner, and spending time at a local park. In between his various gigs, he makes time to watch her volleyball games, too, according to the New York Times. Kelly also gushes about his love for his "princess" on social media, and even took to Instagram to say he wrote her a song. In a screenshot of a text conversation, he said, "wrote her a song so i won't have any regrets if my time ever comes."
While it is sweet to see the tight bond between the Cleveland native and his daughter, much mystery remains about Casie, including her family life. Many know Kelly is not with his daughter's birth mom anymore, but that's as far as most knowledge goes. Luckily, we have you covered. So, who is the mother of Machine Gun Kelly's daughter?
The mother of Machine Gun Kelly's daughter is not famous
Unlike Machine Gun Kelly's many confirmed (Amber Rose and Halsey) and rumored (Noah Cyrus and Demi Lovato) celebrity girlfriends, the mother of Kelly's daughter, Emma Cannon, is not in the spotlight at all. In fact, there has not been a trace of her found on social media, according to PopSugar's report in June 2020.
While Cannon's personal details are a secret, we do know she is a wonderful mother, thanks to Kelly's kind posts for Mother's Day over the years. In 2013, Kelly posted a now-deleted photo on Instagram, which is still linked to his Twitter. "Happy Mother's Day to the best mother I've seen first hand," he wrote. While the caption does get cut off, it can be concluded he admires Casie's mother for raising their daughter under "such insane" circumstances. The father-of-one devoted another post to Cannon on Mother's Day, according to In Touch Weekly, tweeting, "My daughter has an amazing mum."
Although we don't know much about the mother of Machine Gun Kelly's daughter, it is reassuring that they seem to have a healthy relationship and Casie is being raised by caring parents.