The Real Reason Miranda Lambert Can't Stand Garth Brooks
Larry Busacca/acm2015/Getty Images
Underneath the exterior of country tunes — whether they're bluesy (and sometimes fiery) odes to exes, songs about living a hardworking life, or tracks depicting summer nights under the stars — bubble feuds between some of the genre's biggest stars. Some fizzle out, other drama is ongoing.
Take, for example, the following: Zac Brown and Jason Aldean once had it out, Eric Church wasn't here for Miranda Lambert's reality show past, Blake Shelton and Luke Bryan took turns insulting each other (albeit playfully), and Waylon Jennings called Garth Brooks "the most insincere person I've ever seen." And speaking of that last one, Jennings isn't the only country legend to take issue with Brooks.
Insert Lambert, who has felt a certain way about the fellow singer for years and hasn't been afraid to publicly voice her opinion. As for why Lambert doesn't like Brooks, well, let's explore that in a little more depth.
Miranda Lambert came for Garth Brooks for lip-syncing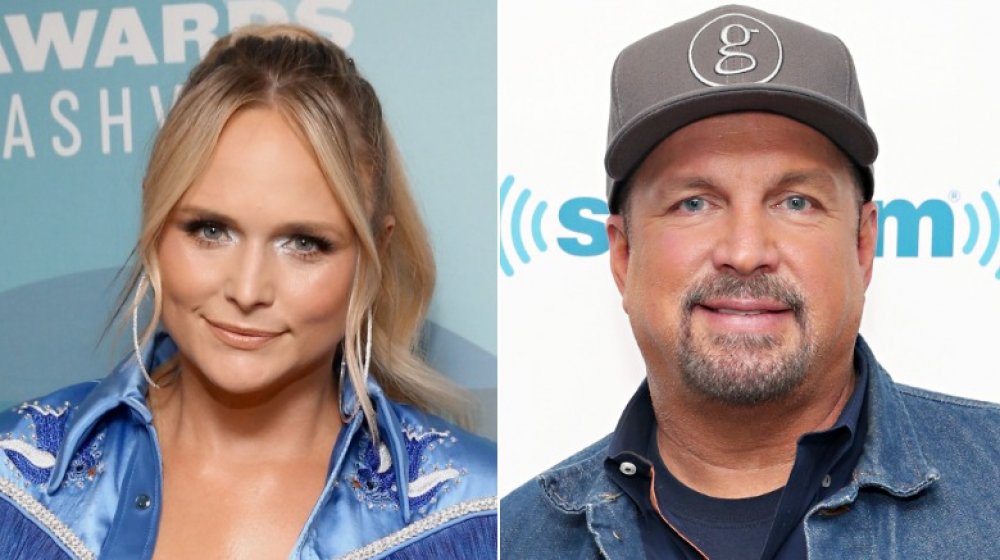 Terry Wyatt/acma2020, Cindy Ord/Getty Images
At the 2017 CMAs, Garth Brooks notably did not sing during his performance of "Ask Me How I Know." Instead, he lip-synced the lyrics, and fans and celebs alike took notice — and strongly disapproved. (For what it's worth, the country music artist later explained that he was sick and in the middle of a tour, according to USA Today.)
However, Miranda Lambert and her then-boyfriend Anderson East took issue with Brooks' decision, feeling that his performance wasn't authentic. East called out Brooks on Instagram, where he remarked he was "truly offended" by the lip-syncing. Lambert praised East's reaction in the comments section of the post, adding in her own commentary as well.
"If you can't sing then don't. It's better to be honest than to pretend. I think it's bullsh*t," she said. "My favorite performances in the show were ... live. The truth." But Brooks, for his part, had nothing but nice things to say about the "Gunpowder and Lead" singer.
"Let me tell you who fought the good fight tonight, in my opinion. Miranda Lambert," the "Friends in Low Places" crooner told reporters (via CMT). "She's one of few females that we play, so you'd think she'd want to play it safe. She came out, and she stuck country music in all of our faces tonight."
Miranda Lambert is still 'grudge-y' about Garth Brooks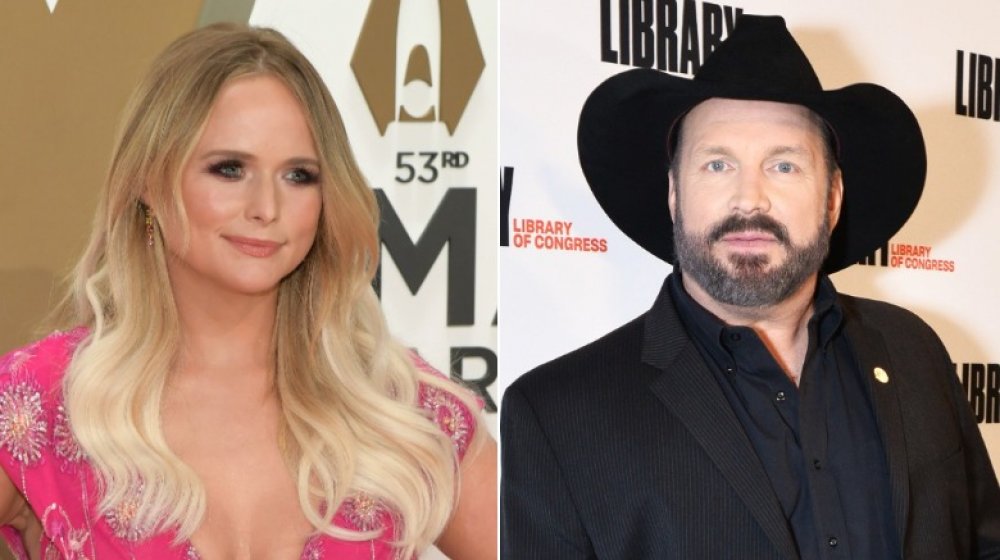 Jason Kempin, Shannon Finney/Getty Images
In June 2020, Garth Brooks decided to take a stand by stepping down from his nomination for Entertainer of the Year at the 2020 CMA Awards. The singer, who has won the title seven times, felt that "it's time for somebody else to hold that award" and wanted to "leave the entertainer for the next generation" (via the Nashville Tennessean).
Brooks last scooped up the award in 2019, when many country music diehards felt that Carrie Underwood deserved the trophy. This year, the former American Idol winner is once again nominated, along with Keith Urban, Eric Church, Luke Combs, and Miranda Lambert, who felt off about Brooks' decision. (She also believed Underwood should've taken home the Entertainer of the Year award last year.)
"I'm still a little bit grudge-y about it. Although I love Garth — he was my first concert when I was 10 years old — there's times and places for things, and I just felt like it was the wrong thing," she told the Los Angeles Times. "But this year I'm excited because I feel like it's the way that it should be. And maybe that's because he pulled out of it; I don't know. But I think everyone in the category deserves to be there."
Here's to hoping their feud is now a thing of the past.