Here's What We Know About January Jones And Jon Hamm's Relationship
Jason Merritt/term/Getty Images
From 2007 to 2015, Jon Hamm and January Jones starred as Don and Betty Draper (who later became Betty Francis), respectively, on AMC's Mad Men. Their on screen relationship was a fractured one, as they dealt with Don's infidelity, his drinking, Betty and Don's new marriages and the stress of life in 1960s America, working as an advertiser on Madison Avenue in New York (hence the name 'Mad Men').
After the period drama came to a close, Jones spoke candidly about filming her last scenes. "It was awful. It was really sad," Jones told People in 2015. "They scheduled it so that on the last day, everyone had their last scene of the episode, and it was like every moment of the day was somebody's last something, and it was just so sad."
She continued, "It was like someone was dying. I was like, 'Let me just do one more,' because I knew I would never be her again," Jones told People of her character, Betty. It seems like the experience of working on Mad Men was incredibly meaningful to the actress. And while she loved her character, the drama showed a painful relationship between Betty and Don. So how do the actors feel about each other in real life? Do they hate each other as much as their characters did? Here's the scoop.
January Jones and Jon Hamm are super close IRL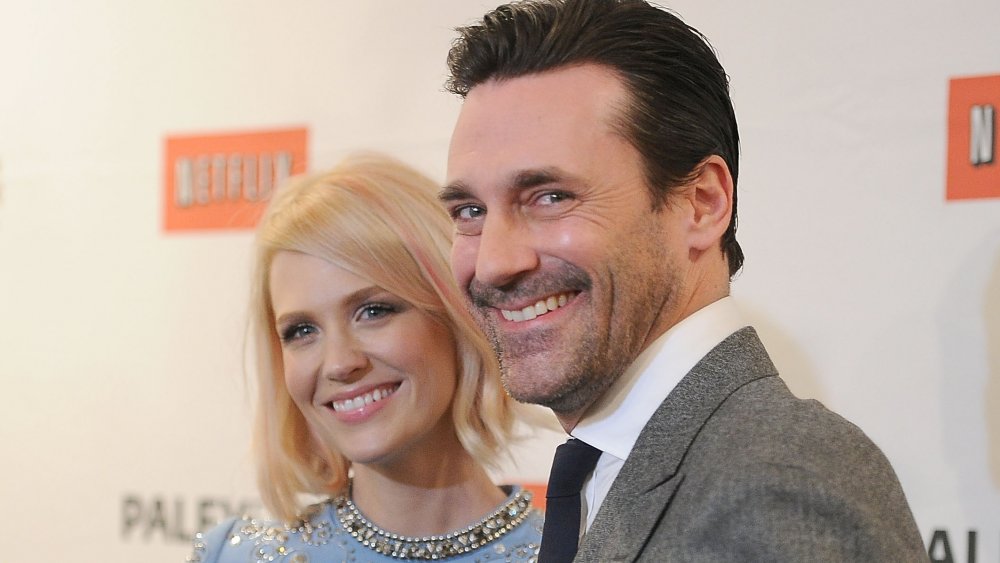 Jason Merritt/term/Getty Images
While their on screen performances were intense and fractured due to the animosity between the characters of Betty and Don Draper, January Jones and Jon Hamm are pretty close in real life. Jones explained to People in 2015 that of all the actors on the show, she felt closest to Hamm "because [they] worked together the most." She added that the entire cast was "tight-knit."
In an interview with the Television Academy Foundation the same year, Hamm spoke about working with Jones , saying, "... [I]t was great working with January. I mean, January's a very talented, sometimes inscrutable, mysterious person." Hamm stressed that Jones was the perfect person to play Betty.
In an interview with members of the core cast in 2013 with The Paley Center for Media, Jones noted that in the early seasons when Betty was with Don, the character rarely ate, which was symbolic of her psychological state at that time. Hamm stepped into the character of Don and joked, "You ate plenty when you were married to me, godda**it!" It was a cute moment of teasing through their characters.
According to People, the Mad Men cast had an unplanned reunion at an Oscars party in 2018, and Jones proudly shared a pic to Instagram. She added the caption: "Funny who you find at parties this time of year." So while their character's relationship was quite tumultuous, it seems that Hamm, Jones and the rest of the Mad Men cast are really close.