The Truth About Joe Biden's Relationship With The McCains
William Thomas Cain/Getty Images
For many, John McCain and his family represent a seemingly bygone era of bipartisanship in the political world of the United States. While McCain was a Republican, he drew attention near the end of his life for his frequent disagreements with President Donald Trump — disagreements the president continues to bring up years after Sen. McCain's death. In 2015, Trump famously said that McCain — who spent more than five years as a prisoner of war in North Vietnam — was not a war hero to him because he preferred "people who weren't captured." In September 2020, The Atlantic reported that President Trump told aides that he didn't want to support McCain's funeral and was upset when he saw flags lowered to half staff because McCain "was a f***ing loser."
It comes as not much of a surprise, then, that McCain's widow, Cindy, endorsed Joe Biden's candidacy for president in 2020. While McCain and Biden were on opposite sides of the same election in 2008, when McCain ran against Barack Obama, their personal relationship is a bit different. The two families have been friends for decades, since before McCain even entered the U.S. Senate in 1987.
A trip that changed Joe Biden and John McCain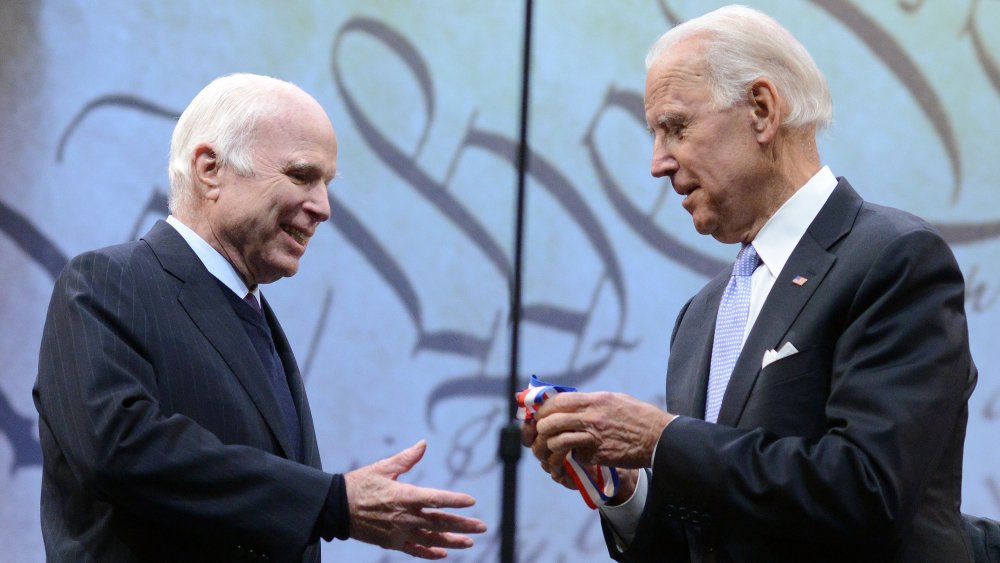 William Thomas Cain/Getty Images
According to a presentation at the 2020 Democratic National Convention (via Yahoo! News) John McCain and Joe Biden first became friends in the 1970s, following McCain's return from Vietnam. McCain was appointed to serve as a Navy-Senate liaison, and that's when he accompanied Biden, who was a senator from Delaware at the time, on a trip overseas. They ended up taking more trips together and developed a friendship.
The friendship between the two men extended to their respective families. The Bidens and the McCains would have picnics together. According to a DNC video narrated by Sen. McCain's wife, Cindy: "[Joe and John] would just sit and joke. It was like a comedy show, sometimes, to watch the two of them."
During a 2017 appearance on The View, Vice President Biden spoke with Meghan McCain, Sen. McCain's daughter and one of the show's hosts, about her father's cancer diagnosis. Biden told Meghan, "Your dad is one of my best friends... We're like two brothers that were somehow raised by different fathers." Biden admitted that, although they'd had their disagreements, "I know that if I picked up the phone tonight and called John McCain and said, 'John, I'm at 2nd and Vine in Oshkosh and I need your help. Come,' He'd get on a plane and come. And I would for him too."
Biden and McCain valued friendship over politics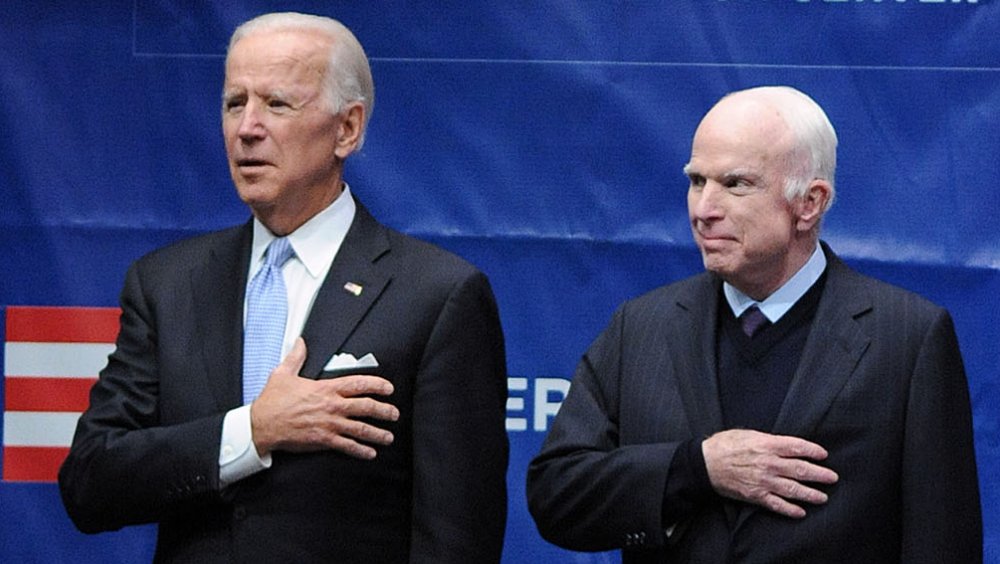 William Thomas Cain/Getty Images
Joe Biden's praise for John McCain came back to haunt him on the campaign trail in 2008. Some of Biden's remarks aired in an attack ad against Barack Obama in key states. It wasn't long, however, before the Obama/Biden ticket struck back with an attack of its own. As The New York Times reports, Biden attacked McCain at the 2008 Democratic National Convention, saying, "Again and again, on the most important national security issues of our time, John McCain was wrong, and Barack Obama was proven right."
Even when Biden and McCain sparred on politics, they still went out of their way to make it clear that their issues weren't personal but simply a difference of opinion. While running against Obama and Biden in 2008, Sen. McCain even defended Obama against unfounded allegations about Obama's racial and ethnic origins. McCain described Obama as "a decent family man and citizen that I just happen to have disagreements with on fundamental issues." That statement drew boos from the crowd, but McCain did not cave to the pressure from his own party.
That type of interaction was emblematic of the relationship between Biden and McCain. The two were friends, even during disagreements, even when people wanted them to be enemies. As Cindy McCain said in her endorsement of Biden, "Joe and I don't always agree on the issues, and I know he and John certainly had some passionate arguments, but he is a good and honest man."