Channing Tatum's New Look Has Fans Steaming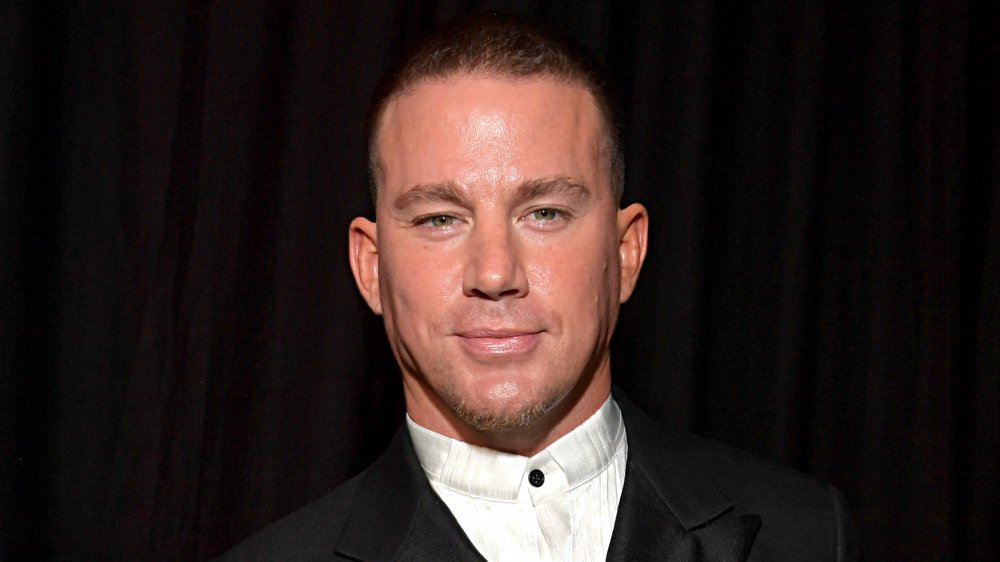 Lester Cohen/Getty Images
Channing Tatum may be known for his dance abilities thanks to Magic Mike — which were likely the same sort of moves he used as a real-life stripper — however, following his success on screen, the star put his talents to work behind the scenes. The 2021 film Dog marks Tatum's directorial debut and also sees him play a former Army ranger who embarks on a road trip to attend a fellow soldier's funeral in the company of a dog named Lulu. The feel-good movie is co-directed by Tatum's longtime creative partner, Reid Carolin, who also wrote the script with the help of their mutual friend Brett Rodriguez.

"It's already been a crazy ride. And we've only just begun," Tatum wrote in the caption of a snapshot from the production that he shared on Instagram in September 2020. He continued, "And if we survive the rest, it will be one of the most insane stories that I've ever been a part of."
This will be the second major project that Tatum has embarked on since the beginning of the COVID-19 pandemic, according to People. Tatum's first project consisted of a children's picture book, The One and Only Sparkella, which is a story inspired by his daughter, Everly.
While Tatum has obviously been hard at work, he clearly doesn't mind taking a little time to show off the fruits of his labor when it comes to what he's been doing on his off days.
Channing Tatum's shirtless selfie is hot enough to break the internet
Channing Tatum is feeling as good as he looks! In September 2020, the Magic Mike star took to Instagram to share a shirtless selfie and, honestly, it's the kind of photo that can break the internet. Showing off his hot bod in the black-and-white pic, the actor added a caption that addressed his fitness journey, revealing that "[i]t's been a long road back" due to "[i]njuries, life sh*t, and just insanity in general." He continued, "To all those that have been there for me and held me down through it all. I love you. I'm gonna make ya proud."
Fans flooded the comments of the thirst trap further emphasizing Tatum's sex appeal. "Thank you for my new phone background pic," one appreciative admirer wrote. Magic Mike's lead choreographer Alison Faulk also hyped him up in the comments, saying, "Yup!!!!! Fan freaking tastic! Good for you my friend — so exciting." Faulk later re-posted Tatum's selfie as an Instagram story with smiley emojis and the caption, "Ok boss."
Tatum replied to the Instagram story, jokingly alluding to taking his clothes off again for his lead role in Magic Mike. "When I'm done filming this movie!! ... I'm ready! Let's get it on," he wrote. "Magic Mike live is on. Put me in. Hahaha." We doubt anyone would object to that!