Here's How Jason Biggs And Jenny Mollen Met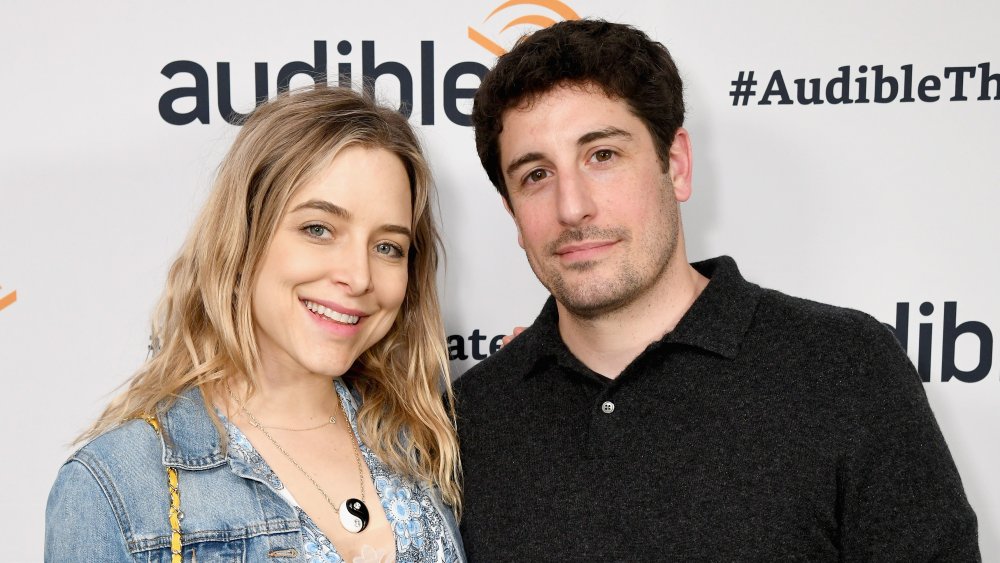 Bryan Bedder/Getty Images
If you're on Instagram and not following Jenny Mollen and Jason Biggs, what are you doing with your life? The American Pie star and memoirist are a hilarious couple that just can't stop, won't stop using Instagram Stories to share the trials and tribulations of being the working, celeb parents of two kids, whom they call "tiny dictators." And to tease, prank, and lovingly complain about each other. Simply put, they're adorable, even when they can't stand each other. And the story of how Mollen and Biggs met and fell in love is right in line with their easygoing personalities. 
Take, for example, their take on co-parenting. Back in 2018, Biggs told People that the "sexiest" thing Mollen can do for him is to "take the kids and leave for a couple hours." Mollen added, "Oh God, yeah. I think just leave me alone." Don't you just want to hang out with them? Here's how this couple came to be. 
Jenny Mollen and Jason Biggs eloped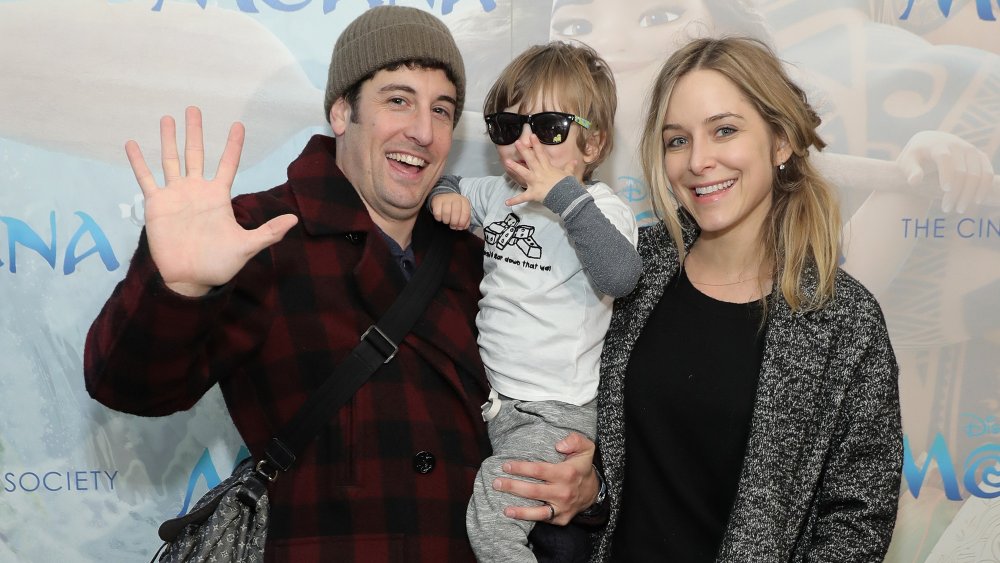 Neilson Barnard/Getty Images
Back in 2012, Jason Biggs spoke to Elle about how he and wife Jenny Mollen met. Although they had starred together in My Best Friend's Girl, they didn't exactly meet on the film — a friend set them up on a blind date in 2008, and at first, according to what Biggs said, Mollen was turned off by his American Pie fame.
He recalled, "She hadn't seen the movies. She knew who I was, but she hadn't seen them. The truth is, it was a turnoff for her. She was like, 'Jason Biggs? He's going to be an annoying little douche.' Well, I'm not that guy. I was charming, and we hit it off." They stayed late at the bar talking after their date — "I remember how open she was. Two hours in we were comparing Zoloft prescriptions," Biggs said — and six months later they eloped.
They've been together ever since, for better or for worse. They had their first son, Sid, in 2013, and his little brother Lazlo in 2017. Mollen wrote an essay for Cosmo in 2014 saying that earlier on in their courtship they had an unexpected pregnancy and a miscarriage three months in, before they were married, but remained stronger because of it. "The events bonded us in such a way that I knew we were meant to be forever," she wrote. 
Jenny Mollen and Jason Biggs have each other's backs
Paul Morigi/Getty Images
Although they've been through a lot together — a whirlwind romance, his journey with sobriety, and two "tiny dictators" — Jenny Mollen and Jason Biggs seem meant-to-be. Through all the snark, there's also a lot of love, even if it's not always "perfect" looking. In April 2020, for example, Mollen posted a picture on Instagram celebrating their 12th wedding anniversary. The only problem? She posted the tribute a day early, per The Daily Mail.
When not poking at him on social media, Mollen supports her husband through and through. In 2018, per People, she celebrated her husband's one year of sobriety, writing, "So proud of my husband today. Congrats baby. I know how hard you work. I see you. I love you. Thank you for your fight." It seems like the key to their marriage is a good sense of humor, a lot of love, and knowing when to just let the other person do their thing, even if it means spending time on opposite coasts and ignoring each other once in a while, per Page Six. These two, right?