Lucy Hale Looks Unrecognizable After Changing Her Signature Hairstyle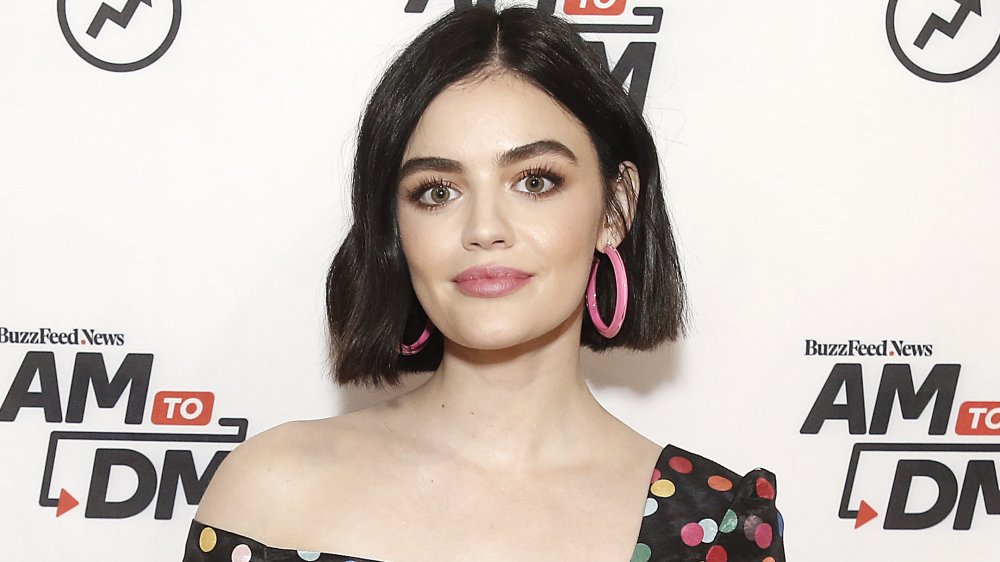 John Lamparski/Getty Images
In May 2020, Lucy Hale told Refinery29 that she saw her natural brown hair color for the first time since she was 15 years old. Like many others, Hale let up on her hair maintenance during the coronavirus quarantine, sharing, "My roots have grown in so much. I've just embraced that, and I've let my hair air-dry after years of putting heat on it every day." Cut to September 2020, when the Katy Keene alum teased fans in her Instagram Story with photos of her hairstylist, Kristin Ess, rinsing her hair in a kitchen sink. Along with the photo, she wrote, "Ch ch ch changes."
The change was so major that Ess shared a video of Hale's new hair on Instagram. The hairstylist wrote, "I mean!!!! This gets an in-feed post. @lucyhale has had every hair color under the sun EXCEPT red." After taking Hale's hair from brown to red, Ess concluded, "My lil colorist heart is full and now we officially know this chick looks good with any hair color." 
Hale's short, brunette haircut has become her signature look, but she's actually tried out many hair lengths, colors, and styles throughout her years in the spotlight. The Pretty Liars alum dubbed herself "a girl who changes her hair a lot" in March 2019, which is accurate. The actor had never been a full-on redhead, but she did have some red locks of hair in June 2018. Before that, she rocked some pink streaks, and she has done the whole blonde bombshell thing. So what's Hale's latest change? Keep scrolling to find out.
Lucy Hale doesn't care what people think
In September 2020, actress Lucy Hale shared a video of herself flaunting her new look as a redhead, sharing in the caption that she "did a thing" along with a redhead emoji. It was not the first time that Hale used an emoji to describe her look, opting for a brunette girl with a short bob haircut in March 2019. Although she has changed her hair color in recent years, she's very happy with the length. In a January 2020 interview with Cosmopolitan, Hale shared that cutting her hair short "was the most liberating thing [she's] ever done." 
Unfortunately, the look has caused some drama for the former Pretty Little Liars cast member. She divulged, "I couldn't tell you the amount of times when guys were like, 'You should grow your hair out again. I like long hair."  She did not let those critiques bother her though, telling those men, "'I'm not cutting my f***ing hair for you.' I cut my hair for me. And I feel great with it this way." She embodies this independence when also choosing her makeup, explaining, "A lot of guys don't like a bold lip color. I love a bold lip color."
When it comes down to her style decisions, Hale told Cosmopolitan, "I don't care. I don't care! I truly don't dress for men at all. I dress for me and what I think is cool." Talk about a great outlook!
Pretty Little Liars cramped Lucy Hale's style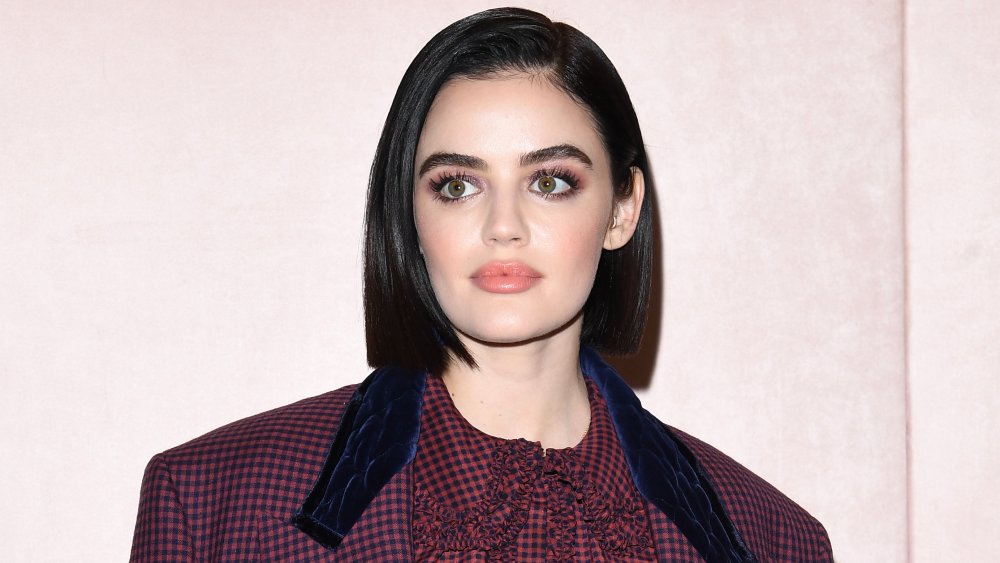 Daniele Venturelli/Getty Images
Nowadays, Lucy Hale is in complete control of her look, but that wasn't always the case, especially when she was playing Aria Montgomery on Pretty Little Liars. "You're so committed to your character's look when you are filming a show," Hale's hairstylist, Kristin Ess, told Allure in 2016 regarding the show, which was on for seven years. Ess elaborated, "There have been so many colors Lucy has wanted over the years I've known her, but she just couldn't do them because of continuity." At the time of the interview, Hale was done with filming, which meant she could do whatever she wanted with her hair. Ess said, "She's a free bird now! The world is her hair-color oyster." Clearly, the actor has taken full advantage of this opportunity.
Even though continuity was important when Hale was on Pretty Little Liars, her character had no problem mixing things up. In April 2018, Hale told W magazine, "One of the reasons I really liked playing her is because she didn't give a f**k. She didn't follow the rules." Hale described Aria as "cool but it was effortless." She recalled, "Maybe I wouldn't do the colored hair but I did do pink hair recently. She did the feather trend." 
Bottom line? Just like Aria, Hale does what she wants, especially where it concerns her gorgeous hair.