Why Bethenny Frankel Just Took A Shot At Kylie Jenner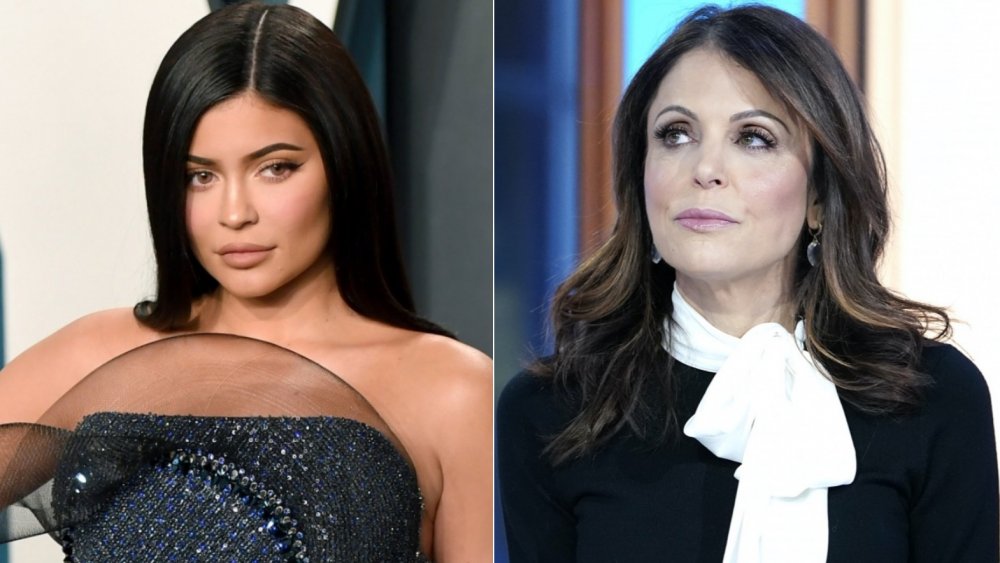 Karwai Tang, John Lamparski/Getty Images
The Kardashians are no strangers to making oodles of money. After 20 seasons of their E! reality series Keeping Up With The Kardashians, the family has been able to gain millions in endorsement deals, appearances, spin-off series, clothing lines, and their own companies. Their wealth is well over a billion dollars combined, and their luxurious lifestyles are a big reason why millions of fans "Keep Up "with each of the Kardashian clan's daily lives via social media.
The youngest of the millionaire siblings is Kylie Jenner, who may or may not be a billionaire thanks to her viral makeup company Kylie Cosmetics, is always one to share her fortunate lifestyle to her 196 million followers on Instagram. Be it her handbag closet or her over-the-top office space, Jenner spends her money on the finer things in life. But sometimes, the flaunting leads to pushback.
In October 2019, the tv personality received enough negative pushback for her Instagram of her new $3 million Bugatti Chiron to prompt the celebrity to delete the post. According to Insider, fans were tired of seeing Jenner's car collection, which includes two Range Rovers, a Roll-Royce, a Ferrari, a Porsche, and a Lamborghini. But everyday fans aren't the only ones tired of Jenner's luxurious posts, as former Real Housewives of New York City star, Bethenny Frankel, took to Twitter on Oct. 1, 2020, to express her frustration about Jenner's antics — here's what she had to say.
Bethenny Frankel questioned Kylie Jenner's priorities
The former talk show host, and reality tv star herself, Bethenny Frankel, took a shot at Kylie Jenner for posting a video of her toddler, Stormi Webster sporting a Hermes backpack to celebrate her first day of school. The drama all started when Frankel commented on Us Weekly's Instagram post about the bag, writing, "I never say anything about this stuff but this is the most transparent humble brag I've seen yet. It's everything wrong with everything." She later tweeted, "I'm no stranger to an @Hermes_Paris bag & have a daughter & luxury cars, but flaunting (under the guise of a back to school post) during a pandemic & the greatest unemployment crisis in our lifetime is a choice."
As for the backpack's cost? It is reportedly worth upwards of $10,000...quite a lot for a little kid. The backlash is similar to the critical comments rapper Cardi B faced for buying her 2-year-old daughter, Kulture, a Birkin bag valued at $9,000, as People noted. Dang.
Jenner is not the only Kardashian who got called out in 2020 for showing off during a pandemic. Her older sister, Kim Kardashian, faced similar scrutiny for giving social media followers a tour of her Wyoming ranch complete with a go-kart track, 14 Friesian horses, and an ATV, according to In Touch Weekly. Although the Kardashians are used to sharing every detail of their life, we have to wonder — is there a limit? We'll let the fans (and Bethenny Frankel) decide.