The Truth About Donald Trump's COVID-19 Risk Factors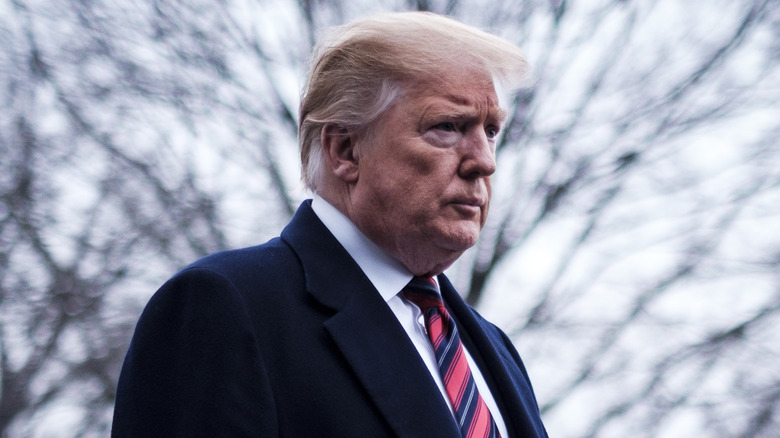 Pete Marovich/Getty Images
On Oct. 1, 2020, news broke that Hope Hicks, former White House Communication Director and current advisor to President Donald Trump, contracted coronavirus. The president confirmed the diagnosis with a late night tweet describing how Hicks, a member of his reelection campaign staff and close inner circle, "has been working so hard without even taking a small break." He then revealed that he would begin the "quarantine process," alongside first lady Melania Trump.
The New York Times then reported that Hicks had "traveled with [Trump] several times this week," including to his first debate with democratic challenger Joe Biden on September 29th, and then again, "aboard Air Force One," to a rally in Duluth, Minn. the next day.
Following that rally, in the wee hours of October 2nd, the president revealed that both he and Melania also tested positive for COVID-19. Granted, it's not clear at this point if Hicks is responsible for transmitting the virus to anyone else, however, with both cases being revealed in such proximity, the link has been widely speculated. With the world in a combined state of shock, consternation, and in some cases, questionable glee, we take a look at what this diagnosis could mean for the 74-year-old leader of the free world.
At Donald Trump's age, coronavirus carries big risks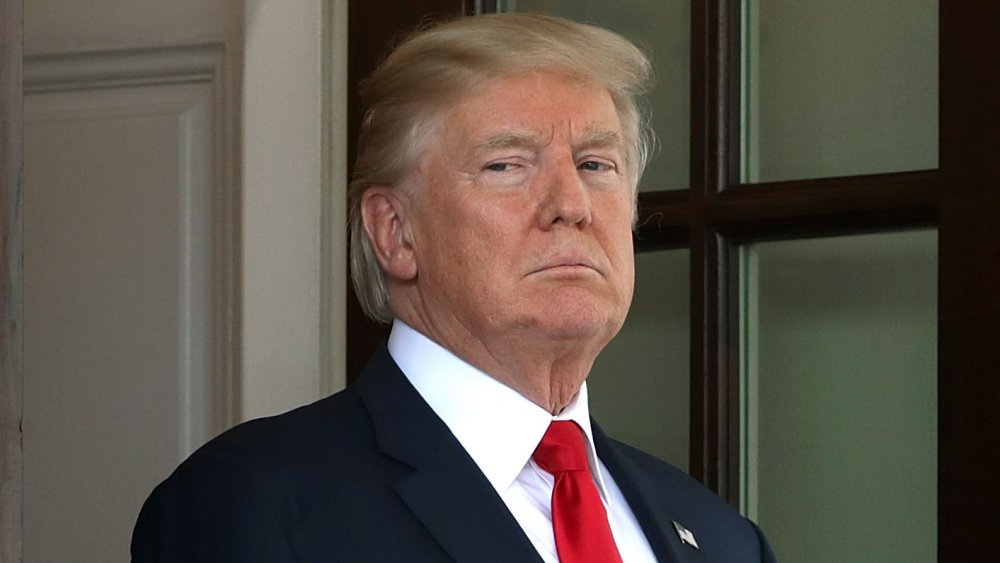 Chip Somodevilla/Getty Images
Out of everything we know and don't know about COVID-19, the one thing that remains a scientific consensus is that comorbidities, the existence of multiple diseases or conditions within the same patient, present the greatest risk to those afflicted with coronavirus. Unfortunately for Donald Trump, he has a body mass index of 30.5. That places him just inside the range of "obesity," one of the factors the CDC suggests could place him "at increased risk of severe illness from COVID-19."
The other clear danger with Trump's coronavirus diagnosis, of course, is his age. At 74, the president falls into the age group that represents the second-highest percentage of those at risk of needing hospitalization if they contract the virus. Put more starkly by the BBC, this means that Trump is "five times more likely to need hospital care and 90 times more likely to die than somebody in [his] 20s." That sounds bad, but as of this writing, neither Donald nor Melania have reported any symptoms.
"We are feeling good & I have postponed all upcoming engagements," Melania tweeted in her own announcement of the diagnosis, adding, "Please be sure you are staying safe & we will all get through this together."
Politics aside, we here at Nicki Swift wish the president, the first lady, and any other staffers who may have been affected a speedy recovery.