Barack Obama Breaks His Silence On Trump's COVID-19 Diagnosis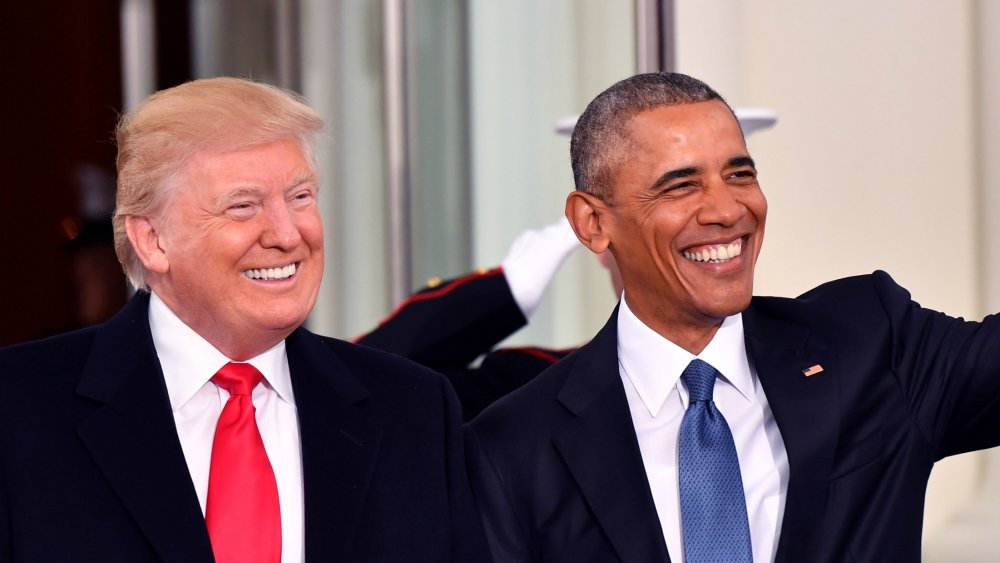 Pool/Getty Images
It's no secret former President Barack Obama and President Donald Trump have never been besties. But that doesn't mean Obama is not willing to extend well-wishes to both the president and his wife, Melania Trump, following their COVID-19 diagnoses. Obama released a statement to the couple during a virtual fundraiser on Oct. 2, 2020, with Democratic VP pick and California Sen. Kamala Harris, noting that former first lady, Michelle Obama, seconded his well-wishes.
But before we get to Obama's statement, let's take a quick look at where he and the president stood shortly before the COVID-19 diagnosis news. In September 2020, Obama seemed to criticize the Trump's administration's handling of the coronavirus pandemic response, stating, according to CNBC, "More than anything this pandemic has fully, finally torn back the curtain on the idea that so many of the folks in charge know what they're doing." He added, "A lot of them aren't even pretending to be in charge." As for Trump, a month before Obama's comments, he falsely accused the ex-president of illegal acts during his 2016 presidential campaign. "HE SPIED ON MY CAMPAIGN, AND GOT CAUGHT!" Trump tweeted.
Considering the pair's fraught history, it's fair some people are curious to know how Obama has responded to the news of Trump's COVID-19 diagnosis — here's what he had to say.
Barack Obama statement about Trump is layered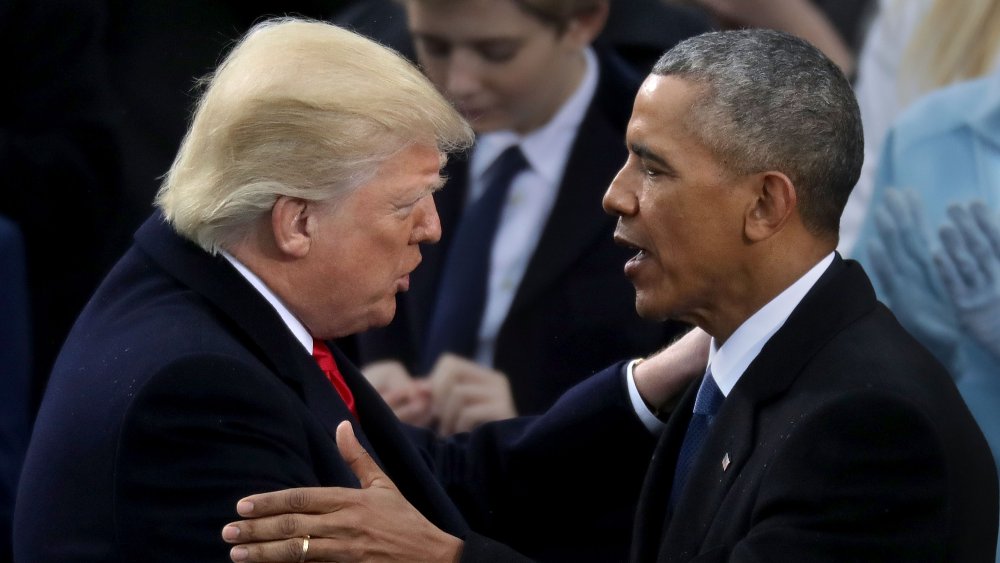 Chip Somodevilla/Getty Images
Amid the news that President Donald Trump got transferred to Walter Reed Medical Center, former President Barack Obama sent well-wishes on behalf of himself and former first lady Michelle Obama. "Let me start by the way, by just stating that we're in the midst of a big political fight. And we take that very seriously," Obama started before adding, per CNN, "We also want to extend our best wishes to the President of the United States, the first lady ... Michelle and I are hopeful that they and others who have been affected by COVID-19 around the country are getting the care that they need, that they are going to be on the path to a speedy recovery."
Although Obama wished the president well, his note is layered as he also mentioned the need for proper healthcare for those who contract COVID-19 in America. Many have criticized the lack of resources for those affected by the virus, so it's worth noting that he included this bit in his message.  
Obama's sentiments seemed to echo that of Democratic presidential nominee, Joe Biden. As reported by CNN, while speaking in front of supporters in Michigan on Friday, Biden also extended his sympathy to President Donald Trump and first lady Melania Trump. He also expressed the importance of listening to science, listening to experts, hand-washing, mask-wearing, and social-distancing to combat the pandemic. Biden also added that he and his wife, Jill Biden, were sending "prayers for the health and safety" of the Trumps.