What Meghan Markle Was Really Like During Her Deal Or No Deal Days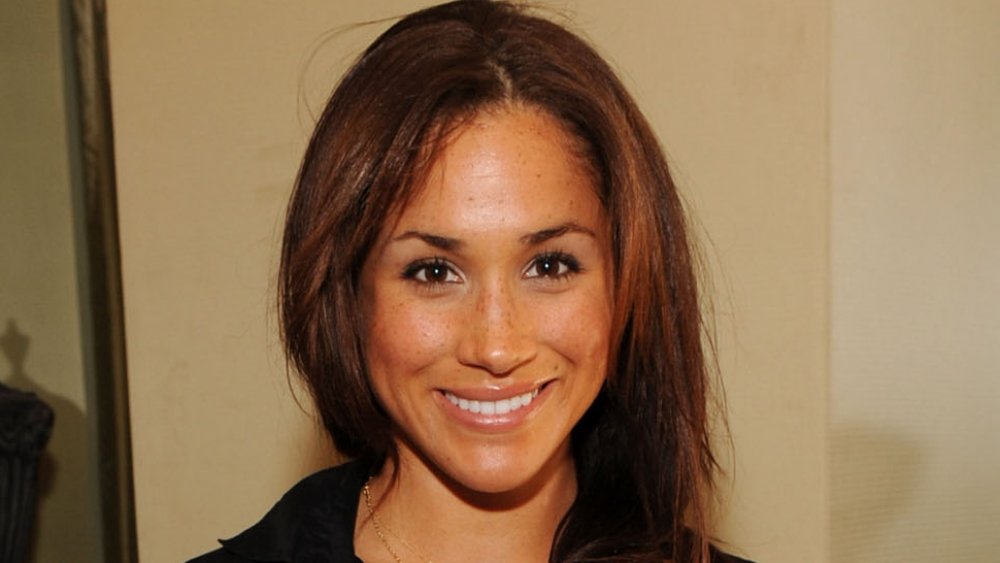 Amanda Edwards/Getty Images
Meghan Markle's life has been anything but a straight line. Markle first made a name for herself as an actress in the United States thanks to her work on the television drama Suits, where she played Rachel Zane for seven seasons. She then came to international fame in 2016 for her relationship with Prince Harry. By 2018, the two had tied the knot. They welcomed their son, Archie Harrison Mountbatten-Windsor, in 2019. The following year, the couple made headlines once again when they announced they would be stepping away from palace life and their duties as senior royals.
All that being said, before Suits, before becoming a princess, and before Megxit, Meghan was a Northwestern University grad taking acting work where she could get it. Meghan landed bit parts on shows like General Hospital and CSI, but one of her most famous roles was appearing as a briefcase girl on the game show Deal Or No Deal. While the show might be one of Markle's more well-known gigs, the Duchess of Sussex doesn't necessarily look back on her time holding briefcases particularly fondly.
'Deal Or No Deal' helped Meghan Markle make ends meet
Before landing a main role on Suits, Meghan Markle was taking whatever roles she could as a struggling actress. When asked about her time on Deal Or No Deal, Markle was incredibly frank in her answer to Esquire. "I would put that in the category of things I was doing while I was auditioning to try to make ends meet," she said. Meghan called the show a "learning experience," explaining, that "it helped [her] to understand what [she] would rather be doing."
It's not difficult to see why Deal Or No Deal was far from Markle's favorite gig. "I would end up standing up there forever in these terribly uncomfortable and inexpensive five-inch heels just waiting for someone to pick my number so I could go and sit down," the actress recalled. Of course, this interview came well before Meghan had even met Prince Harry, so she could afford to be a bit blunter than she's allowed to be now.
While Howie Mandel may not have remembered Meghan on the show, one famous fellow briefcase girl did: Chrissy Teigen. Teigen told Andy Cohen on Watch What Happens Live with Andy Cohen that while she doesn't remember too much about Markle, she had nothing but nice things to say. "Everyone wants a good story, and I'm like, I remember, like, just very quiet and sweet. I got nothing!" Teigen said, before adding, "Really kind... and I don't say that about anyone!"