The Truth About The Rock And John Cena's Relationship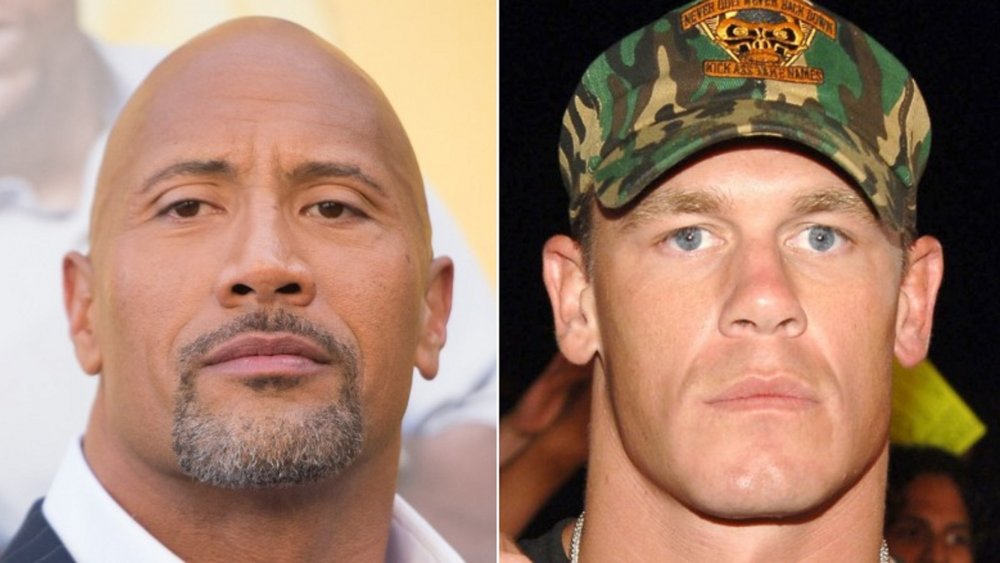 Jason Kempin, John Sciulli/Getty Images
WWE star-turned actor Dwayne "The Rock" Johnson shares a complicated relationship with fellow Hollywood celeb and pro wrestler John Cena. Their feud kicked off more than ten years ago when Cena accused Johnson of being dishonest about his fame aspirations.
According to Bleacher Report article, when Cena was asked in 2008 how he felt about The Rock, he responded, "What I kind of get peeved about ... I hear 'I've wanted to do this my whole life.' Rock falls into that category. He, at one point, loved wrestling and wanted to do this all of his life. Explain to me why he can't come back for a 15th Anniversary show. ... Simply put it's because he wants to be an actor. There's nothing wrong with that. ... Just don't f**k me around and tell me that you love this when you are just doing this to do something else. That's the only thing that gets me really pissed off."
Johnson took offense at this characterization, claiming that after finding success in the ring, he sought to open up new possibilities for wrestlers. Just as today's reality stars have parlayed on-screen popularity into lucrative social media and broadcast deals, so too did The Rock begin his path for stardom in one place, only to segway into other realms of the entertainment industry. 
Inside The Rock and John Cena's evolving relationship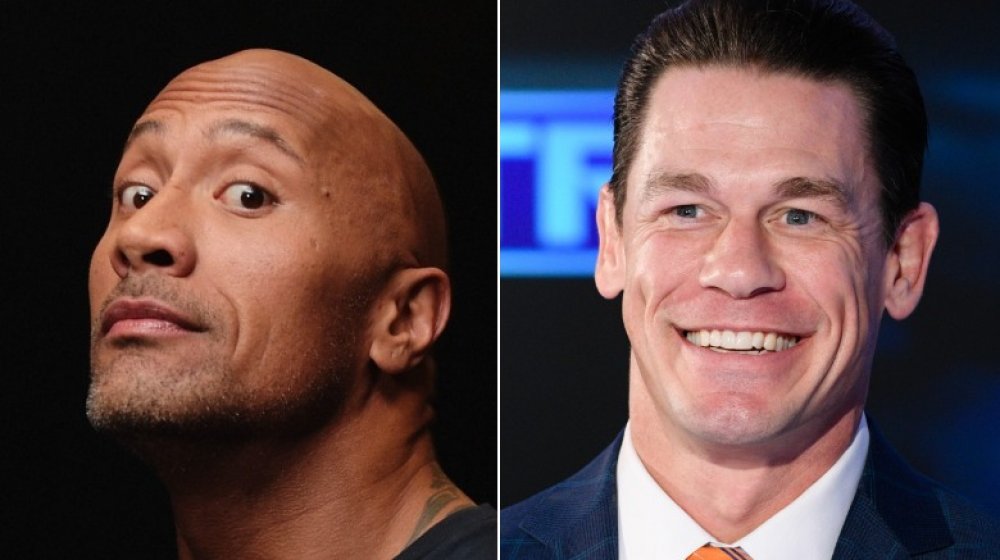 Jason Kempin, John Sciulli/Getty Images
Dwayne "The Rock" Johnson and John Cena may have butted heads in the past (both in and out of the ring), but they've since patched things up. So, what changed?
In a 2018 Sports Daily piece, Cena had nothing but positive things to say about The Rock. Perhaps it's because, at this point in his career, Cena finds himself in a similar position to his colleague. Now balancing acting, wrestling, and humanitarian roles, including granting the most Make-A-Wishes in history, Cena has become a household name.
Cena has even revealed that Johnson has given him some great advice: "The Rock has been genuine enough to tell me to be myself. ... I tried some movies before, and they weren't really successful. ... He gave me some pretty cool advice at unbelievable timing. He said: 'Hey man, they're going to like you, or hate you, for you. Be yourself. At least that way at the end of the day, you'll feel good about your body of work." That body of work now includes comedies such as Trainwreck and Daddy's Home. He even voiced the titular bull in the animated children's film Ferdinand.
Cena's contract with the WWE has reportedly expired, so fans are anxious to see if the WWE legend will make any surprise appearances in the ring. That said, it's safe to say we haven't seen the last of Cena's showbiz endeavors.