The Truth About Viral TikTok Skateboarder Doggface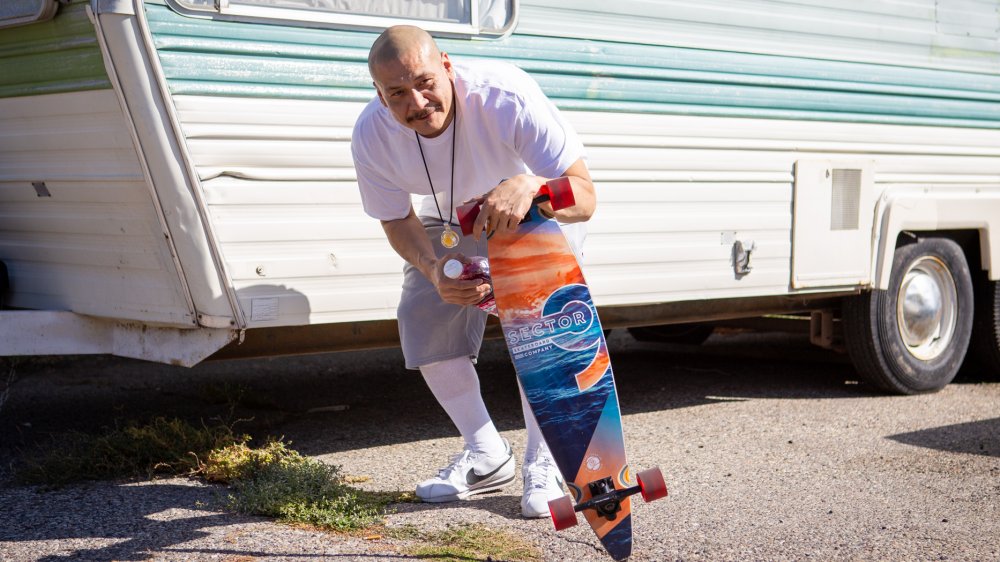 Mega/Getty Images
Nathan Apodaca, also known on TikTok as @420doggface208, achieved viral fame in the fall of 2020 — due to the video of him skateboarding down a highway to the tune of Fleetwood Mac's "Dreams" while drinking cranberry juice. The clip has already garnered 4.5 million views and has made the 1977 hit single soar again in sales, according to NPR. The outlet reports that TikTok has helped the song have the best week ever on streaming services.
It seems everyone now knows who Doggface is — or, at least, recognizes his face and the unmistakable feather tattoo on his head. (As he told the LA Times, the ink is an ode to his mother's Native American heritage.) The video has gained so much attention that even Fleetwood Mac drummer Mick Fleetwood recreated it on TikTok. Plus, the social media platform capitalized on its momentum by turning the video into a commercial, as per AdAge.
But who is the user known as Doggface, and how did the TikTok sensation come to be? Here is the truth about Doggface — and how he came up with the TikTok that is being hailed as the epitome of good vibes.
Doggface is actually a potato worker from Idaho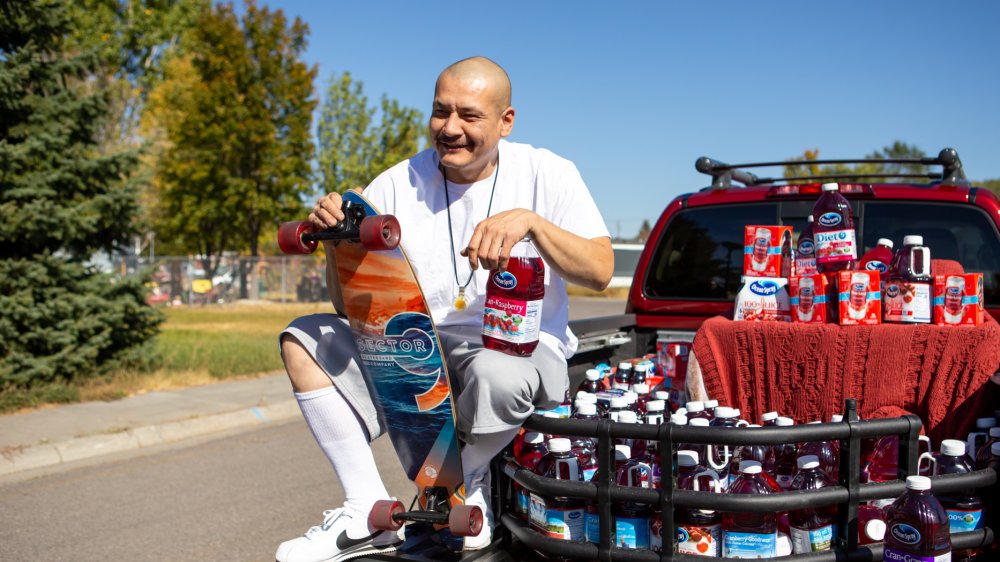 Mega/Getty Images
According to a profile by NPR, Nathan Apodaca is a father of two and has worked at a potato warehouse in Idaho Falls, Idaho for almost two decades. His truck apparently broke down about two miles from the warehouse, prompting him to skateboard to work and thus, the iconic TikTok was born.
"I was just sitting there, and I'm like, 'Okay, I'm not gonna sit here and wait for nobody to pull some jumper cables,'" he told the outlet. "'I'm not gonna flag anyone down.' So I grab my juice, grab my longboard, started heading to work."
This fame is definitely a new feeling for Apodaca as he lives a normal, simple life. Apodaca is currently living in an RV that does not have running water to shower and to use the bathroom; he has to go to his brother's house nearby, as NPR noted. Luckily, the virality of his video has sparked an outpouring of donations, which Apodaca told NPR he plans to use for a down payment on a house. Ocean Spray has helped him out as well and bought him a new car packed with tons of cranberry juice, according to the LA Times.
Apodaca still has the job at the potato factory, but he is also enjoying the limelight right now and selling his own merch.
This is not Doggface's first TikTok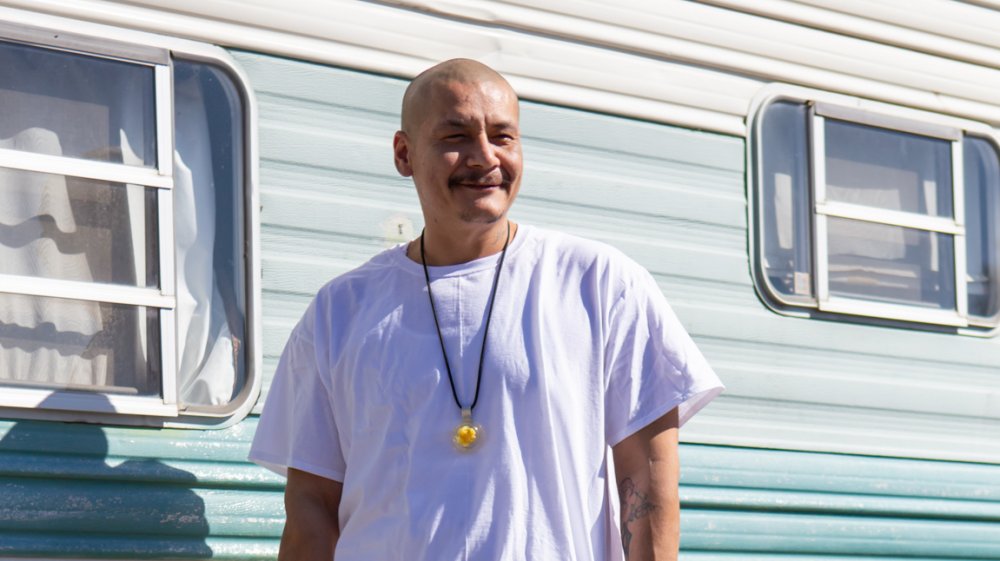 Mega/Getty Images
Nathan Apodaca first joined TikTok in 2017, back when the app was still known as Musical.ly. His teenage daughters Makyla and Angelica encouraged him to give it a try and he has been making videos ever since, gaining a bit of a following even before the video went viral, the LA Times reported. His TikToks focus on his love of dancing, skating, and old school music. He is mostly known for his happy-go-lucky, laid-back attitude and his goofy nature.
He told the paper: "Everybody always says 'do more skating videos.' ... I just do me, basically. And it puts smiles on faces. And that's what makes me happy about it."
This mindset clearly translates well on the app and especially during such turbulent times, something Apodaca said might have contributed to the virality of the video.
"There's just too much chaos right now. Everybody just needed something to relax to and vibe out with," Apodaca told NPR.
The video has been recreated by countless celebrities and even some government officials. Apodaca also recently video chatted with Mick Fleetwood on BBC News. Despite the craziness of his new fame, the newly minted social media star says he is happy just making people other happy.