This Is Why Ben Higgins Apologized To Olivia Caridi After The Bachelor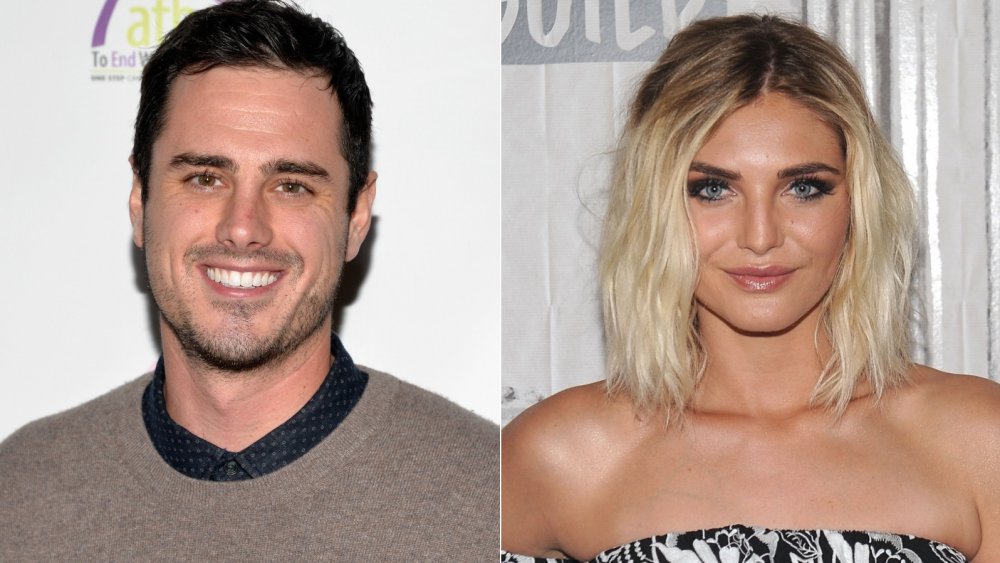 Michael Tullberg, Brad Barket/Getty Images
As any millennial can tell you, The Bachelor follows a pretty predictable formula. There's a fan favorite who loses but becomes the next Bachelorette, there's the winner, and perhaps most importantly, there's the villain. The unlucky girl who ends up in the villain role gets a pretty tough deal. Producers and editors splice together hours of footage to make her look dumb, at best, and evil, at worst. No one knows the pains of playing the villain better than Olivia Caridi, who became the least liked woman in the Bachelor mansion on Season 20.
In one particularly memorable scene, Bachelor Ben Higgins entered a cocktail party and informed the women that he'd gotten a phone call from his family earlier in the day during which he learned that close family friends had died in a plane crash. In typical Bachelor fashion, Olivia "stole" Ben for a chat, but rather than comfort him, Olivia broke down in tears about her biggest insecurity — her cankles. "I came in here a little down," Ben said in a confessional, "and this is not exactly what I wanted to talk about." It was seemingly the final straw for Olivia, whom Ben left on an island after a one-on-one a few weeks later.
Fans were seemingly just as unimpressed with Olivia as Ben, and mercilessly roasted her on social media. All that attention couldn't have been easy, and now years later, Ben has apologized to Olivia for the way he treated her on Season 20. Read on to find out what he said.
Ben Higgins regrets how he treated Olivia Caridi
When it comes to her time on The Bachelor with Ben Higgins, Olivia Caridi has mixed feelings. Olivia opened up about her stint on the show during a 2020 episode of The Bachelor: The Greatest Season — Ever (pictured above). "I realized, this is gonna be a really hard couple months," she said of watching the first episode of season 20 (via US Weekly)."Seeing what people really thought of me and what people were saying, that was really hard," Olivia explained, "It affected me. It was, like, making fun of my physical attributes that I can't change." Fans mocked her mouth and large breast size, which made Olivia nervous to leave her house, per Us Weekly.
For his part, Ben has regrets too. The former Bachelor came on the show to apologize to Olivia. Ben claimed he felt bad for Olivia because, at the time, he just hoped everyone had fun on set, which Olivia did not. "As I look back on that time, I think my lack of wisdom and maturity and standing up for you publicly, while I knew this was hard for you, I think the way that I navigated the confrontations and issues on the show, could have been better to help you," he said. "Mostly, I just wanted to speak to you and say I'm sorry."
There are no hard feelings, though. "The person I am now is so resilient," Olvia said. "I'm not ashamed anymore because I know that I am not that person."