The Truth About The Jacob Sartorius And Jenna Ortega Dating Rumors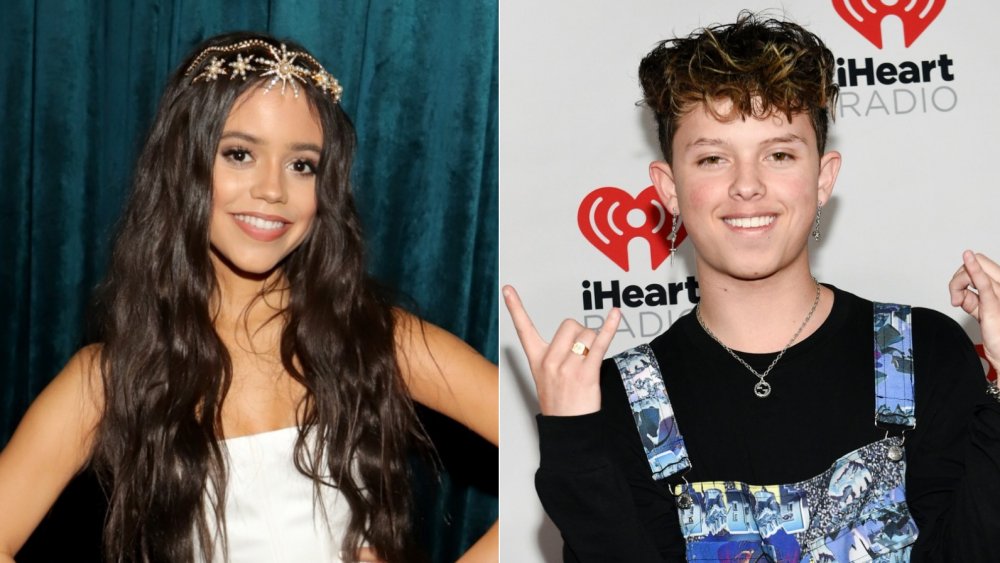 Arnold Turner, David Becker/Getty Images
Actress Jenna Ortega, of Disney Channel's Stuck in the Middle and Netflix's You fame, has watched her career skyrocket as she gets older. With success in Hollywood comes inevitable dating rumors, though, and there has been quite some speculation on her love life.
The actress remains private and tight-lipped about her relationships, but her involvement with singer Jacob Sartorius' 2017 "Chapstick" music video sparked rumors that she has chemistry with Sartorius both on and off set.
In September 2017, Sartorius tweeted, "I have a crush." According to Seventeen, a few days later he posted pictures from the music video of the two of them looking cozy and exploring New York City together.
Fans who shipped this potential couple couldn't help but jump to conclusions that Ortega was who he was referencing in his tweet.
In a 2019 episode of Bailee Madison and Kaitlin Vilasuso's podcast, Just Between Us, Ortega spilled all the tea about the rumors. Here is everything we know about her and Sartorius' alleged relationship.
Jenna Ortega clears the air about the Jacob Sartorius dating rumors
Unfortunately for fans who were hoping this rumor would be true, Jenna Ortega said she never dated Jacob Sartorius and he is just a friend, J-14 reported.
She was also rumored to have also dated actor Asher Angel, but squashed that rumor on the Just Between Us podcast as well. Apparently, the rumors started swirling about her and Angel after they dressed up as former couple Ariana Grande and Pete Davidson at Just Jared's Halloween party. The pair was also seen attending a fashion show together and they walked a red carpet together, according to J-14. On the podcast, Ortega denounced this and said she hasn't dated anyone the internet claims she has.
When asked what for the craziest thing she has read about herself online, she said, according to J-14, "Probably relationships. According to the internet, I dated like six guys, [but I] dated none of them."
For all that fans can tell, Ortega is single and likely focusing on her career. Maybe she and Sartorius will take their friendship to the next level someday.