Tommy Lee Threatens This If Trump Is Re-Elected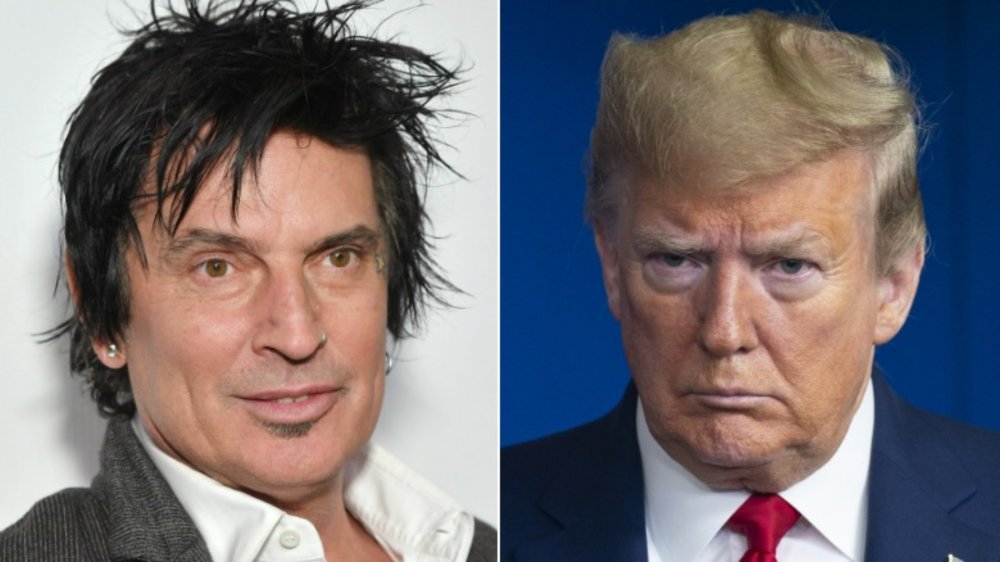 Mike Coppola, Sarah Silbiger/Getty Images
Mötley Crüe drummer Tommy Lee has never been shy when it comes to sharing his opinions on any subject matter. It's no secret that he isn't the biggest fan of President Donald Trump, either. When Trump revealed his coronavirus diagnosis on Oct. 2, 2020, Lee quoted the tweet and added "Can you say 'Karma Gods have spoken'?" And, in October 2020, when The Big Issue, asked Lee how he'd react if Trump gets re-elected on Nov. 3, 2020, the rocker reacted accordingly: "Dude, I swear to god if that happens then I'm coming over to visit the U.K." 
"I'm out of here," Lee added. "I'll go back to my motherland, go back to Greece and get a house on one of the islands." (Lee was born in Athens, Greece, according to his IMDb biography.) He went on to explain, "The thing that stings the most is that I feel like we're embarrassing. I feel like people in Europe and the rest of the world look at America and think: 'What the f**k are you guys doing over there? Stop voting for celebrities and get someone real to run the country.'" But, of course, this isn't the first time Lee has voiced his disdain for the president.
Tommy Lee has been very vocal about his dislike for President Trump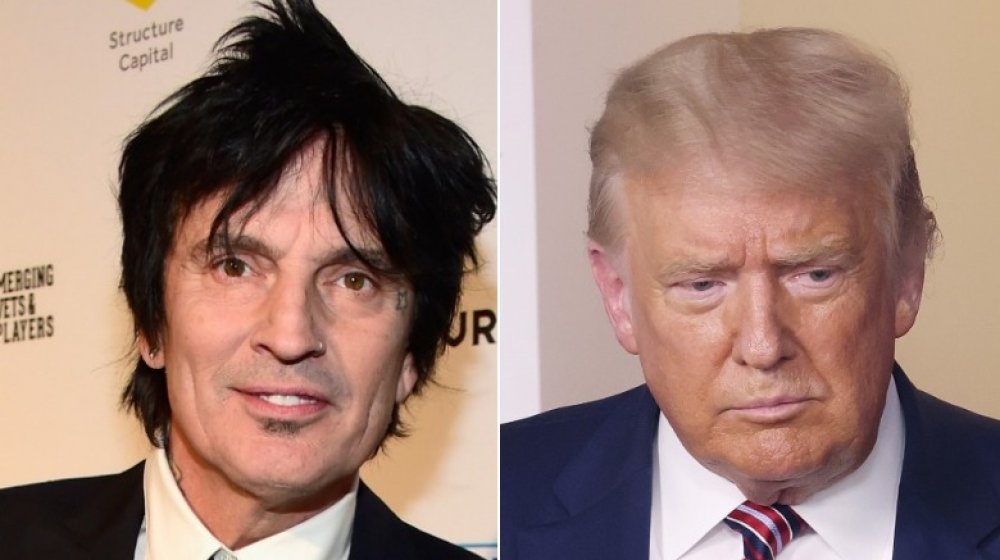 Frazer Harrison, Win Mcnamee/Getty Images
Tommy Lee has been very outspoken about his dislike for President Donald Trump on social media. After the first presidential debate, Lee tweeted at Trump, "Yeah and YOU refused to condemn Racism you f**kin racist!!!!! I have great idea... How about next time your mics get shut OFF when people have their 2 minutes to talk without your 7 yr old interruptive tantrums!!!!" A couple of days earlier, the drummer tweeted a middle finger emoji at the president. And, in August 2020, Lee called out the Trump voters, asking, "Hey trump supporters... are you done yet with this moron?"
Back in August 2019, the Mötley Crüe drummer asked Trump to "go away" in multiple social media posts, tweeting "don't go away mad just go away!!!" and "Stop the name calling, bullying and just go away! You're no leader dude!!!! Beat it!" Lee's dislike for Trump is genuine, but he's not the first one who promised to leave the country if Trump wins four more years in the White House. Snoop Dogg claimed he would move to Toronto if Trump was elected in 2016, which didn't happen. Ironically, Snoop Dogg has never voted in a presidential election before.
But, as the outcome of the 2020 election still hangs in the balance, much remains up in the air, including Lee's country of residence (supposedly).