The Masked Singer Fans Think The Crocodile Is This Backstreet Boy
Since fans were first introduced to Crocodile on Season 4 of The Masked Singer, the show that has become a surprisingly huge hit, they have been trying to piece together the clues and guess the pink reptile's identity. After the Oct. 14, 2020 episode, fans think they have finally figured it out.
Crocodile chose Bon Jovi's "It's My Life" for its first performance on the show, following it up with a rendition of Britney Spears' "Toxic" for the second performance. According to Good Housekeeping, the crocodile's clues have so far been that they grew up in Hollywood, are happiest in water, and that "a special set of keys reversed my game forever. Tic-tac-whoa!" The crocodile's visual clues included a yellow waterslide, a Las Vegas backdrop, a skull and cross bones, and a pineapple with a fish inside and topped with an Italian flag, the site notes.
So far, the judges have guessed that Adam Lambert, Lenny Kravitz, Harry Connick Jr., or one of several other stars might be behind the mask, as per TV Insider.
According to The Inquisitr, fans believe Crocodile's clues and latest performances have solidified their predictions that a certain pop musician is underneath the costume. Read on to figure out which celeb the clues point to.
Fans think Nick Carter is behind the crocodile costume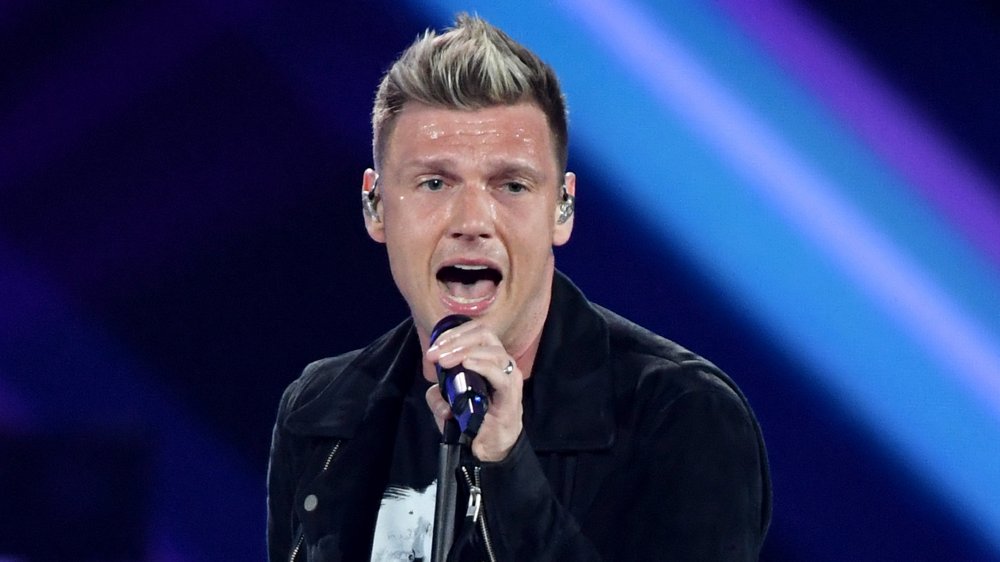 Ethan Miller/Getty Images
Fans are convinced Nick Carter is behind the crocodile costume. In his clue video, Crocodile said he grew up in Hollywood and was "forced to develop a thick skin" in the face of "heartache and instability," Good Housekeeping reports.
Carter's past fits the bill for this clue, as he has been open about having a rough childhood and growing up with a dysfunctional family. Carter also has a difficult relationship with his famous younger brother, Aaron. 
He also has been in the entertainment industry since he was young — he was only 13 when he joined the Backstreet Boys, according to The Sun. Good Housekeeping notes he was an extra in the movie Edward Scissorhands, where he slid down a yellow Slip n' Slide — which goes with the yellow waterslide clue.
According to Woman's Day, several of the clues could be nods to Carter's Florida upbringing. Fans think the pirate clue could represent his favorite football team, the Tampa Bay Bucaneers. Screen Rant also notes that Carter has a history of boat racing and a passion for fishing (which would explain the water reference). He also proposed to his wife in the Florida Keys, a possible nod to the "special set of keys" clue. Carter's wife gave birth to a "rainbow baby," a baby born after a miscarriage, which could tie into the rainbow showed.
Crocodile's smooth vocals also have fans excited to see if their guess of Nick Carter is right.