The Truth About Keith Morrison And Matthew Perry's Relationship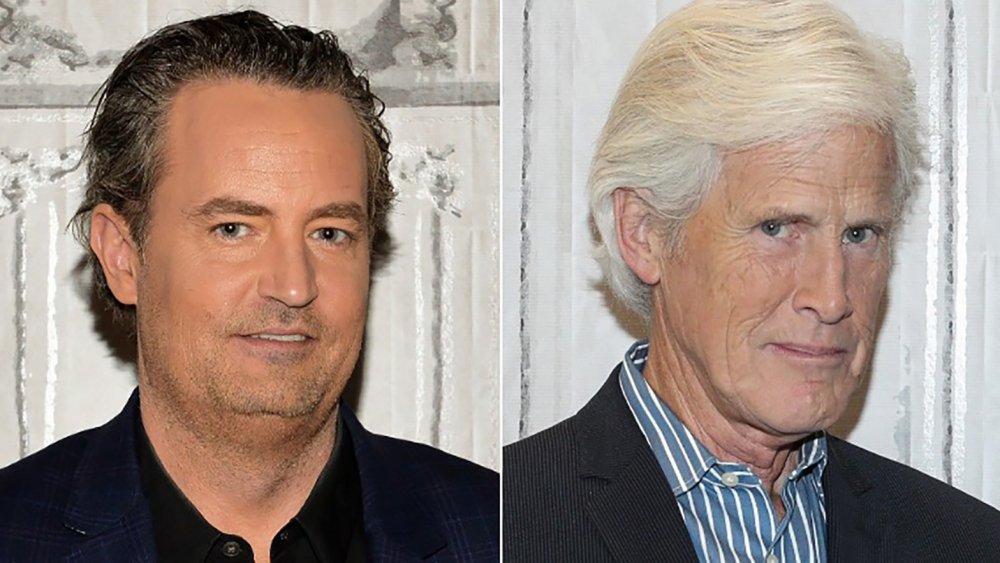 Slaven Vlasic, Rob Kim/Getty Images
Although people may know Matthew Perry as the lovable and sarcastic Chandler Bing from the iconic TV show Friends, some will be surprised to learn about his connection to the true-crime series NBC's Dateline. No, the 17 Again actor hasn't dabbled in investigative journalism. As it turns out, he has a pretty close link to one of the show's hosts, Keith Morrison. As it turns out, the unlikely duo has family ties.
Despite keeping their relationship under wraps for years, the reporter previously shared some insight into their bond. Morrison called the sitcom star a "very good guy" during an appearance on Watch What Happens Live in September 2017. Additionally, the journalist revealed Perry often showers him with lavish gifts, including a Porsche 911. "I still drive it around," he gushed to host Andy Cohen at the time.
Could their relationship be any more iconic? Keep scrolling for more details on how Perry and Morrison are related, as well as for more insight into their sweet bond.
Keith Morrison knew Matthew Perry was special
In case you missed the memo, true crime journalist Keith Morrison is Matthew Perry's stepfather and has been a paternal figure in his life since he was a child. Morrison married Perry's mother, Suzanne Marie, in 1981 years after she split from the TV star's biological father, actor John Bennett, when the Friends alum just 1, as the actor noted in a 2004 interview with Katie Couric. Together, Marie and Morrison welcomed four more children: Caitlin, Emily, Will, and Madeleine.
Morrison and his wife raised their blended family raised in Ottawa, Ontario, where the TV personality recognized Perry's star power. However, he never envisioned Perry would amount to the success he has today, at least "probably not as an actor," as he admitted during his September 2017 appearance on Watch What Happens Live.
The Dateline star elaborated on Perry's special spark in an October 2020 interview with People, stating," I used to take him off to his hockey games on Saturday mornings. It was like Matthew and the hockey team. He was the one who scored all the goals. He was the guy. The same on the tennis court. He was extremely, extremely good on the tennis court and very intense." Morrison added, "He's an intense, talented, focused character. He's very bright. That was always the case as he was growing up." What a glowing review! 
Keith Morrison supported Matthew Perry during a tough time
There's probably a good chance fans want to know what Keith Morrison thinks about his stepson's role on Friends. He admitted to People that Matthew Perry was perfect for the part of Chandler Bing. "Him being selected for a role like that does not surprise me one bit," the host revealed. "It matched his particular sense of humor precisely, whether they wrote that for him knowing what he was like or whether he adapted it more for himself, probably a combination of the two. But that character is Matthew. Yeah, and it always has been him. He's just a talented soul, a smart guy."
Furthermore, Morrison told People Perry is quite the family man, and his rowdy brood loves "having him around." The Morrison-Perry fam even supported the actor after he was left bedridden for months in 2018 following a gastrointestinal perforation (ruptured bowel). "We were able to be with him a lot of the time through that, which was I think good for everybody," Morrison shared. "It's awful when people have a serious [illness] and have to have operations and worry about whether or not they're going to make it through. It brings the whole family closer. We all get to be there to pull for him. He's coming through it."
It's pretty clear Morrison and Perry are tight, and we hope they share more stories about their relationship down the line.