The Emotional Moment Kane Brown And Chris Young Shared At The CMT Awards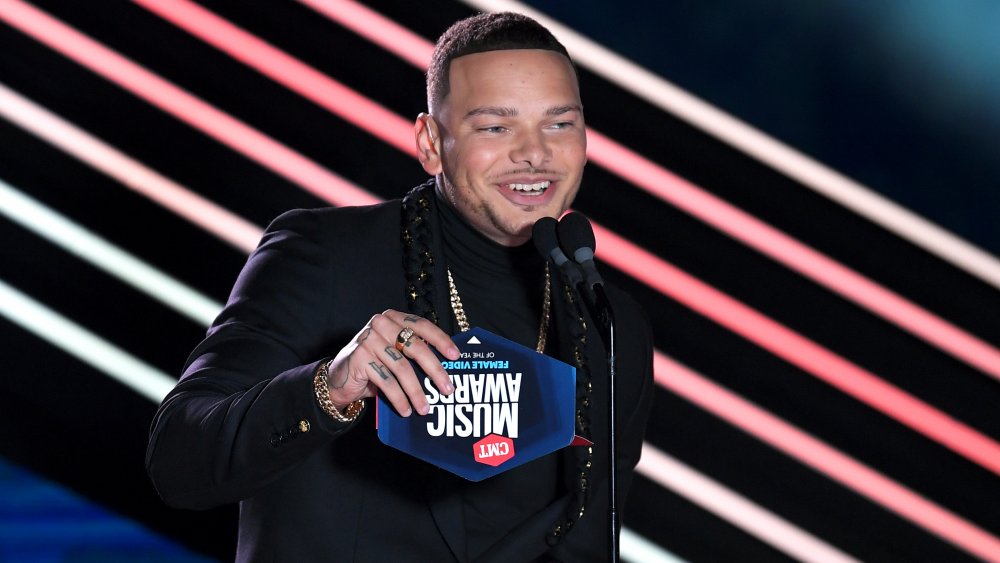 Jason Kempin/cmt2020/Getty Images
If you weren't tuned into the CMT Music Awards on the night of Oct. 21, 2020, worry not — it was really just a whole lot of Kane Brown sprinkled with a few other country artists in between (although we're definitely not too bummed about seeing Brown's handsome face every few minutes). Not only did Brown perform for the awards show, but he also hosted them — a particularly special event for the young artist, since it was also his 27th birthday. 
On top of that, the CMT Awards were also the first to award Brown with a trophy earlier in his career, adding to the night's importance for the "Cool Again" singer. "It means the world to me and CMT has always been good to me," Brown said in an interview with CBS Local prior to show night. "My first award that I ever won was on CMT and the first show that I'm ever going to host is the CMT Music Awards."
The show was running relatively smoothly, considering it was also the first time the CMTs were aired with no audience and with country music stars who tuned in virtually. Despite the virtual environment, we were surprised when Brown and fellow country artist Chris Young — who won the night's best performance of the year award — were able to share a particularly emotional moment that left us in tears.
Kane Brown and Chris Young discussed the loss of their friends at the CMT Awards
In his acceptance speech for best performance of the year at the 2020 CMT Music Awards, Chris Young shared an emotional backstory for his performance of the song "Drowning" at the CMT Artists of the Year special a year before.
Noting that "this song means the world to me" and calling the performance "really, really special," Young explained that he originally wrote the tune after the passing of his close friend, Adam, who died in a car accident in his 20s. Meanwhile, it turns out that Kane Brown was actually slated to perform the single at the summer event following the death of his drummer and friend, Kenny Dixon. According to Country Now, however, he was understandably still "reeling from the unthinkable loss," which happened just days before the scheduled performance.
As a result, Young "stepped in" to perform the song in Brown's absence — which he called "difficult," knowing that Dixon's loved ones would also see it — and ended up winning an award for his efforts. "I can't imagine, even still, what [Dixon's] passing does to you," Young addressed Brown in his speech. Since Brown was hosting the awards show, he was able to respond in real time. "Thank you so much for the bottom of my heart," he said, adding that Dixon would have been "proud" of Young's performance.