The Real Meaning Behind Ariana Grande's Positions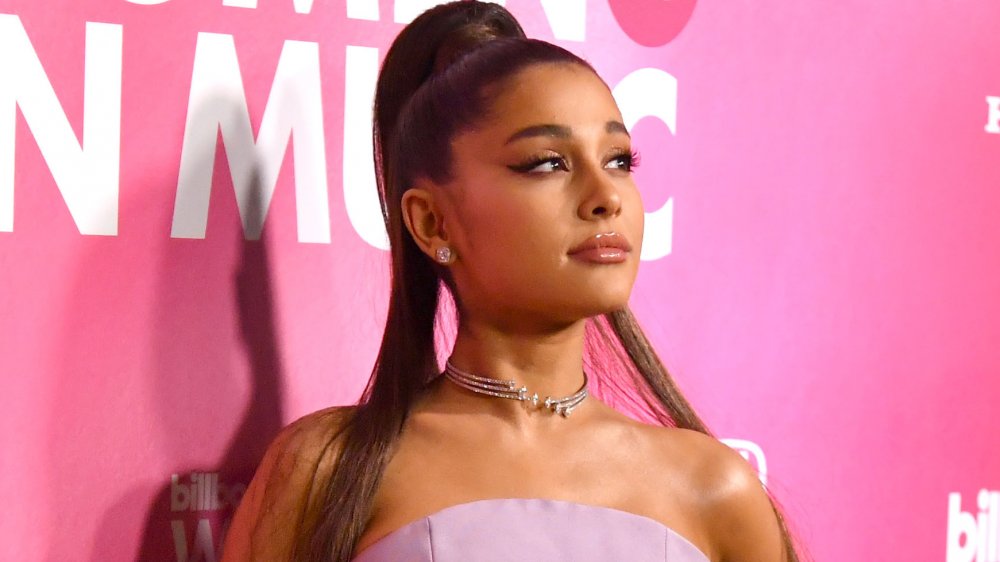 Mike Coppola/Getty Images
In October 2020, Ariana Grande revealed that she would be dropping her sixth studio album, tweeting, "i can't wait to give u my album this month." The first single, "Positions" — which she released on Oct. 23, 2020 — shares a title with the album. Along with the single, Grande also dropped a music video for the titular song.
In the video, Grande assumes the position of Commander-in-chief and multitasks her way through the most important job in the world. In one scene, she's leading a cabinet meeting. In another, she's busy cooking in the White House kitchen. Then, she's signing a bill in front of reporters, and next she's walking her dogs across the White House lawn. All the while, singing seemingly unrelated lyrics like: "Switchin' the positions for you/Cookin' in the kitchen and I'm in the bedroom/I'm in the Olympics, way I'm jumpin' through hoops."
Though the video was a massive success — it racked up over a million views in an hour — it also left fans a little confused, per The Guardian. Some of the lyrics seemed so romantic, but the video is so political. So what does it all mean? Don't worry, we've got you covered. Read on to find out what Grande's "Positions" is all about.
Fans aren't sure what the video means
At first glance, Ariana Grande's "Positions" is fraught with political commentary. It's not hard to miss the subtle jabs at the Trump White House (never mind that the video was released two weeks before the 2020 election). For starters, Grande's staff and cabinet are much more diverse than President Donald Trump's — or any president so far, to be fair. In one scene, she awards medals to postal workers, a hot button issue for Trump. The song's overall meaning seems to be that Grande — or anyone — could run the country better than Trump.
However, the song is about so much more than politics. It's seemingly a celebration of Grande's new love more than anything else, according to Elle. In February 2020, Grande was first spotted with a "mystery man" who turned out to be now-boyfriend Dalton Gomez, a Los Angeles-based real estate agent. This is reportedly an entirely new type of love for Grande, who's had a rough go of it in the past (here's looking at you, Pete Davidson). The more romantic lyrics include: "Heaven sent you to me / I'm just hopin' I don't repeat history," and "Perfect, perfect / You're too good to be true (You're too good to be true)."
The good news? He seemingly isn't too good to be true. Grande and Gomez are reportedly very happy together and very serious about each other, per Us Weekly. "[Gomez] is the type of guy she has been looking for," a source told the outlet, adding, "Their relationship is serious. They've fallen madly in love with each other."