The Strange Revelation George And Amal Clooney Revealed About Meghan And Harry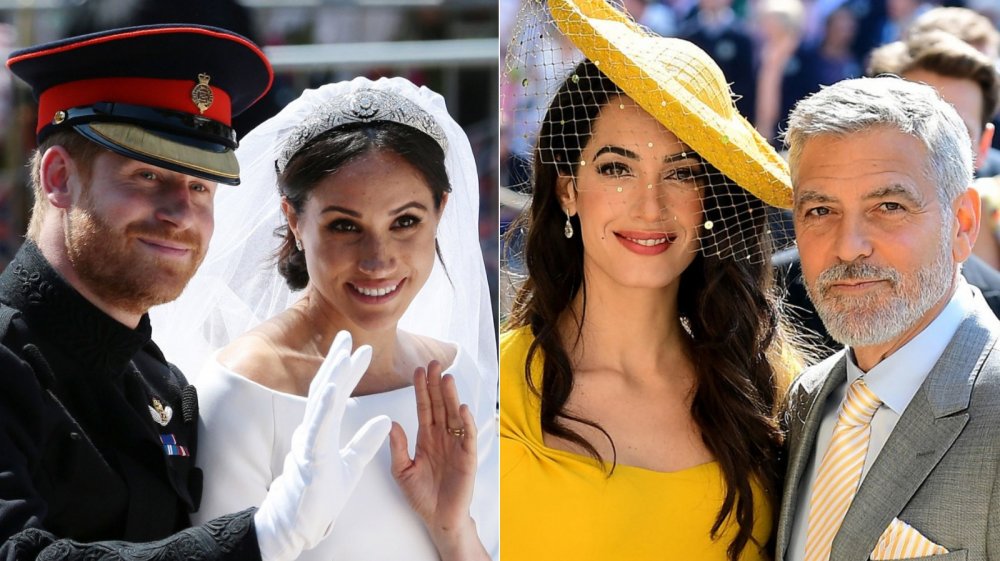 Wpa Pool/Getty Images
Prince Harry and Meghan Markle's wedding was a massive event. A whopping 600 guests joined them in St. George's Chapel at Windsor Castle to celebrate the big day on May 19, 2018, according to the Daily Mail. The wedding was a star-studded affair, with guests ranging from Oprah Winfrey to David and Victoria Beckham, as well as Serena Williams and her hubby, Alexis Ohanian. Add to this list power couple George and Amal Clooney, who were reportedly given seats of honor next to some very important people. However, that seating arrangement puzzled some royal contacts.
Rumor has it that Harry's godmother, Carolyn Bartholomew, chitchatted with the Clooneys before the wedding began and the powerful pair revealed how they knew Harry and Meghan. George and Amal reportedly gave a puzzling answer. Keep reading to discover what they said.
George & Amal do NOT go way back with Harry & Meghan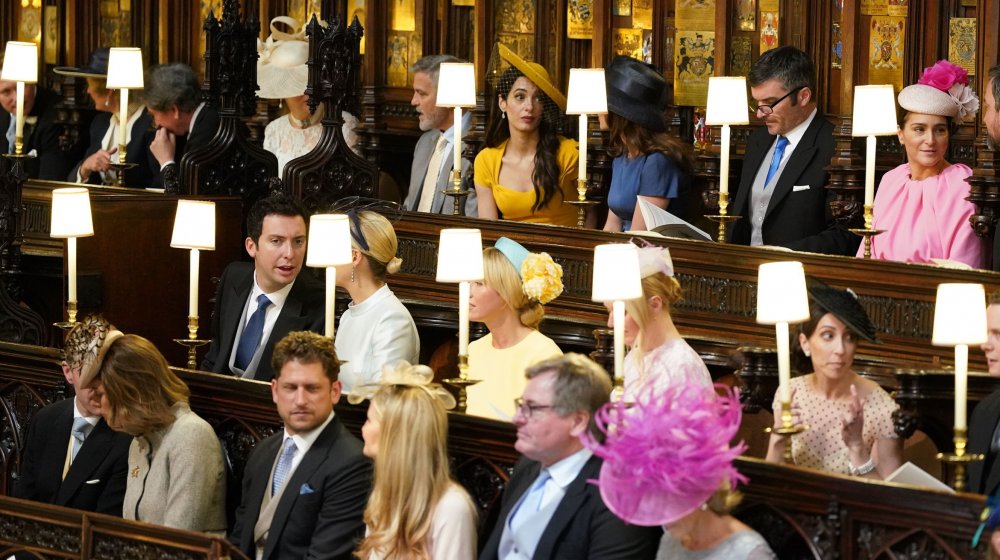 Wpa Pool/Getty Images
Carolyn Bartholomew and her husband were guests of honor at Prince Harry and Meghan Markle's May 2018 wedding. According to the Daily Mail, Bartholomew was Diana Spencer's roommate when the future princess met Prince Charles, and Bartholomew later became Harry's godmother. When Bartholomew ran into George and Amal Clooney at the royal wedding, she apparently asked them how they knew Harry and Meghan. The Hollywood power couple reportedly offered a surprising revelation: "'We don't,' the Clooneys answered brightly," according to Air Mail.
It might seem curious that two people so unacquainted with the bride and groom would be seated so prominently at the wedding — or receive a wedding invitation in the first place. George reportedly danced with Meghan at the royal reception, and since the wedding, Harry and Meghan have reportedly spent quality time with the Clooneys. In August 2018, Harry and Meghan were invited by the Clooneys to visit their Italian residence, Villa Oleandra, on Lake Como, reported The Sun. Amal also allegedly spent more than $100,000 to fly Meghan to England after the duchess' New York City baby shower in February 2019, per the Daily Mail.
Maybe the noteworthy seating enjoyed by George and Amal Clooney was based on the newlyweds' hopes for a future friendship with the powerful pair. If that's the case — mission accomplished! Then again, where else would one seat such a prominent couple? You just don't put George and Amal Clooney in a corner, do you?