The Stunning Transformation Of Chelsea Clinton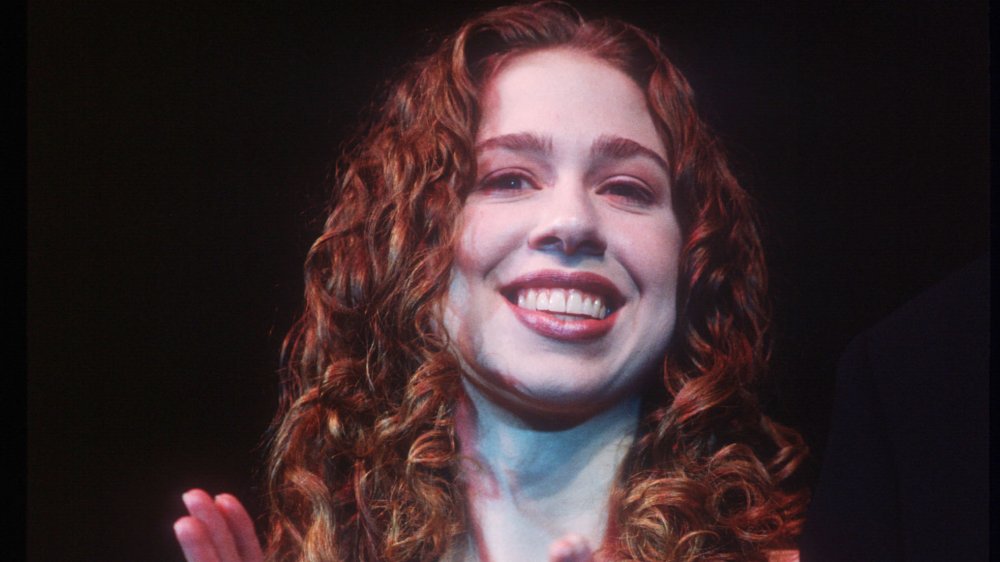 Cynthia Johnson/Getty Images
With every presidential election comes an entire first family. For the Obama and Clinton administrations, that means we were able to watch the president's children grow up in the spotlight and transform over the years. Malia and Sasha Obama, for example, came into the Oval Office as children and left as young adults. But unlike the Obama girls, Chelsea Clinton came into the White House as a young adult herself — meaning we got to see her dress choices as she made them instead of an adult choosing her garment palette. 
And since she's remained in the spotlight over the years, we've also been able to see her fashion choices, as well as her political voice, change with her age. While she's made it clear that she won't be running for office anytime soon — even telling Variety that she finds such questions "rather hysterical" — the third Clinton has been active on social media, giving us a window into her life. Here's what we've gathered from her early and later years. 
Cleasea Clinton's a sucker for comfy, relaxed wear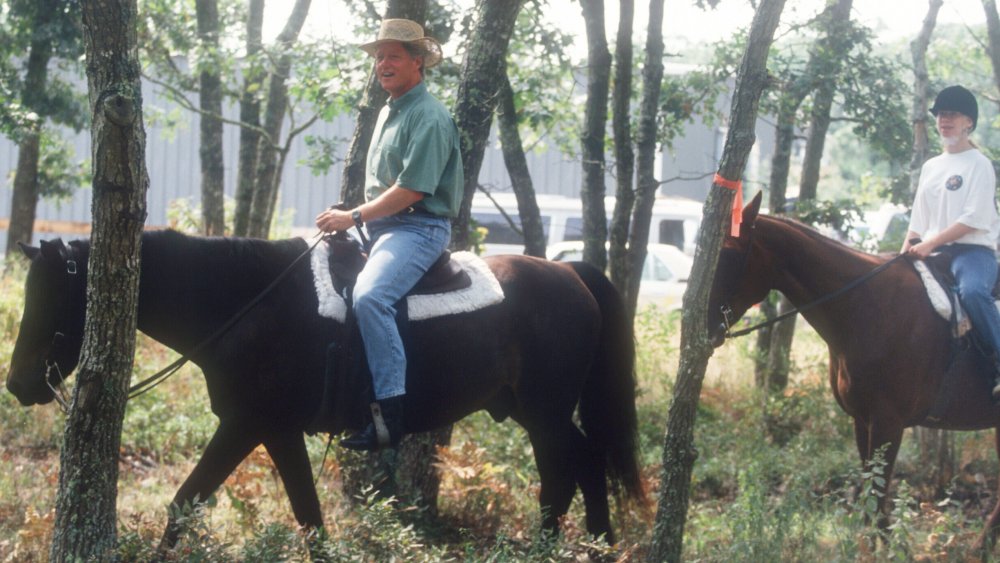 Dirck Halstead/Getty Images
Ever since she was a teenager, Chelsea Clinton has been a sucker for keeping it casual. With true teenage taste, Chelsea was often seen at her parents' side sporting light-wash denim jeans and an oversized T-shirt. In a photo snapped on Aug. 25, 1993, Chelsea can be seen in a white oversized tee paired with loose-fitting jeans and sneakers as she rides a horse behind her father, President Bill Clinton. Of course, that casual attire seems fitting considering she was horseback riding on vacation in Martha's Vineyard at the time.
Chelsea also occasionally took advantage of the versatility of her simple attire. For example, in a trip to Arkansas the night of her father's election, Chelsea wore a tee featuring an environmental cause with the words "Endangered Species" written across the front. 
While her taste in baggy denim pants and oversized tees may have waned, Chelsea does still love to occasionally sport a good ol' T-shirt just like anybody else. Years after her dad's tenure in the White House, Clinton was seen wearing tees on Hillary Clinton's campaign trail in 2016, although they were a closer fit.
But Chelsea Clinton also knows how to dress it up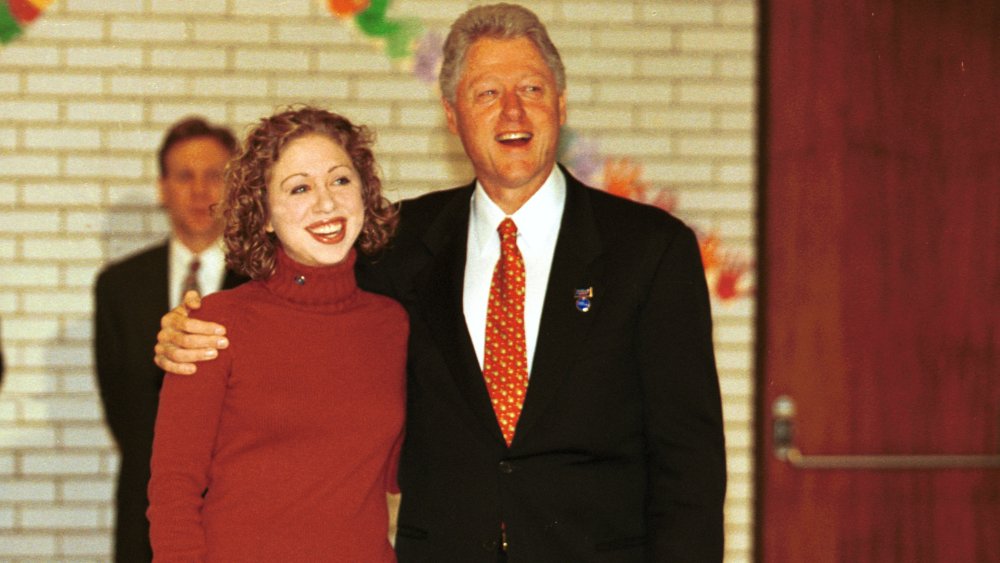 Cynthia Johnson/Getty Images
When she wasn't wearing T-shirts, Chelsea Clinton spent a lot of time in formalwear. However, business casual attire for the youngest Clinton meant basic, safe outfits like solid-colored turtlenecks, button-downs, and cardigans. She's been seen sporting a white cardigan or button down on multiple occasions, and fell back on turtlenecks as her go-to more than once back in the day. 
However, Chelsea's taste in formal garb has definitely had a upgrade since her father left office. Now, she can often be found sporting dresses, bold prints, and even bolder colors. While cardigans are still a staple in her closet, she's opted for colors like bright magenta and sapphire in recent years compared to her older choice in colors, like black or white. And while she has added dresses to her style portfolio these days, her love of sneakers never really went away. In fact, she has been seen sporting a chic dress and even formal blazer and blouse with a pair of comfy sneakers rather than heels or flats. Who can blame a busy woman for wanting to be comfortable on the go?
Chelsea Clinton went from staying out of the spotlight to embracing it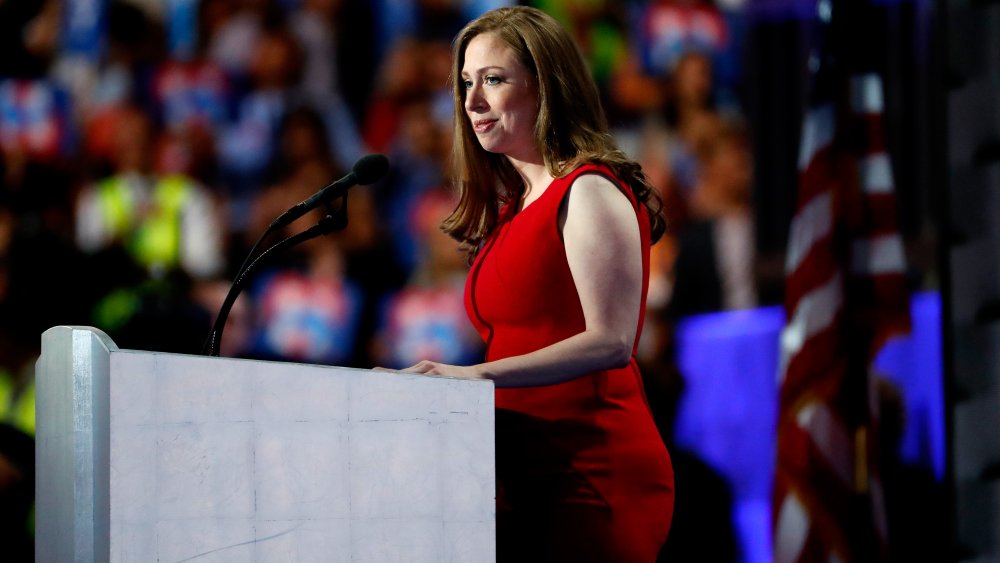 Aaron P. Bernstein/Getty Images
While Chelsea Clinton has been increasingly in the spotlight as a mother, author, and more, she wasn't always that way. In fact, Hillary and Bill Clinton worked hard during their White House years to preserve Chelsea's privacy growing up. In 1993, Margaret Truman, daughter of former president Harry Truman, wrote a letter to The New York Times voicing support for the youngest Clinton, recalling her own coverage as something that "bordered on child abuse." 
Even when Chelsea later went on to attend Stanford and then Oxford universities, her privacy was guarded closely, with even her fellow students ordered not to speak to the press, according to The New York Times.
However, over the years and as Chelsea gained autonomy, things started to change. In fact, Chelsea herself chose to write to the press in the wake of 9/11, sharing her grieving experience as an American abroad, as per The Guardian. Her public voice has continued to grow over the years, as she takes on roles of a published author, advocate, and teacher, among others. During her mother's campaign and even after her lost presidential bid, Chelsea emerged as one of her biggest supporters and one of President Trump's boldest critics. Even on the 2020 campaign trail, Chelsea has clearly gone from reserved teenager to outspoken Democrat. In 2020, a year unlike any other, Chelsea's transformation into one of America's prominent citizens has been welcomed by many.