The Tragic Bond Between Michelle And Jinger Duggar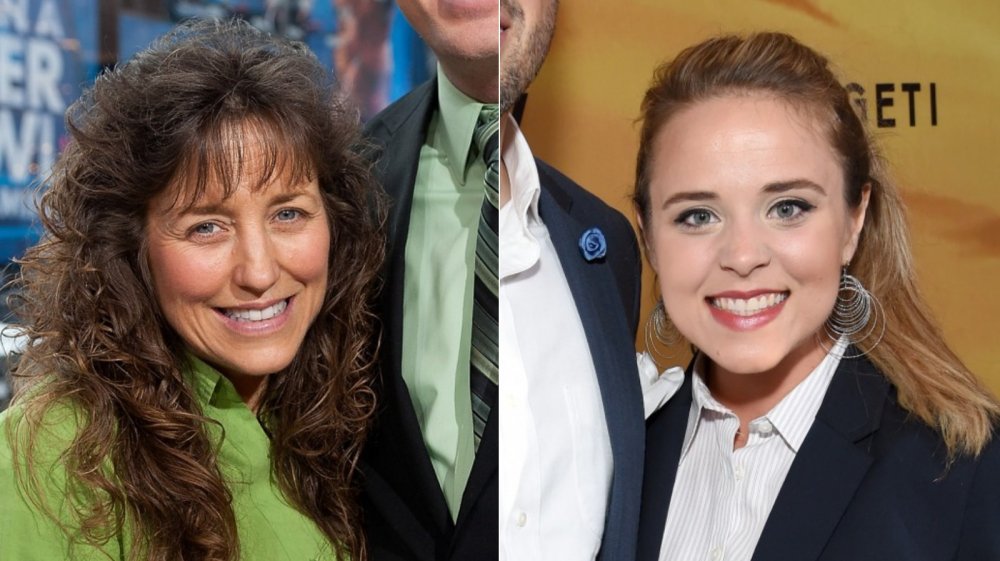 D Dipasupil, Michael Kovac/Getty Images
Mothers and daughters share an extremely special relationship, but Counting On stars Michelle Duggar and Jinger Duggar Vuolo have a connection like no other. Sadly, the women went through a similar unfortunate experience that cemented their bond.
During an episode of their hit reality show, Jinger revealed she and her mother both had a scary experience during pregnancy (via YouTube). After Jinger told her family she was expecting a baby for the second time, she started having frightening complications and knew exactly who to turn to. "I called my mom that morning and she kind of helped walk me through what it could be. She had that happen before with a pregnancy and she was able to keep the baby. So she said there is still a chance to go in and see," Jinger said in a confessional interview.
"So we went in and they tried to check for a heartbeat and they couldn't find a heartbeat and they did an ultrasound and said that we had lost the baby," the California resident said with a heavy heart. "It was very difficult for us," Jinger's husband, Jeremy Vuolo, chimed in. "Just the timing of it, it was sudden and we had just announced to our family and it hit us hard."
Thankfully, Jinger and Jeremy are expecting again after the tragic incident, but Michelle had her daughter's back during the hardest of times. Scroll below to see how the Duggar matriarch was there for Jinger following her miscarriage.
Distance didn't stop Michelle and Jinger Duggar
Although Michelle Duggar, who lives in Arkansas, was thousands of miles apart from Jinger Duggar Vuolo in the aftermath of her tragedy, she did what she could to be there for her child. On the show, Jinger insisted her family didn't need to fly to California to be with her, but what she didn't know was that they had already planned a surprise trip prior to the unfortunate event (via Soap Dirt).
Jeremy Vuolo had organized a surprise party for his wife for her 26th birthday and thought her family's attendance would make the day extra special. Jeremy walked his wife into a party room blindfolded, where she was elated to see her mom in front of her (via Pop Culture). "Oh Jin-Jin! I remember the day you were born," Michelle said as she gave a birthday toast. "Daddy and I are so thankful for you, you are a joy."
It sounds like Michelle and Jinger will support each other through thick and thin.