The Truth About Vicki Gunvalson's Engagement To Steve Lodge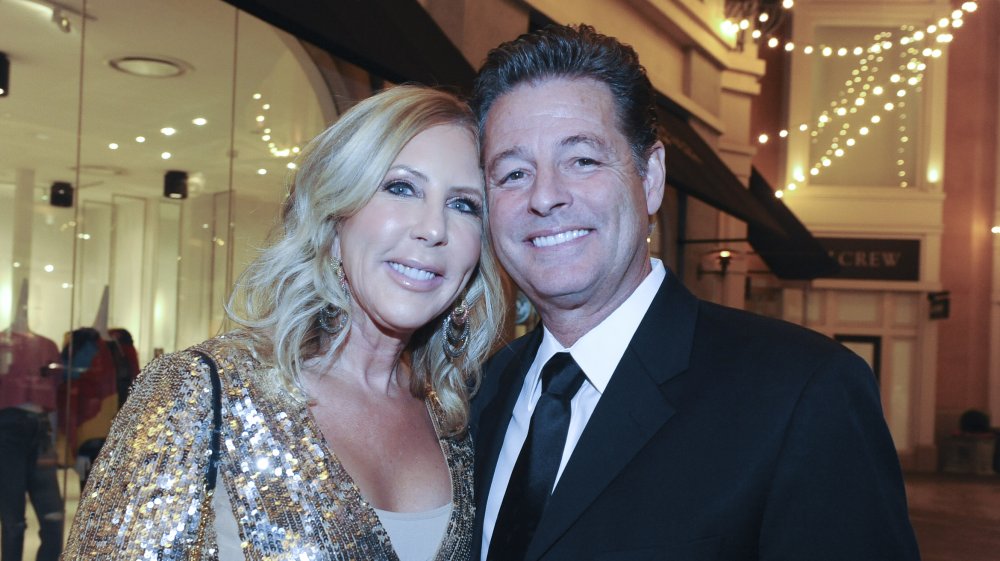 Amy Graves/Getty Images
Following rumors that Real Housewives of Orange County alum Vicki Gunvalson and her fiancé, Steve Lodge, called it quits, the reality TV star is setting the record straight once and for all. It all started when in September 2020, an Instagram fan account noticed the couple had unfollowed each other on social media, and they hadn't posted any photos together for some time. Despite the observations, Vicki said there was no validity to the rumors.
"I have no fricking idea where this came from," she told Us Weekly on Oct. 26, 2020. "Someone bored trying to stir up crap," she added. Vicki went on to confirm that she and her man "are fine" and are very much still engaged. She added, "[We] live together and live a very private romantic life. We don't follow each other on social media and haven't for a long time, and we don't post photos of each other – what's the point?"
Although she found the speculation to be a "complete joke," she was compelled to clear the air about her relationship. Amid the drama about a rumored breakup, let's take a look at the status of Vicki and Steve's wedding.
What's going on with Vicki and Steve's wedding?
Vicki Gunvalson was ready to marry her true love in April 2020, but sadly, they had to delay their wedding due to the coronavirus pandemic. "I told him the wedding's off. We're doing nothing," she told Hollywood Life at the time. "We're still going to get married .. [but I'm not] rushing to get down the aisle right now."
Before the wedding snag, Vicki seemed thrilled to "whoop it up" for her big day. "We might do it in Puerto Vallarta, might do it in our backyard, might do it in a winery, we are all over the place. Might just do us and our kids, might just do a big wedding," she told Us Weekly in April 2019. "You know, we've been married before so I don't really know what we're going to do. We're kind of just trying to enjoy this time right now and then we'll see."
So will the wedding ever be back on? That's TBD, but it seems like Vicki is enjoying life after Real Housewives of Orange County. On Oct. 20, 2020, for instance, the ex-reality star revealed she's building a lake house in North Carolina where her daughter and grandsons live. Not too shabby!