What You Didn't Know About Gabby Giffords And Mark Kelly's Marriage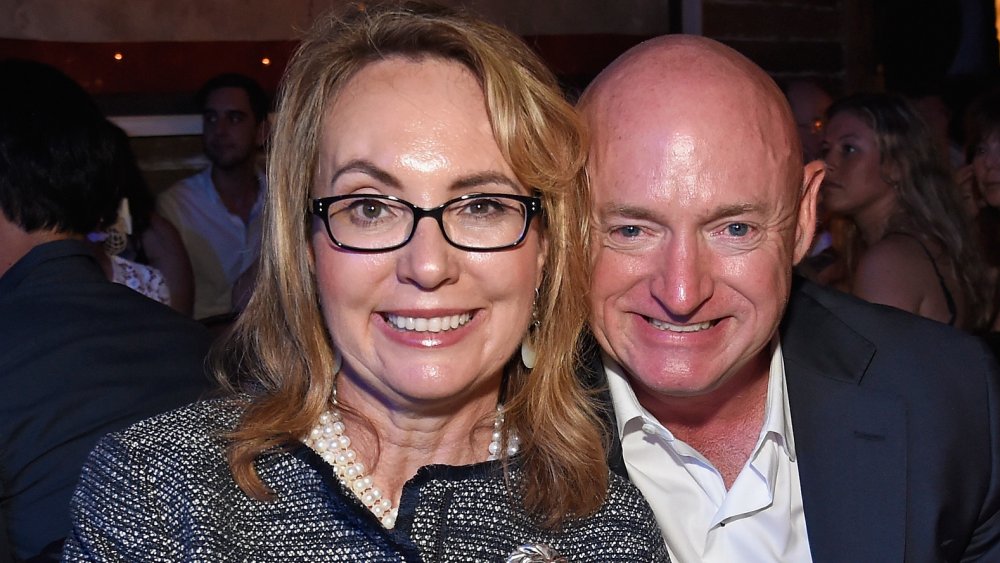 Kevin Mazur/Getty Images
Former congresswoman Gabrielle Giffords' marriage to astronaut Mark Kelly was put to the test after she was shot in the head on Jan. 8, 2011. Giffords was hosting a constituent meeting outside of a supermarket when she was targeted by Jared Lee Loughner (via History). The assassin went on a killing spree, taking the lives of six people and injuring 12 others.
The same day Giffords was shot, Kelly was in Houston training for his next mission into space, according to Parade. After hearing what had happened, he jumped on the next plane to be by her side. With her husband in her corner, Giffords condition began to slowly improve. "Mark immediately went to her side and said, 'Gabby! Can you hear me? Can you hear me?' And she was able to move her thumb just millimeters in a semi thumbs-up," Sen. Kirsten Gillibrand told Vanity Fair, recalling the early days of Giffords' recovery. "You have no idea the joy in that room," Gillibrand said. "She understood the words of her husband. I hear you. I can see. It was shocking."
Despite the long recovery, Giffords showed the same support for her husband just four months after her accident. In the middle of her rehabilitation, she traveled to the Kennedy Space Center to watch Kelly command the final mission of space shuttle Endeavor, reported ABC News.
Giffords and Kelly's commitment to one another clearly knows no bounds. Keep scrolling for more details about their love story.
Gabby Giffords & Mark Kelly make a great team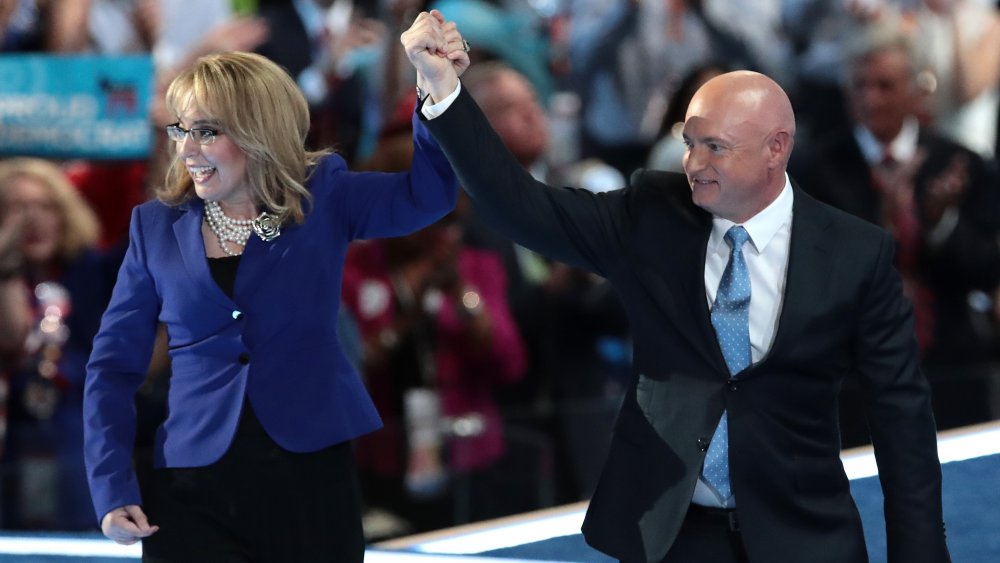 Drew Angerer/Getty Images
Gabby Giffords and Mark Kelly's romance began in the summer of 2003, after meeting at a young leaders forum. While Kelly "thought she was way out of my league," Giffords was equally as impressed with the spaceman. When gushing to a friend about the new man in her life, the pal replied, "He must be tall and dark and very handsome," to which Giffords said, "He's short and bald, and I love him" (via Parade). "It didn't tale me long to learn Mark was the smart, supportive and sincere man I had been searching for."
The couple wed in 2007 and continued to a long-distance marriage due to their demanding careers. Their lifestyle was disrupted following the attack on Giffords, and the pair moved in together once she left the hospital.
Despite the emotional toll of suffering a traumatic brain injury, that tragic incident made Giffords and Kelly's marriage stronger. "There's no doubt about it: The six years since the shooting have brought us a lot closer together ... Now we live in the same place and see each other more than we ever did," Kelly said in a 2017 interview with Parade. "It's taught me how important it is for a relationship to have a strong foundation of loyalty and respect."
These days, the couple works together to reduce gun violence and make the world a better place. Kelly is even running for Arizona state senate after being inspired by his wife.