Why RHONY Star Leah McSweeney Sparked A Feud With Michael Che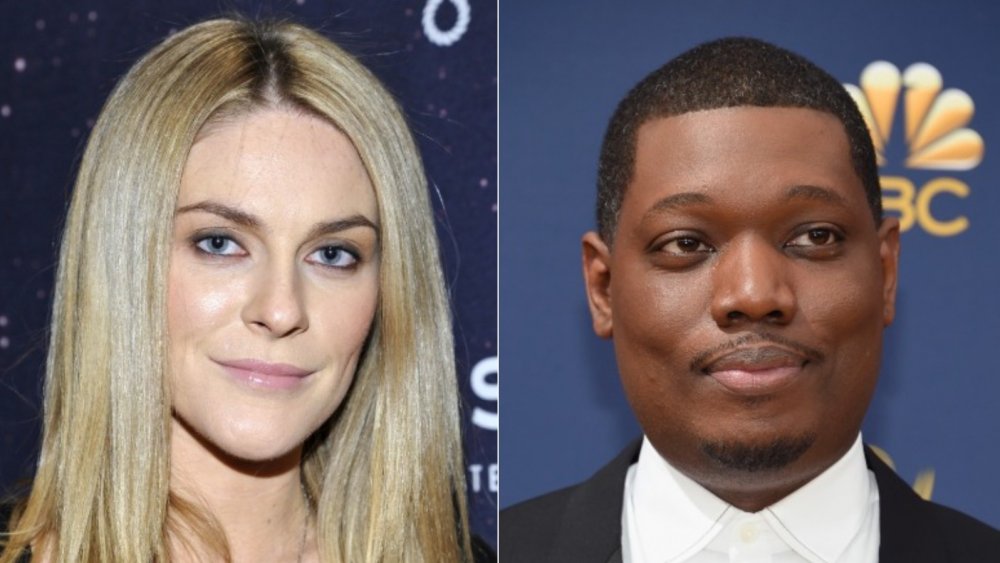 John Sciulli, John Shearer/Getty Images
Leah McSweeney was the breakout star of Season 12 of The Real Housewives of New York City, and Michael Che has been a fixture on Saturday Night Live since 2013. So, what do they have in common other than both being New Yorkers? A nasty feud.
For some backstory, before joining RHONY, Leah founded Married to the Mob, a women's streetwear line, at the age of 22. She also has a teenage daughter, Kier (nicknamed Kiki), with her ex-boyfriend, Alife clothing brand founder Rob Cristofaro. Rob has made several appearances on the Bravo series, but Leah stated on the show that she's not interested in reuniting with her ex romantically. But during her first season on RHONY, Leah put herself out there regarding finding a boyfriend. She's been on a quest for love for quite some time, as she even appeared on an episode on Bravo's The Millionaire Matchmaker back in 2010. 
All of this leads us to her feud with the "Weekend Update" star. Leah McSweeney is known for her "putting it all out there" demeanor, and she did just that over an exchange that she had with Michael Che on a dating app and in subsequent text messages. Keep reading for all the juicy details.
Leah McSweeney spilled on Michael Che's alleged improper etiquette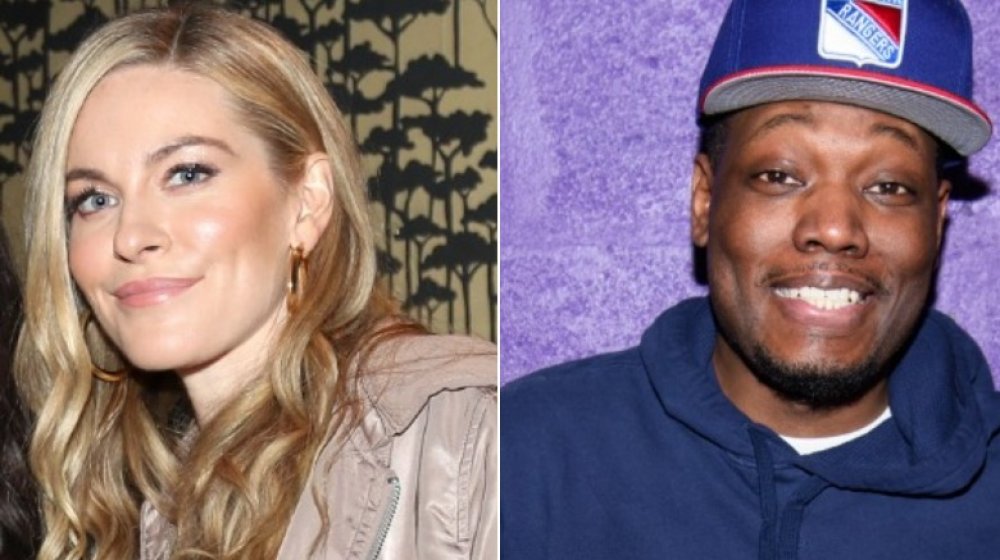 Cassidy Sparrow, Dave Kotinsky/Getty Images
In 2017, according to Page Six, on an episode of her Improper Etiquette podcast, Leah McSweeney revealed that she met Michael Che through the exclusive dating app, Raya. On the podcast, she alleged, "Michael Che is so arrogant and so rude and disrespectful that I cannot even believe that someone ... you're like a D-list celebrity to me, whatever, that's why I don't even care that I'm saying his name. I'm not like blowing up Jay Z's spot." 
Leah went on to claim that the SNL star was just plain rude while interacting with her on the app and via text. The RHONY star continued: "He kept just texting me, going, 'I'm fat. Does that turn you on?' And I'm like, 'You're fat? I think I've seen you and you're not fat, OK.' Why are you on a dating app if you hate women? Literally, you've never met me and you're texting me like I'm a stupid b***h ... texting me and being mad rude." 
I think we can all agree that Leah McSweeney was not into Michael Che. In response to her podcast slam, the comedian reportedly fired back by publicly sharing his messages with the reality TV star.
Michael Che shared his side of the Leah McSweeney feud in a text message dump
Michael Che has a very different take on what happened between himself and Leah McSweeney. Screenshots of dozens of messages exchanged between the two over several months were leaked to Page Six, which don't bolster Leah's side of the story. At one point, she allegedly texted, "U hate me cus I'm white. Our conversations r everything to me btw. We have a lot of friends in common and if any one of them saw this I would b so ashamed."
During their final exchange, Che appeared to shut things down. "Do u ever want to meet up? Or r we just gonna text each other randomly until eternity?" the RHONY star supposedly wrote in January 2017. "I [don't] wanna meet up," Che replied. "You text really strange declarations looking for a reaction, and I don't wanna know what's the real life equivalent of that." It appears that this exchange led Leah take to her podcast.
After Page Six posted the screenshots, Leah claimed to Jezebel that Che "planted" the story following her podcast reveal. "To me, him putting every single text message that went on between us, sending that to Page Six, is the corniest move I've ever seen anybody do in my life," she said. "And it just reaffirms the fact that he's a terrible person, obviously." 
It's safe to say that if Leah McSweeney and Michael Che happen upon one another's dating app profile again, they will be swiping left.