Why The Nicki Minaj And Miley Cyrus Beef Is Probably Fake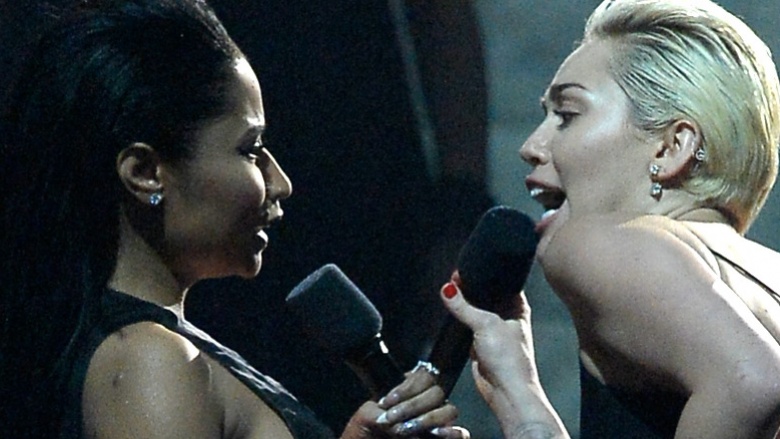 Getty Images
Diva beef is an actual thing. During the broadcast of 2015 MTV Video Music Awards, the ever-bootylicious Nicki Minaj thought it was a good idea to toss major shade at the evening's host, Miley Cyrus, while accepting the award for Best Hip-Hop Video. Despite the perceived bad blood, something smells rotten with this ready-made feud. Here's why we think this beef is made entirely of tofu.
Nicki Magically Solved Her Beef With Taylor Swift
Getty Images
To be sure, Minaj already had beef coming into the VMAs. When the nominations were announced in late July, Minaj was so upset that she didn't get more recognition, she did the natural thing and took her grievances to Twitter. "Thank you for my nominations. Did 'Feeling Myself' miss the deadline or...?" She continued her missives with "If I was a different 'kind' of artist, 'Anaconda' would be nominated for best choreo and vid of the year as well...If your video celebrates women with very slim bodies, you will be nominated for vid of the year
" Minaj's complaints caught the eye of very slim artist Swift, who decided to chime in with her own perspective: "I've done nothing but love & support you. It's unlike you to pit women against each other. Maybe one of the men took your slot."
Of course Minaj was not pleased, and made sure to let Swift know. The back and forth went on for awhile until Swift cried uncle. Minaj was apparently not moved. But then, fast forward to the VMAs, and guess what? Minaj and Swift showed up on stage, together. Everything was all smiles as the frenemies teamed up for "The Night Is Still Young" and "Bad Blood."
"Miley, What's Good?!"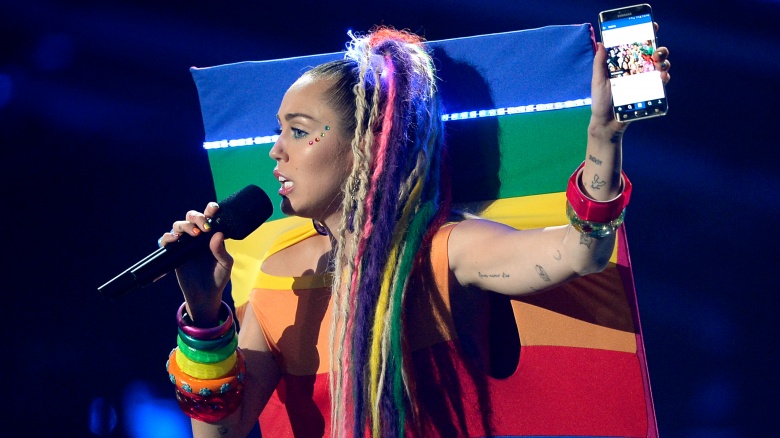 Getty Images
In the run up to her VMAs hosting gig, Cyrus was interviewed by the New York Times and was asked for her perspective on the Minaj-Swift Feud, saying: "What I read sounded very Nicki Minaj, which, if you know Nicki Minaj is not too kind. It's not very polite. I think there's a way you speak to people with openness and love. You don't have to start this pop star against pop star war."
Apparently that didn't sit well with Minaj, who after making peace with Swift earlier in the show, made sure to throw ample shade at Cyrus with a jab following her win for Best Hip-Hop Video blindsided Cyrus with, "Let's get back to this b***h who had a lot to say about me the other day in the press. Miley, what's good?!" The usually unflappable Cyrus looked genuinely shocked, but we wonder just how genuine that was. In a show that overflowed with other potentially shocking moments, such as Cyrus "accidentally" having a "wardrobe malfunction" backstage, it's hard to think that the moment was nothing more than a scripted gem.
The VMAs Or WWE?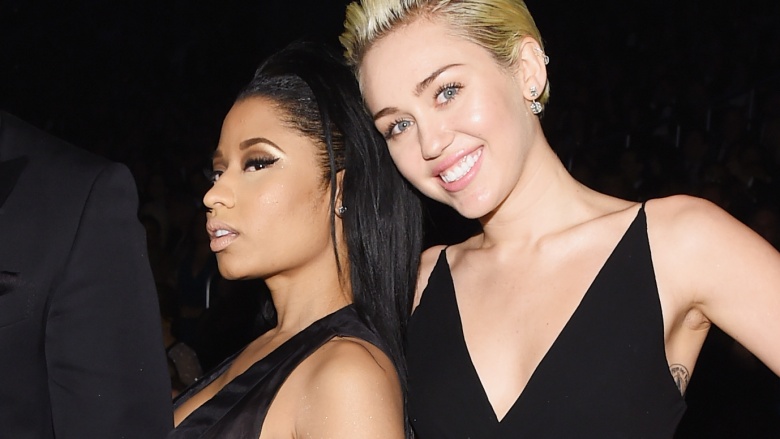 Getty Images
While Cyrus looked shocked, it wasn't long before she had a comeback of her own, something with all the sophistication of a scripted spat you'd see from the WWE, "Hey, we are all in this industry and we all do interviews and say s**t. Nicki, congratuf**kinglations." Not missing a beat, the camera went right back to Minaj as she mouthed "Don't play with me, b***h!"
During an event the size of the VMAs, surprising unscripted moments are sure to happen, but everything here seemed too well-timed, too convenient. For a pair of artists who are more than comfortable with controversy as a marketing tool, no publicity is bad publicity, and even though "insiders" are coming out saying that Minaj's anger was genuine, it's hard to take Cyrus' comments as inflammatory.
Beef Is Good For Everyone, Particularly Nicki Minaj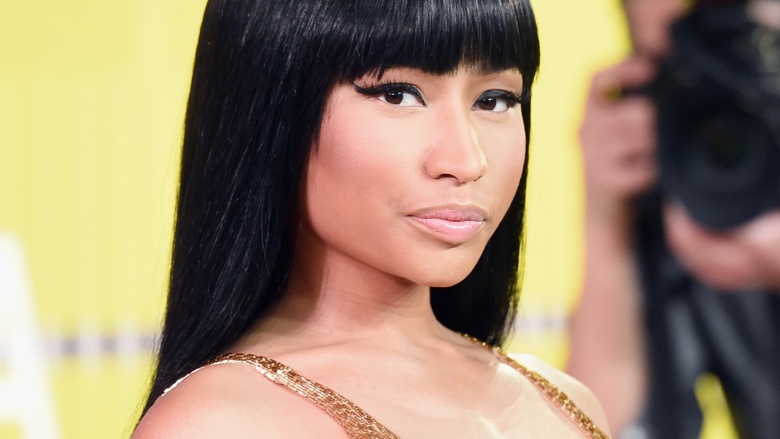 Getty Images
It does make sense that this latest celebrity spat is sold as serious, because nothing moves the needle more than beef, especially in hip-hop. And Minaj is certainly a veteran with it comes to calling out her peers. After Minaj accepted her fifth straight win in the Best Female Hip-Hop Artist category at the 2014 BET Awards, she went after Iggy Azalea in her speech. Continuing a long-standing feud with the Australian rapper, she accused Azalea of stealing or "appropriating" black culture in her music.
True to form, Minaj would later end the feud she herself started with an interview in The FADER magazine, where she tried to smooth things over, walking back some of her BET Awards commentary, saying, "My point of saying what I said was that women need to have a perspective." For Nicki Minaj, the creation of beef seems to be a constant strategic move for her, something designed to keep her name in the headlines on a perpetual basis. But on the off-chance that we're wrong about Minaj, then we're dealing with an extremely insecure artist who feels the only way to reach the top is to climb up the backs of her fellow performers. Either way, no one seems to know fake better she does.