The Truth About Justin Bieber's 'Spiritual Counselor'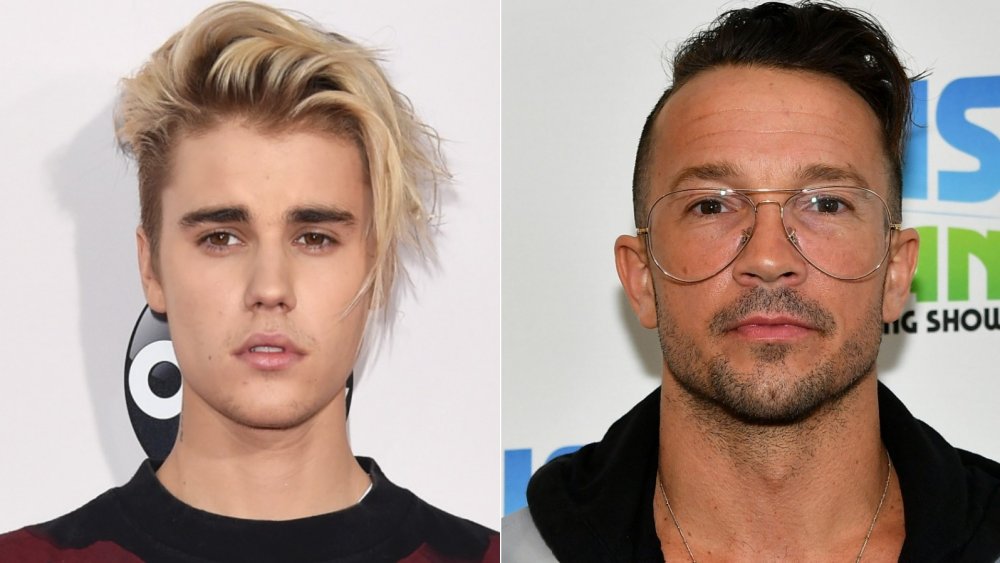 Jason Merritt/term, Slaven Vlasic/Getty Images
Hillsong Church's founding pastor Brian Houston announced on Nov. 4, 2020 that celebrity pastor Carl Lentz had been fired from his role as lead pastor at the church's New York City location. Lentz and Houston's son Joel founded Hillsong NYC, the mega-church's first East Coast location, in 2010. With Lentz's tattoos and fashion sense, he helped to draw large, "hip" crowds to the downtown church. The man even quotes Biggie in his Instagram bio.
In 2017, GQ dubbed Lentz a leader of the "hypepriest" revolution, given that his congregation was full of celebs. He was often spotted out and about with them when not leading Sunday services at Irving Plaza in Manhattan. Lentz was famously a spiritual advisor to Justin Bieber, having baptized him as an adult, per a 2015 GQ profile. Bieber even stayed with Lentz in New Jersey for an "informal detox" in 2014, according to Vogue. A source also told People in 2017 that Bieber and then-girlfriend Selena Gomez were getting couples counseling from Lentz. "They've clearly had issues in the past, so they're receiving some guidance from Carl," the source said at the time. 
But Bieber and Lentz reportedly had a falling out in 2018, per TMZ, though Bieber continues to attend Hillsong. Now that Lentz and his wife, Laura, have been terminated from their roles at the celebrity church, the plot has only thickened. 
The Hillsong pastor was fired for 'moral failures'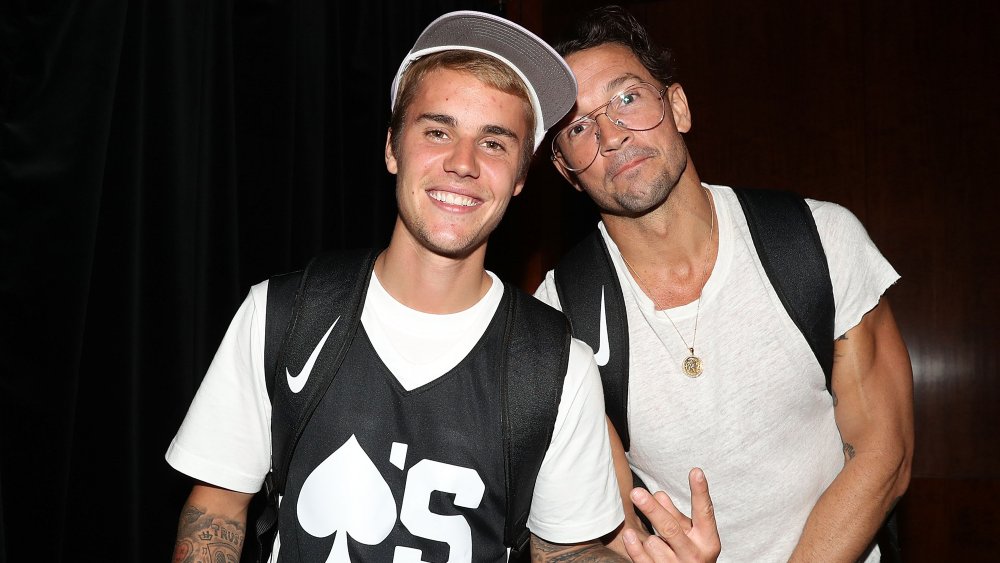 Shareif Ziyadat/Getty Images
Hillsong founder Brian Houston wrote in an email to congregants that the church had ended its relationship with Pastor Carl Lentz and his wife Laura, Religion News Service reported. Houston cited "leadership issues and breaches of trust, plus a recent revelation of moral failures" as the reasoning behind the decision, which he said was "not taken lightly" and was "done in the best interests of everyone, including Pastor Carl." Houston continued, "Please understand that it would not be appropriate for us to go into detail about the events that led to this decision. However you can be assured that this decision was made in order to honor God and pastorally care for you, our East Coast family, Pastor Carl and his family." 
Houston later posted the contents of the email plus some kind words about Carl and Laura Lentz on the Hillsong website, noting that he and his wife Bobbie were especially close to the Lentzes. "They have a heart for people and we are confident that after a time of rest and restoration, God will use Carl in another way outside of Hillsong church. In terminating his tenure, we in no way want to diminish the good work he did here," he wrote. Obviously, Lentz had a real effect on everyone he came into contact with, and Hillsong likely won't be the same without him.