The Tragic Death Of King Von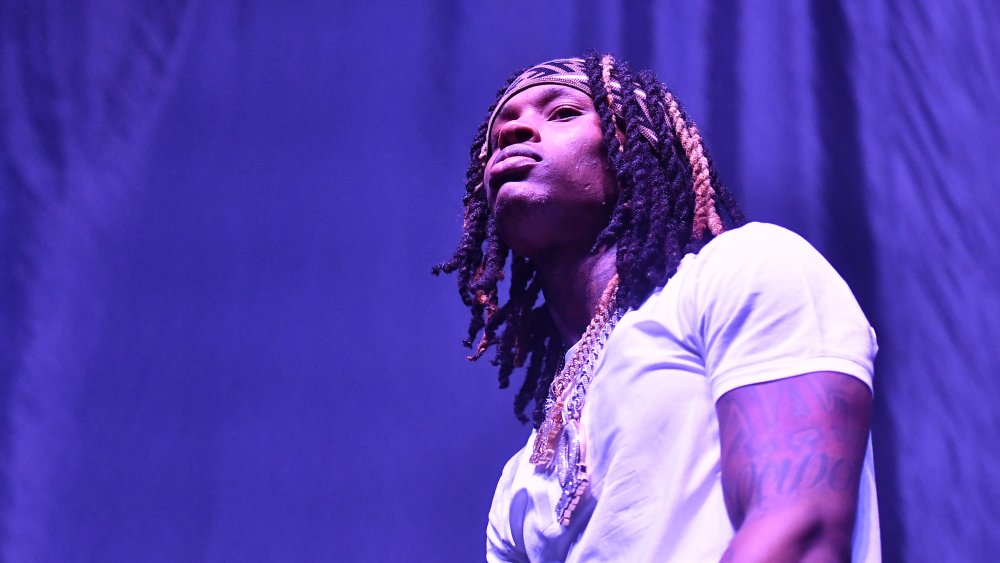 Paras Griffin/Getty Images
The up and coming rapper King Von, real name Davyon Bennett, died on Nov. 6, 2020, at the age of 26 due to a gunshot wound in Atlanta, The New York Times reported. DJ Akademiks confirmed the Chicago native's death on Twitter, writing, "It's with great sadness that I have to confirm that King Von has passed away. I spoke with his manager who luckily has survived being shot and is currently recovering in the hospital. However, Von's manager did confirm that Von was shot and did not make it."
The shooting occurred in front of a hookah lounge Friday morning after two men approached Bennett and his entourage. An argument broke out, which turned into a gunfight, according to the Georgia Department of Investigation. When two police officers arrived, they fired shots in two locations. Six men in total got shot during the incident, and two men in addition to King Von died. "At this time, our investigators believe Mr. Bennett was shot during the initial shootout between the two groups of males, prior to police responding and attempting to stop the shooting," the Atlanta police said.
The tragic death of King Von occurred as he was enjoying recent chart successes and celebrating with those closest to him — keep reading to learn more about his life.
King Von had found mainstream success
King Von had a recent string of well-performing releases, most notably 2019's "Crazy Story 2.0" featuring Lil Durk, which peaked at No. 4 on the Billboard Hot 100 Chart. King Von got signed to Lil Durk's record label called Only the Family and EMPIRE, according to People. He died the morning after a performance at Opium nightclub, which he had recently posted about on Instagram. King Von's latest album, Welcome to O'Block (which makes reference to his hometown, per NPR), was released just a week before his death.
King Von hailed from a low-income area of Chicago and was in and out of jail during his teenage years. He moved to Atlanta to focus on his music so he could be financially secure and enjoy his life. "I like the people more in Chicago, but it's just smarter to live at where I am now," he said in a June 2020 interview with Passion of the Weiss. He would occasionally return to his old stomping grounds with "handfuls of cash" to give away to struggling families, who he called "my people." It's also important to note that the star was a devoted dad. 
Fans were heartbroken to learn of his tragic death and expressed their grief on social media. "King von was one of the best storytellers to come along in hip-hop in years. the music he was making was vital and urgent and i was so excited to see where his career was going. r.i.p. to a truly important young artist," one fan tweeted.