Meteorologists That Were Nearly Blown Away On Live TV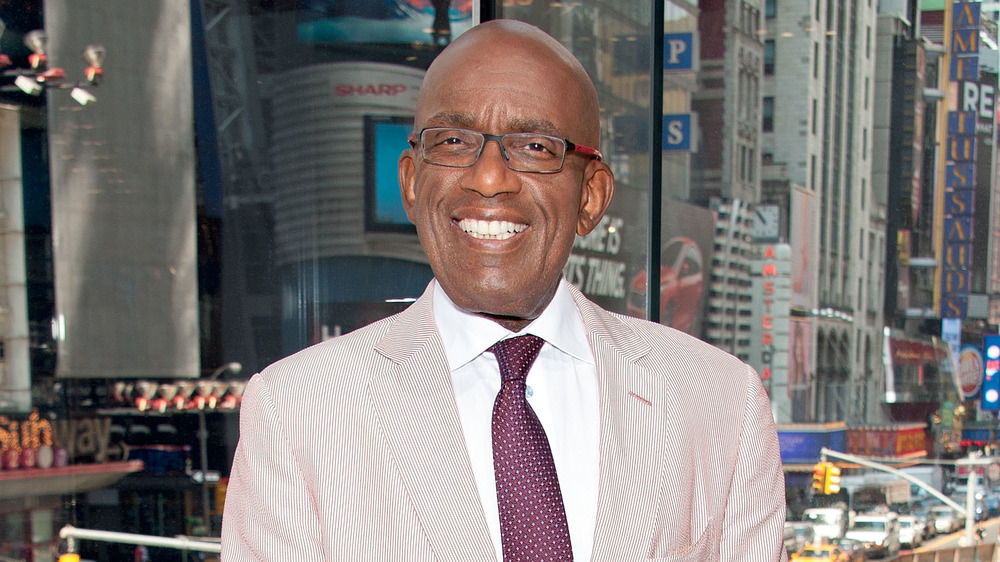 D Dipasupil/Getty Images
While we're all sitting in the comfort of our homes, cuddled up on our couches as a storm starts rolling in, meteorologists are out in the field preparing their forecasts. Without them, we really wouldn't know a thing about the weather. Yet, there have been many instances where meteorologists have been sent into not-so-safe circumstances to show all of us how dangerous these natural disasters really can be. "There is a strong argument to be made that standing in a storm is not a smart thing to do," CNN reporter Chris Cuomo even said while he was covering Hurricane Irma in 2017, so why do they even do it?
Crazy enough, it's a controversial topic for those who work in the field. On one hand, many meteorologists dedicate a majority of their lives to reporting dangerous weather. When a devastating hurricane pops up and the rest of us are hunkering down, they head out into it, because "this is our Super Bowl," CNN's weather expert Chad Myers told The Hollywood Reporter. These forecasters expose us all to the awful winds on television so no one else has the urge to go out and experience it themselves. Also, this type of television is a lot more entertaining than many of us care to admit.
Here are just a few of the many meteorologists that were nearly blown away on live TV.
Deric Hartigan hilariously dealt with some high winds
When reporter Deric Haritgan was doing his Friday morning report for Ireland AM in 2017, viewers could have easily assumed it was a rough Monday morning for him instead. "It's wet, and it's pretty windy out there," he explained while standing outside with an umbrella. "And that's the picture we're painting right across the weekend." However, it became a pretty clear picture pretty quickly. As he continued with his live shot, the wind swept up his umbrella and pulled him off camera.
With a static shot of the landscape behind him, the camera quickly cut back to the anchors sitting in the studio. They were laughing hysterically at him. "He's okay!" They added, and he quickly appeared back on screen trying to piece together his messed up umbrella while trying to gain his composure too.
Multiple media outlets all over the world caught wind — pun intended — of his hilarious encounter and began reporting on the young reporter. "Career highlight right there," he later tweeted out to his followers. Funny enough, Hartigan also has an adventurous outdoor series called Daredevil, so we'll surely see him blown away on our screens again very soon.
Al Roker was pretty swayed by Hurricane Wilma
Poor Al Roker. This Today show weatherman we all know and love had a rough experience while reporting on Hurricane Wilma in 2005. He was standing out on a balcony telling viewers all about the roaring winds. However, it looked pretty obvious to us all already. In order to keep Roker from being blown over, a cameraman had attached himself to the weatherman's legs. "Our truck operator, Tom, said, 'Don't you wish you had your weight back?'" He even said, and with those very words, he seemed to jinx it. Roker was swept up by the wind and fell flat onto the ground.
Luckily, he and his crew were okay and decided to head back inside. "That's a good idea," anchor Matt Lauer responded. Off camera, viewers can even hear his anchor Katie Couric reply with something we were all thinking as we watched at home: "Wouldn't it be easier if he just–" And then, unfortunately, her co-host cut her off. Yes, Katie, it would have been much easier if he just stayed inside.
It became clear to us all after Roker's report that he's dedicated to delivering news about any natural disaster in any neck of the woods. His sole purpose is to keep people safe and informed in the midst of dangerous weather. "We have to remember that this is not sport, it's not entertainment, that we're reporting a story," he later told NBC's Eric Hinton. 
Darla Miles went the extra mile for her weather report
In 2011, ABC7NY reporter Darla Miles really went the extra mile for her story on the extreme heat. While standing on an overpass in New York, a sudden gust of wind that she wasn't expecting decided to make its debut on TV too. "If your apartment does not have air conditioning–" she began to explain, but at that point, it seemed that anybody who didn't have it couldn't just step outside. She began signing off on her live report as fast as she could when she was nearly knocked over. Luckily, a statement was later released letting everyone know that she and her crew were not injured.
After watching other clips of Ms. Miles in action, this reporter really seems ready for anything that is thrown — or blown — her way. In 2019, she made headlines once again when she hilariously and expertly blocked a passerby from entering her live shot. "This is why we love Darla Miles," her newscast, ABC7 New York, later tweeted.
Teresa Mannion's meteorology report became a meme
Irish reporter Teresa Mannion made more of a statement during her weather report than she anticipated. While standing in the middle of a storm in 2015, Mannion begged viewers to stay home until the high winds were over. "And don't swim in the sea!" she shouted, because apparently people with no common sense were doing that in the middle of the storm. "Galway City Council say their actions are idiotic!" she screamed. Mannion never realized how loud she was really being until she saw her report being turned into a meme on social media.
Everything from t-shirts to funny tweets were made about Mannion. Some fans even went as far as recreating her report and even remixing it so she looked like she was rapping. One viral video made Mannion look like she was hit by a stop sign at the end, which many viewers thought was real. "Now that I'm a global superstar, all these people in all these different languages are saying, 'Are you okay?'" She later explained on The Late Late Show.
Yes, she's okay. She's even better now that she's become a social media sensation. "You haven't heard the last of me," she told CNN.
Mike Seidel had a formal explanation for why he was almost blown away
While watching the Weather Channel, you're bound to see someone blown away by the wind. So in 2018, it only made sense that Mike Seidel was barely able to stand up as he was reporting from the middle of Hurricane Florence. "This is about as nasty as it's been," he said, describing "wind gusting ... at over 60 miles an hour" rushed past him. The poor guy was holding on for dear life. However, just behind him, two men in shorts could be seen casually walking down the sidewalk without a problem.
Within hours, the report had millions of views online. People all over the iInternet were accusing Seidel of being overly dramatic for entertainment's sake. Eventually, the Weather Channel felt the need to issue a statement. "It's important to note that the two individuals in the background are walking on concrete, and Mike Seidel is trying to maintain his footing on wet grass," it read. With this weather reporter working all day during the hurricane, he "is undoubtedly exhausted."  
It seems the safest solution for Seidel would have been to go live from the sidewalk instead. However, watching him stand on the grass certainly made for some great television. 
Mike Bettes has battled the wind during many of his weather reports
Meteorologist Mike Bettes has battled some serious weather on more than one occasion. As a regular on the Weather Channel since 2003, reporting on dangerous weather has become his routine. One hilarious moment happened while covering Hurricane Ike in 2008. Bettes was knocked off his feet into a nearby bush. "Hold on!" He told viewers as he tried to regain himself to finish his report. Luckily, he wasn't injured, and he even laughed at himself as he got up off the ground.
On the other hand, Bettes has bet his life on some other incredibly scary moments. In 2013, he wasn't sure if he even wanted to report on the weather anymore. As he was chasing a tornado with his colleagues, his car was thrown into the air. "I just saw my wife's face and I thought, you know, that's my life, I don't want to give that up just yet," he told Today.  
However, Bettes seems to have balanced his professional and personal life pretty well. He still continues to battle weather on-screen to keep those of us at home informed. However, he's a bit more cautious now that he's seen so much of what these storms can do. "If the winds got so intense that I couldn't stand anymore or if there was a lot of flying debris nearby, I would absolutely duck for cover," he later told We Love Weather.
Mark Robinson and Chris Scott really need a vacation
As Mark Robinson and Chris Scott were battling a blizzard back in 2014, they were nearly blown away by it. The winds were over 100 miles per hour in Nova Scotia, but the two still thought they should do their weather report outside. "You can't quite look the wind in the face, because your face gets sandblasted!" Scott said. Between the swirling snow and their puffy coats pulled all the way up over their faces, we couldn't even see them, anyway.
Their story made us all want to scream at them to go inside. "It's actually very dangerous!" Robinson even reported before they were blown off screen. To that, Scott replied, "We're fine!" We think he meant freezing! The two continued on with their report despite the roaring winds. "One thing I've noticed, too, Mark, is that it's actually — I don't know if it's sunny," Scott said. All we could see was the white snow, so all of us at home weren't really sure either.
Unfortunately, the storm was far from over, so it seemed as though the two reporters from The Weather Network had a long night ahead of them. "We've got a couple more hours of this before things settle back down," Scott said. Get these guys some hot cocoa! Or a raise.
Kerry Sanders couldn't even get a word out before he was blown away
Kerry Sanders' couldn't even get a word out during his live report on Hurricane Michael in 2018. He began reporting at the same time the storm grew into a category 4 hurricane with winds up to 155 miles per hour (via WFLA-TV). He even had to wear a helmet, and it's a good thing he did, as he was nearly thrown into a concrete pillar on live television. "A batter helmet prevented a concussion," this NBC reporter later tweeted to his followers, but the helmet wasn't the only thing that saved him from the storm.
Meteorologist Jim Cantore from the Weather Channel stepped in as soon as he saw the winds taking Sanders away. As the two safely made their way to a nearby column, Sanders' helmet flew off too, so he was lucky to have the helping hand. "Thank you my friend," Sanders also said in his tweet, adding, "You've taught me again, back-up support always needed."
It's too bad that his hero didn't have his own back-up himself. Cantore was nearly knocked out by a flying projectile during his own dangerous report on the storm. However, that didn't stop him. He simply put on his own helmet and continued with his live shot (via Twitter). Now that's what we call dedication — or insanity.
Mary Alice Rosko was taken out by the wind and then face planted on live TV
Local Minnesota reporter Mary Alice Rosko has been known for covering lots of fun stories. In 2013, she was seen strapping on a pair of ice skating and hitting the rink for a typical interview. However, as soon as she hopped on the ice, Rosko started being blown backwards without any effort at all. "It's a little bit windy," she explained, adding, "But warm. Not a concern here." So when she face planted onto the ground, she had us all stunned.
Rosko was even confused herself. "Okay, ow, okay," was what she could be heard saying. Someone off camera immediately asked her if she was alright, with which she replied, "Not really!" Luckily, the poor reporter reportedly had no injuries, as she quickly continued on with her interview as if it had never happened. As hilarious as it was to us all, it probably did hurt.
Five years later, Rosko retired from television to travel the world and report from her own blog. "I had a blast as a feature reporter," she wrote, but it seems safe to assume she wasn't talking about her face plant.
Sara Sidner is a strong lady
CNN correspondent Sara Sidner was sent out into a pretty bad storm back in 2017. Hurricane Irma had just made its way on land, and Sidner was seen reporting on the roof of a hotel building. It was worse when she got up there too. "No one here was expecting the wind to be this strong," she said, as she held onto a concrete wall for dear life. "They were not forecasted to necessarily get this high."
At 85 miles an hour, viewers could even see the skin on her face being pushed with each gust of wind that went by. There was even a point where she groaned as she wrestled with the wind in order to finish up her report. "It's an incredible amount of wind for a human being to stand up in," she said. "I am a strong, big lady, and it's definitely hard to stand straight up here."
During a separate report on the storm, Sidner once again commented on her size. "I am not a small woman, as you know, Don [Lemon]," she told the anchor who was sitting safely in the studio (via Yahoo!). "I am a chunky girl, and it is blowing me around when the gusts come really, really hard." Little did she know, her weather report would quickly turn into a lesson on self-image. "You're a beautiful woman no matter what size you are," Lemon replied. "There's nothing wrong with having a little curve."
Laura Tobin loves her job
Leave it to Laura Tobin to make any newscast a good time. In 2016, the Good Morning Britain reporter was on the beach — a place we all wish we could be while working. However, Tobin was doing her very best to stand up as she battled the 91 mile per hour winds. She did it all with a smile on her face too. "Yes, it's very dangerous, and everyone is really worried about me," she said as she began to laugh. "But I'm actually having a really brilliant time. This is all in good fun!"
Tobin made it clear three different times that she was having a great time reporting on the "disruptive" storm that was just beginning to brew. After all, the young meteorologist has dedicated her life to reporting on dangerous storms since 2007. But Tobin still had this warning for her viewers at home: "While it may look like I'm having fun here being blown around by these strong winds, it is worth pointing out [it's] very dangerous around the coast today," she said. "Don't go to the coast and look at the big waves. You really don't have to!" You could just watch the tidal waves washing up behind Tobin on television instead.
That's why these meteorologists go stand out in the middle of storms — to keep us safe. And it makes for some great television.