What You Don't Know About Terry Bradshaw's Daughters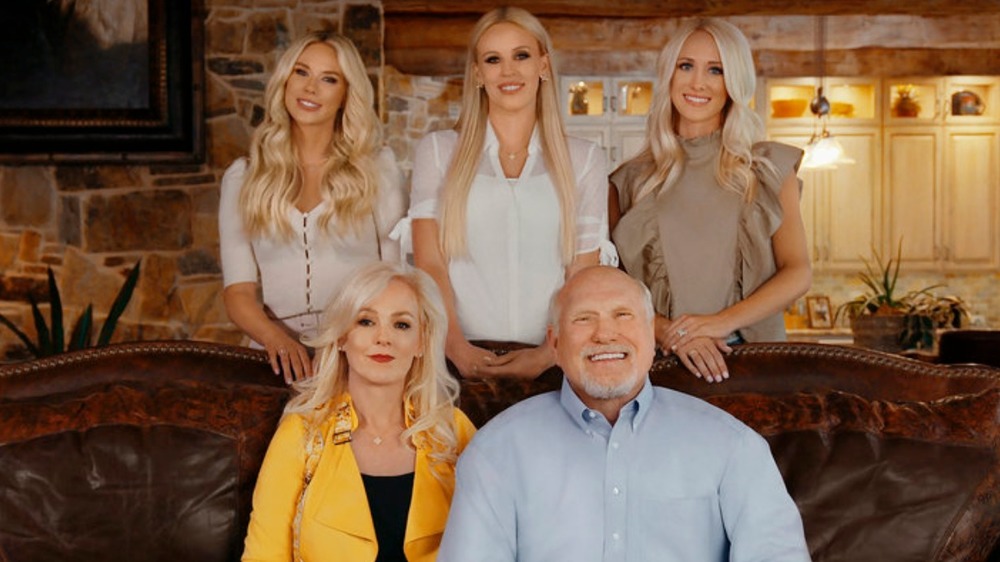 E!/The Bradshaw Bunch
Terry Bradshaw's daughters are part of the E! series The Bradshaw Bunch. Keeping with the network's tradition of family-focused reality shows like Keeping up with the Kardashians and Chrisley Knows Best, the series about the Bradshaws follows the daily life of NFL star Terry Bradshaw and his family members. Terry and his wife Tammy Bradshaw have a blended family of three daughters: Rachel, Erin, and Lacey.
Terry and his wife's modern family combines his daughters Erin and Rachel with Tammy's daughter Lacey. Rachel and Erin are from Terry's marriage to Charla Hopkins, but according to E! News, Terry has "always considered her [Lacey] one of his own." The series shows the women in his life outnumber the NFL legend and sportscaster, and he loves it.
In a trailer for the show, Terry said (via E! News), "You never know what's gonna happen in life. The one thing you can always count on is family." Viewers love watching the Bradshaw family so much that it will be back for a second season. Read on to find out more about Terry's daughters Rachel, Erin, and Lacey.
Terry Bradshaw's daughters are close-knit
Terry Bradshaw is a doting dad to his three daughters on The Bradshaw Bunch, and it's clear all three women are close. Rachel is the oldest Bradshaw daughter; she's a talented entertainer, who overcame tragedy a few years ago. In 2014, Rachel married Rob Bironas, star of the Tennessee Titans. Just three months after the couple married, Rachel's husband died in a car accident (via The Tennessean).
Lacey Luttrull has been with the Bradshaws since she was 11 (via E! News). Terry's stepdaughter is very much part of the family. In a teaser for The Bradshaw Bunch, Lacey disclosed, "Terry has always treated me like his own. In fact, he calls me the son he's never had." Lacey and Terry bond over their love of sports, and he dotes on Lacey's two kids and seems to like her husband, Noah Fox Hester.
Erin Bradshaw is the youngest daughter. She shares her famous dad's love of horses and is a World Champion Equestrian (via E! News). According to Us Weekly, Erin married Scott Weiss in 2017, and the couple "raise and show world championship paint and quarter horses." In a trailer for one of the episodes, Rachel confesses, "My dad is always coming up with the sweetest ways to show us girls that he loves us."
If you haven't tuned in to The Bradshaw Bunch, go for it! Watching the three Bradshaw daughters and their fun family is a blast.