The Reason Why Meghan Markle Wears The Color Blue So Often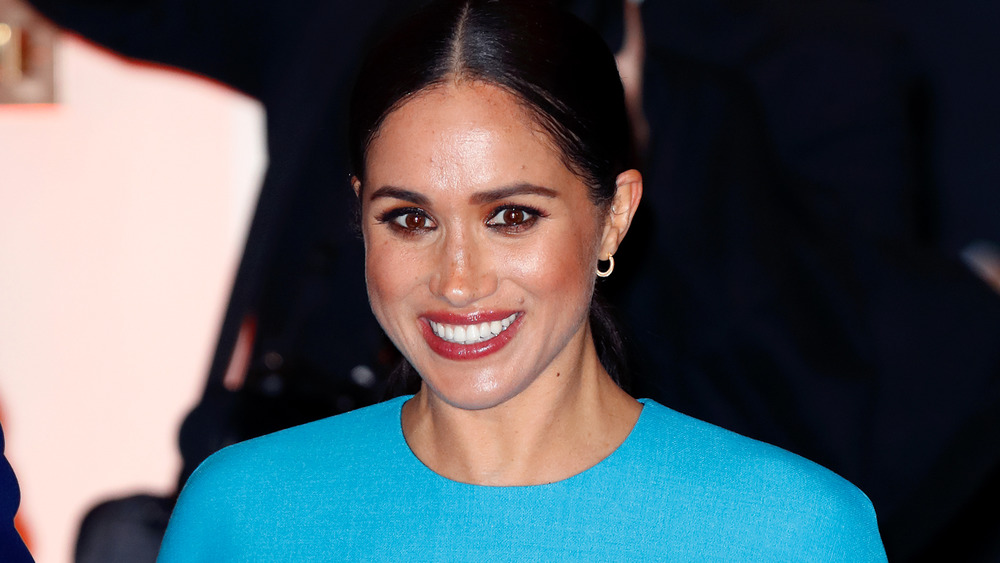 Max Mumby/indigo/Getty Images
With blue being among the spectrum of recognized royal colors, it's no surprise that it's one of the Duchess of Sussex's favorite colors to wear, HELLO! reported. Meghan Markle has been photographed a number of times wearing a particular shade of blue that, while perceived as turquoise, is in fact more unique. In fact, during her pregnancy with Baby Archie, Meghan wore blue so much, fans thought she was using the color to hint at the sex of her first child with husband Prince Harry. 
But the Duchess's preferred shade isn't your typical blue. According to color expert Gabriella Winters, Meghan wears a distinctive shade of blue that's known for its history and infrared healing abilities. "Coincidentally, the type of blue that Duchess Meghan has been sporting frequently is called 'Egyptian Blue,'" Winters told the outlet in May 2020. "And this shade receives its name from the first-ever artificial pigment invented 5000 years ago." Leave it up to this fashion-forward royal to introduce us to a color that does more than just look good when worn!
Meghan Markle's preferred shade of blue was once a 'secret beauty weapon'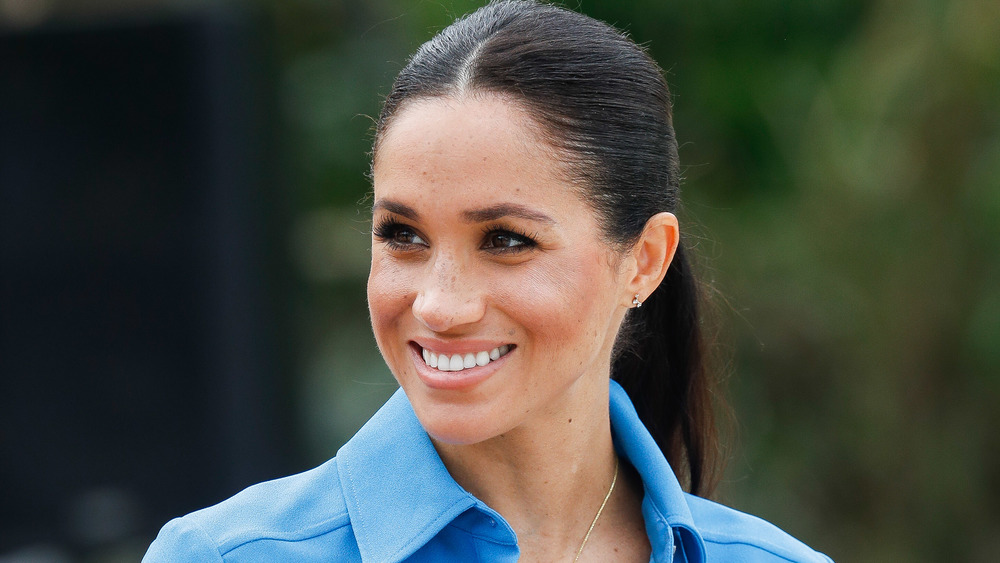 Chris Jackson/Getty Images
According to Gabriella Winters, Egyptian Blue is rumored to have the ability to keep skin looking smooth and rejuvenated — a possible reason why Meghan Markle wears it so much. "Infrared has the ability to penetrate the deepest layers of the skin and stimulate cells to produce collagen," Winters told HELLO! "Could this be the secret to Meghan's flawless skin? Somehow I doubt that modern pigments would be smart enough to emit infrared light, but Egyptian Blue could have certainly been a secret beauty weapon of princesses of the ancient past."
The Duchess was spotted in shades of Egyptian Blue while on her trip to Africa alongside husband Prince Harry, while out and about in Australia, and during one of her final appearances in the United Kingdom before she and her family relocated to the United States. But, when taking a deeper look into the significance of the color blue, it makes sense why Meghan might use the color to harness her zen. "Psychologically speaking, blue is the most popular color in the entire world because of its non-threatening placid nature," Winters explained. "It is the color of peace and quiet and it signifies freedom. In the world of business, blue is the mark of formality and it symbolises one's loyalty and devotion to their work."