Why The Rockefeller Center Christmas Tree Sums Up 2020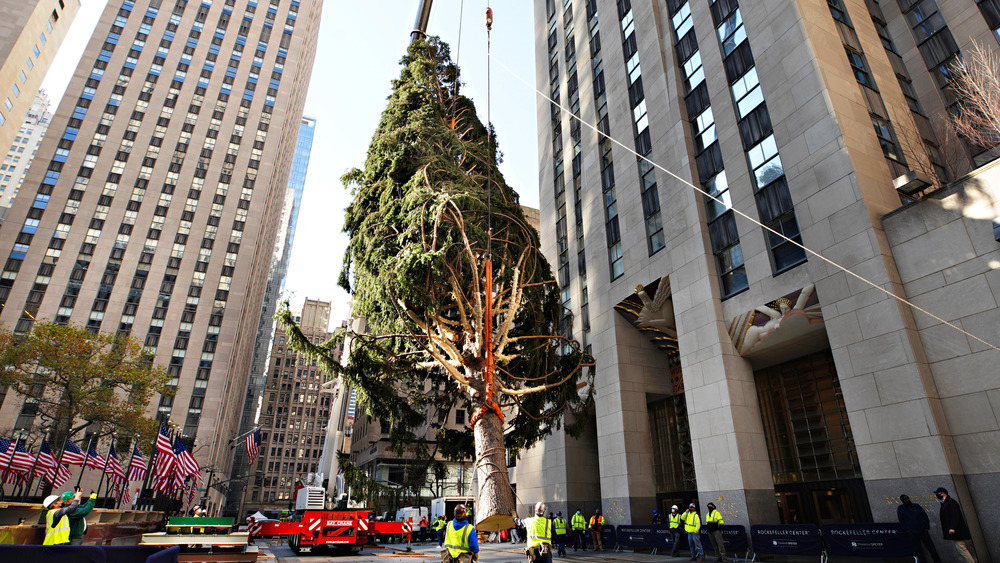 Cindy Ord/Getty Images
Between the ongoing pandemic, the civil unrest in the United States, and the threat of murder hornets, 2020 is a year that's been rife with misery. And although many people took to the streets to celebrate President-elect Joe Biden winning the election (people who weren't President Trump and his supporters, that is), there have been plenty more disappointments than wins this year. With that in mind, it's only fitting that the Rockefeller Center Christmas Tree in New York City, one of the metropolis' biggest tourist attractions, looks straight out of A Charlie Brown Christmas.
When the official Rockefeller Center Twitter account shared a photo of the tree on Nov. 14, 2020, the social media team didn't know what backlash would ensue. The message was a cheery one — "Let the holiday season begin! The 2020 Rockefeller Center Christmas Tree has officially arrived at the Plaza." — but the photo was pretty depressing. And Twitter users' responses were so merciless that Rock Center sent a second, sassier tweet: "Wow, you all must look great right after a two-day drive, huh? Just wait until I get my lights on! See you on December 2!" (To be fair, who doesn't have that friend who refuses to be in group photos until they're finished getting ready to go out?)
"In true 2020 form, the Rockefeller Center Christmas tree looks like it tried to cut its own hair," composer Chris Ryan tweeted. Here's what else Twitter users and celebrities had to say about the oh-so-2020 spruce tree.
The Rockefeller Center tree looks worse for the wear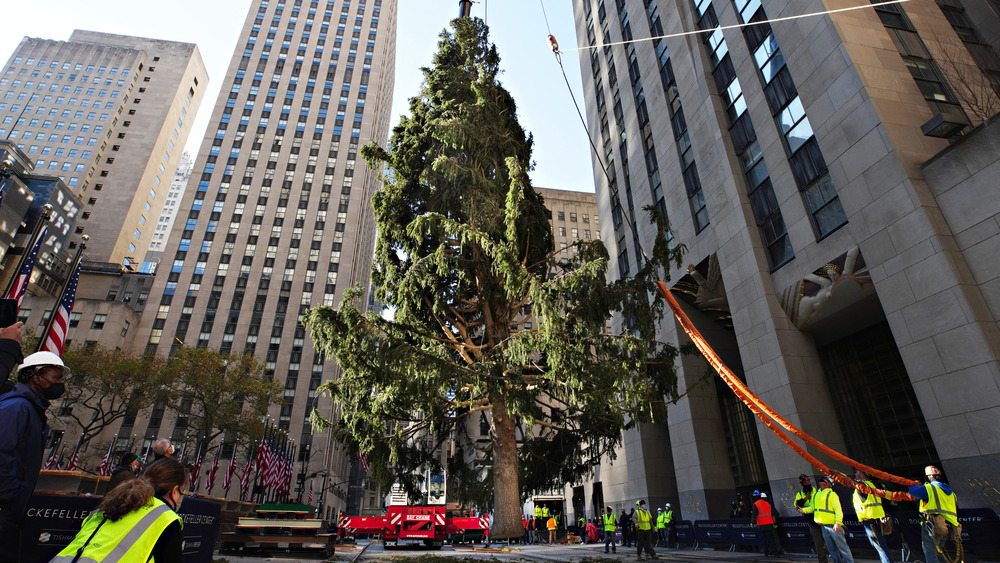 Cindy Ord/Getty Images
"I like it. It looks like it's been through 2020," one person responded to the Rockefeller Center tweet. Another person was blunter, asking, "Where's the rest of it?" And, of course, plenty of people said that the tree is what we deserve this year.
New York Times correspondent Liam Stack, meanwhile, had a very specific comparison to share about the Rock Center tree. "The 2020 Rockefeller Center Christmas Tree looks like one of those really old tree people in Lord of the Rings that just wanders off into the forest to die," Stack tweeted.
And R. Eric Thomas, author of Here for It and Reclaiming Her Time, wrote a column for Elle about the sad excuse for a tree. The Rockefeller Center debacle went viral the same week that Michael B. Jordan got crowned People's new Sexiest Man Alive, and the joke was right there. "Actually, People's Sexiest Man Alive Is The Depressed Rockefeller Center Christmas Tree," Thomas' Elle headline reads. "We went from the Glamour Duck in Central Park in 2018 to the Struggle Tree at 30 Rock in 2020 and, truly, nothing is more apt," Thomas wrote. "This tree is the visual representation of a heavy sigh." Harsh, but so accurate (and hilarious!).
Some people defended the Rockefeller Center Christmas tree
Longtime New Yorkers were quick to chime in that Rock Center trees from years past have also arrived less-than-perfect before getting spruced up (see what we did there?). "I used to work at 30 Rock. The trees always arrive a mess (tho not usually THIS much a mess), and there's a team of folks who graft on huge sections to make it look great. They've got a ton of work this time. On-brand for 2020," one person tweeted. Extra labor because of factors beyond anyone's control? That sounds like 2020, all right.
At least one critter didn't mind the Rock Center tree, though. An owl was found in the tree after it arrived in New York, and it looked positively festive among the evergreen branches. The sweet bird is now "recovering at a wildlife rehabilitation facility," NBC News reported.
Of course, the tree probably will look a lot better once it's spread out a bit. But after all the country has been through in 2020, we'll take joy where we can find it, even if that means dunking on a tree.